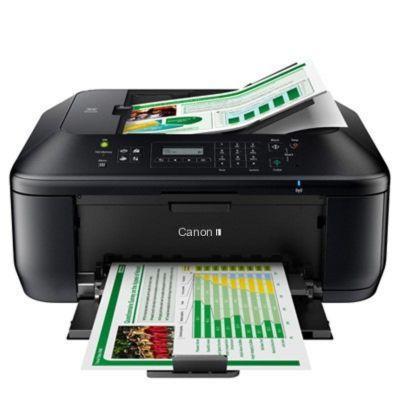 Sold for around sixty euros, the Canon Pixma MX475 is an inkjet multifunction geared towards entry-level productivity. It intends to distinguish itself thanks to its fax and its connected functions. The time for the test has come ...
Ergonomics
The Canon Pixma MX475 is a classic inkjet multifunction. For an entry-level model sold at a minimum price, we benefit from finishes of a very correct level and quality plastics.
We immediately notice that the control panel does not have a touch screen. So you have to navigate with old-fashioned buttons on a very small screen. The sound of beeps that sound with each press is quite annoying, especially in an open work environment. Note that there is no card reader or USB host port.
The Pixma MX475 has a flatbed scanner (1200 x 2400 dpi) and an automatic document feeder that accepts up to 30 plain sheets (80 g / m²). The printer part is fed with paper via the lower part, through a simple unfolding support that can accommodate up to 100 standard sheets. The printed pages emerge just above, again via a system of plastic flaps to unfold. Double-sided printing is not automatic.
At the back of the printer, there is a very simple connection: a Tybe-B USB port, the power supply connector and two telephone sockets for fax management. If the Pixma MX475 supports network functions, it is only through Wi-Fi, since there is no Ethernet port. Installation on the wireless network does not pose any particular problem and Wi-Fi Direct is supported. Good point, cloud printing services such as Canon Print, Google Print and Apple AirPrint are supported.
Still at the back, we are pleased to note that Canon has thought of integrating an access door to the paper drive rollers to easily intervene in the event of a paper jam. Also, we notice that the small power supply unit is easily accessible and removable, which will facilitate its replacement in the event of a malfunction.
Installing the ink cartridges could not be simpler, since you only need to open a flap on the front to access the two cartridges.
Office
In terms of speed, the Pixma MX475 blows hot and cold in office automation. Paradoxically, if it is fast enough in color (9,4 pages / minute), it is slower in black and white (7,1 ppm). This is because printing is paused for a few seconds every third sheet for "drying" in this mode. This system makes the printer much slower than an HP OfficeJet 3830, for example, which outputs 12,8 ppm in black and white.
On the other hand, in terms of print quality in office automation, the Pixma MX475 offers correct rendering. The texts are precise, even on a colored background. And if the color gradients are not the most detailed that we have seen, we notice that the slightly "noisy" rendering contributes to making all the elements very clear and perfectly readable.
Scanner and copies
The Pixma MX475's scanner is a well-defined classic model that turns out to be average for those built into MFPs in this price range. It takes 26 seconds to scan a 10 x 15 photo at 300 dpi, which is average, but it is faster in scanning a classic A4 document at 100 dpi (8 seconds).
On the copy, it is exactly in the nails of an HP OfficeJet 3830, with measurements of 15 seconds for a copy of a black and white page and 20 seconds for a color page (the HP model is respectively at 14 and 21 seconds). On the other hand, the rendering is less good on this Pixma MX475, which is seen especially in black and white where the rendering is clearly washed out when copying, weakening the overall contrast accordingly.
Photo
Inkjet technology requires, the Pixma MX475 is quite good in photography. It handles borderless printing and is quite quick when it comes time to output clichés. At 10 x 15, it takes 52 seconds on average to print a photo, while the stopwatch is just over 2 minutes for printing an A4 print. It's a bit better than the HP OfficeJet 3830, its designated rival from HP.

In the photo, it is the somewhat noisy rendering - which a high resolution scan highlights - which penalizes the overall quality of the shots

What about photo rendering? Well compared to the good photo printers from Canon - which remain the benchmarks in terms of colorimetric rendering - it is obvious that this Pixma MX475 which works on the basis of only two cartridges cannot do as well. The average delta E measured at the probe is 6,9, in particular penalized by the rendering of yellows and certain red tints. Magenta is the most faithfully printed color, with a delta E of 4,2. As a reminder, above 3, the human eye is able to notice a difference. Beyond the pure chromatic aspect, if the printed clichés are well defined to the eye, the exercise of a digitization in high resolution brings out quite markedly a noise in printing. Nothing dramatic, but it is visible.
Consumption
In standby, the Pixma MX475 draws only 0,7 W from the socket. On the other hand, on an A4 photo job, its consumption rises to 15 W, which is average. As for the noise generated when printing, it is rather low and compensates for the too aggressive side of the control buttons. In a room where the ambient noise is 36,3 dB, our sound level meter placed a few tens of centimeters here rises to 38,4 dB during photo work, and 40,2 dB during standard printing. It's correct.
Cost per page
The Canon Pixma MX475 works with PG-540 (black) and CL-541 (color) cartridges which are available in XL versions. These high capacity versions are of course the most attractive in terms of cost per page, and it is on these that we base our calculations. The black XL cartridge is sold for € 19,45 and offers a battery life of 600 prints, while the color XL cartridge is sold for € 19,75 for 400 prints. The average cost per page is therefore a total of 8,2 euro cents (and 3,2 euro cents in black and white). That's on par for inkjet printers, and you'd expect worse considering the use of just two cartridges on this entry-level model. By comparison, the HP OfficeJet 3830 costs 14,8 euro cents.
Highlights
Ease of use.

Correct cost per page.

Wi-Fi Direct and Cloud features.

Quite quiet printing.

Quality of office rendering.
Weak points
Tiny screen.

Loud buttons.

Slowness in black and white.

Black and white copies a little too washed out.

Slightly noisy photo rendering.
Conclusion
Note globale
As you might expect, this entry-level 4-in-1 is not at ease in all areas. If we regret a perfectible photo rendering, a black and white flow which is not very good and copies which lack contrast, for the rest, it is a multifunction that does the job at a cost to the honest page; a good surprise from this point of view, especially for a printer at this price.
Sub Notes
Ergonomics
Office
Scanner and copies
Photo
Consumption
Cost per page