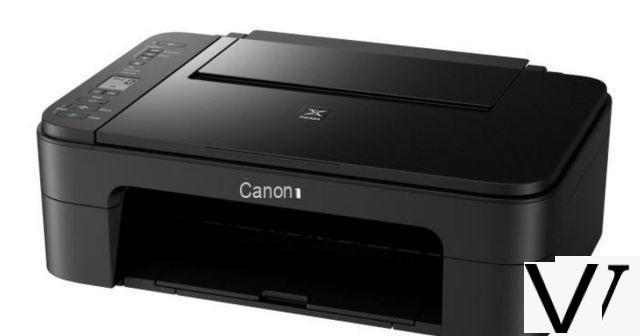 This 3-in-1 printer is the most accessible model of the Pixma range at Canon, but we expected a little better, especially in photos. Good product on the whole, it nevertheless suffers from the comparison with certain competing models positioned on the same niche.
Presentation
Ergonomics
A first-price printer in Canon's Pixma range, the TS3150 is a classic multifunction model. Despite a competitive selling price, it takes care of its presentation, attesting to the know-how of the manufacturer by its flawless assembly and its construction which is based on plastics of honest quality. All shutters closed, this printer measures 43,5 x 31,6 x 14,5 mm, for 3,9 kg - a fairly compact format therefore.

Without frills, the control panel has the merit of being very easy to understand.

Despite a basic control panel, whose buttons nevertheless condense all the useful daily functions, the Pixma TS3150 adds to the USB connection an efficient Wi-Fi module, thanks to which this model can manage various functions such as printing. from a mobile terminal or a cloud-type service. The Canon Print application and the supplied drivers (macOS and Windows) are a good way to compensate for the lack of a real screen on the printer, which incorporates a small basic LCD display.

The rear paper feeder has a capacity of 60 plain sheets.

The Pixma TS3150 has only one paper source, on the back, which accepts up to 60 plain sheets (80 g / m²). The receptacle consists of a simple plastic flap to unfold. The installation of the two ink cartridges does not pose any particular difficulty. Nothing is provided to facilitate access to the paper drive mechanisms in the event of a paper jam, but the power supply of this Pixma has the advantage of being immediately accessible from the rear, which will facilitate its replacement in case of malfunction.

The Pixma TS3150 seen from behind.

Consumption
The Canon Pixma TS3150 is an excellent student when it comes to power consumption. In photo printing, it does not draw more than 8 W from the power outlet and when it goes to sleep, it consumes only 0,7 W.
With regard to its noise emissions, our sound level meter positioned at 1 m reads around 56 dB in peak when printing a document of several pages, and 46 dB in photo printing. Its rather quiet operation in general is however disturbed by a rather shrill noise when loading each new page.
Cost per page
Working with reference cartridges PG-545 (black) and CL-546 (color), the Pixma TS3150 is more economical over time if we opt for the XL version of these same cartridges. Sold for around twenty euros each, they offer a given autonomy for 400 black and white pages and 300 color pages. Under these conditions, necessarily, the cost per page is not the strong point of this model, even if it limits the case: in color, the printer displays an average cost per page of around 11,7 euro cents (€ 0,117). In black and white, it is also quite expensive in ink, with a cost per page of 5 euro cents (0,05 €).
This is slightly above the average generally observed for this type of product (around 10 euro cents), but a little more interesting than what is offered by a DeskJet 3639, which HP competes against this Pixma TS3150. On the other hand, unlike HP, Canon does not offer a subscription to a low-cost ink supply program, as Instant Ink can when you print fairly regularly.
Scanner and copies
The TS4's integrated A3150 flatbed scanner can scan photos and documents up to 600 x 1 dpi. Scanning is rather fast: 200 seconds for an A8 document at 4 dpi; 100 s for a 9 x 10 cm photo at 15 dpi. In copying, you have to be more patient. Copying an A300 document in black and white takes 4 s, while the same color operation takes 14 s. The rendering of the copies is perfectly legible, although slightly washed out compared to the original.

The printer's flatbed scanner scans up to 600 x 1 dpi.

Photo
The photo is one area where we expected the Pixma TS3150 to turn. In view of the excellence of its big sisters in this area (see the tests of the TS6050 or TS8050), we were eager to see what the TS3150 was capable of armed with only two ink cartridges (a black cartridge and a color cartridge). 3 shades). First point, the printer is rather fast. It only takes 59 s to output a 10 x 15 cm print and 1 min 45 s to print an A4 photo. This is much better than what an HP DeskJet 3639 is capable of, for example.
However, we must specify here that the Pixma TS3150 suffers from crippling limitations in photography: it only supports borderless photo printing up to the 13 x 18 cm format. Beyond that - so in A4 - you have to accept the white outlines and use a cutter if you want to cut these strips. But this is not the most annoying: in practice, even by accepting printing with borders, the software blocks all printing on A4-size photo paper and displays an error message claiming a spotted conflict. The only way to properly print an A4 photo (with borders): select "Plain paper" in the list of papers and insist on obtaining "superior" print quality in spite of this. In this case, the rendering is acceptable, but less good than what we get in the real photo mode at 13 x 18 cm or less.
It should also be noted that the colorimetric rendering of the TS3150 is far from being as good as that of the most advanced models in the range, which is normal since it only uses two ink cartridges. We thus measure an average delta E of 8,8, penalized by blues very far from the target color (delta E of 14,3) and less good than that of the DeskJet 3639 (6,2). For all these reasons, this printer loses precious stars in photos, despite an overall rendering to the eye which remains good and will satisfy those who seek to print a few small format photos from time to time.
Office
Canon advertises speeds of up to 7,7 pages per minute (ppm) in black and white and 4 ppm in color. In our tests, the Pixma TS3150 fared better, reaching 12 ppm in black and white and 6,7 ppm in color. For a low cost printer intended for family use, this is sufficient.
As for the rendering in office automation, it also corresponds to the expectations that we are entitled to have vis-à-vis such a product. Without achieving the precision of the best inkjet printers (and even less that of laser models), the TS3150 can print more or less complex texts and graphics while correctly limiting the blotting effect. The solid colors are well rendered and the texts on colored backgrounds remain perfectly legible, just like the smallest characters. Unsurprisingly, the front and back is only managed in manual mode.
Highlights
Easy handling.

Low power consumption.

Overall satisfactory rendering.
Weak points
Regrettable limits in the photo.

Basic functionalities.

High cost per page.

High-pitched noise with each loaded page.
Conclusion
Note globale
Although it meets the main expectations that can be placed in an entry-level multifunction inkjet printer, the general performance of the Canon Pixma TS3150 and its limits, especially in photography, lead us to prefer the HP DeskJet 3639, less discreet but more complete.
Sub Notes
Ergonomics
Consumption
Cost per page
Scanner and copies
Photo
Office