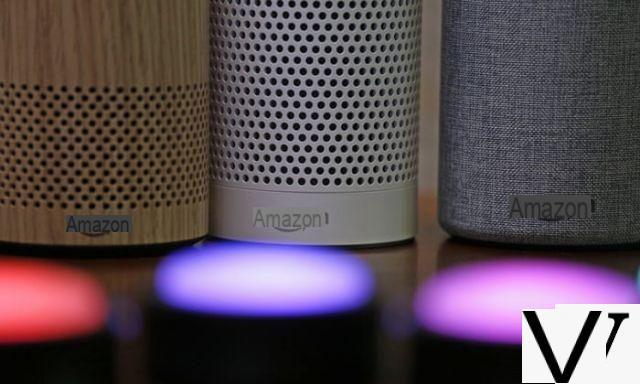 Alexa is the intelligent personal assistant developed by Amazon. It owes its notoriety to Echo, the intelligent speaker of the American giant. Alexa, like its competitor Google Home, interacts with the user by voice. She can also read music, podcasts, radio and give practical information. It is also possible to control your home using compatible connected objects. Launched in 2014 in the United States, Alexa waited four years to come to Spain.
Launched in 2014 in the United States at the same time as the Echo connected speaker, Alexa is the intelligent personal assistant created by Amazon. It is therefore part of the large family to which Google Assistant, Siri or Cortana belong.
At first, Alexa cut her teeth in the United States, Canada and other Anglo-Saxon countries. The assistant then only mastered the English language.
Over the years, its vocabulary has expanded and its functions have multiplied. Alexa is capable of voice interactions, playing music, doing to-do lists, setting alarms, playing podcasts and audiobooks, and giving weather, traffic, and other information in real time.
Alexa and Amazon Echo
Alexa owes its success to Amazon's smart speakers, the Echo, Echo Dot and Echo Spot. Integrated directly into these enclosures, the assistant ended up becoming the home control center. Because beyond its vocal functions, Alexa is able to control the house thanks to compatible equipment. And there is a lot thanks to the partnerships sealed by Amazon.
It is for example possible to control the light, the shutters, the various elements connected to a connected socket. For home automation, Alexa is undoubtedly the most complete assistant. However, compared to Google Assistant, it lacks compatibility with multimedia products and services.
Born in November 2014, Alexa took four years to learn new languages. It was not until 2018 that Alexa landed in new countries. At the end of 2018, Alexa was available in English, French, German and Japanese.
The great strength of Alexa is its presence in the Echo speakers. Very affordable, these connected speakers are among the best on the market, in direct competition with the Google Home and Home Mini. The Echo Spot, speaker with screen, gives another dimension to Alexa, which becomes a vocal but also visual assistant.
Alexa vs Google Assistant vs Siri
Alexa is in direct competition with Google Assistant and Siri, the assistants of Google and Apple. In English, Alexa is arguably one of the best assistants, a step away from Google Assistant.
In Spain, Google's assistant remains the most efficient. Alexa is still fishing for its lack of interactivity for multimedia services. For example, it is impossible to ask him to launch a series on Netflix, OCS or even Amazon Prime Video. Only Amazon Music and other competing music streaming services are compatible.
For the rest, Alexa's voice recognition is efficient and the responses adapted. She's not lacking in humor either. Ask him "is this a good situation, scribe?" »And you will experience a few seconds of fun. Alexa could still be improved in Spain but she remains an excellent assistant.