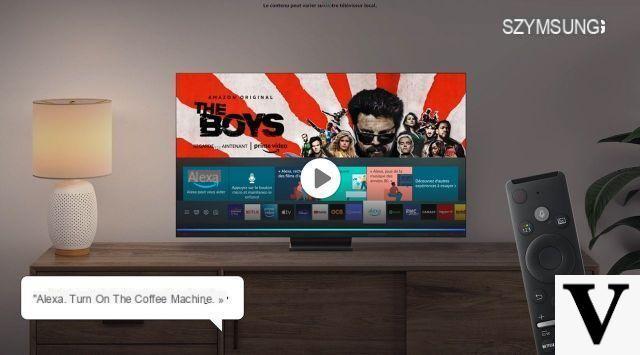 Amazon Alexa Advertising is on your Samsung TV? Here's how to control everything by voice! Sponsored file Posted on 22/10/21 at 15:15 p.m.
The Amazon Alexa voice assistant is built into the majority of recent Samsung TVs, so there is no need to purchase a smart speaker to take advantage of its capabilities. We take stock, for you, of all these commands that can make your daily life easier.
Samsung's new smart TVs have Alexa built-in. The voice assistant is present on models from 2018 and later, as well as on all QLED models available in Spain. If you are planning to acquire a new television, be aware that Boulanger offers a dedicated page which groups together all the devices (most of which are on sale), this will prevent you from walking the Web for long hours ...
Discover Samsung Smart TVs with built-in Alexa
Use all the capabilities that Alexa offers
Search for a movie, a series, listen to music, change the channel, control your connected devices ... A host of functions are accessible with the Alexa assistant. Here are some tips for harnessing all of these capabilities from a Samsung TV:
How to control your TV by voice
Tired of constantly searching for the remote control under the sofa cushions? One of the advantages of having Alexa on a Samsung Smart TV is being able to control the interface by voice. You can turn your TV on or off with the following commands, "Alexa turn on TV; Alexa turns off the TV ", but more advanced capacities are also available. For example, it is possible to adjust the volume, change channel or program, pause / play and even directly launch an application such as Prime Video, Netflix or Disney +.
Find specific content on your Smart TV (movies, series, etc.)
Alexa lets you interact with your TV in a different way. You can directly find the content that interests you, regardless of the service concerned. Ask Alexa to put on a horror movie - that's good because it's Halloween season - or to find movies with your favorite actor. It is also possible to listen to music, radio, podcasts, or launch your playlist on a music streaming service. Just ask, "Alexa, play the best hits on Spotify."
How to entertain yourself with Alexa
Alexa is not only able to answer general knowledge questions, but she can also tell stories., which is ideal for rocking a child or even playing fun games. Example: "Alexa is telling a story", "Alexa is launching the Music Quiz".
Control your connected devices from your Samsung TV
A Samsung Smart TV with Alexa acts as the brain of a complex system. It distributes and sends messages to the rest of the organization, it is a real hub to control your connected ecosystem. Ask Alexa to turn on a light, or to open the shutters and activate the coffee machine. You obviously need to have connected devices, but the integration can go very far, such as displaying the images from the surveillance camera directly on the television.
Prepare routines to make your daily life easier
Routines are a very effective way to make your daily life easier. The principle is to prepare different actions that will be executed from a specific voice command. If you say, for example, "Alexa Good evening," the system has the option to turn off the lights, mute the television, and play background music in a specific room. Conversely, "Alexa Hello" can very well turn on the coffee machine, put the radio in the kitchen and turn on the bedroom. In a similar vein, you can with a command like "Alexa does the housework" activate the washing machine and start the automatic vacuum cleaner.
How to set up Alexa on a Samsung Smart TV
Be sure to connect your Samsung TV to the same Wi-Fi network as your other smart devices.
Set up the Samsung SmartThings connected interface from the app (available on Android and iOS).
Configure the Alexa interface by downloading the app (available on Android and iOS).
Once the interface is configured, you can use Alexa from the microphone on the remote control or via your smartphone.
Boulanger offers connected televisions with Alexa for all budgets and all needs with a price starting from € 599. If you need more details, a page dedicated to interactions with Alexa is also available.
Discover Samsung Smart TVs with built-in Alexa