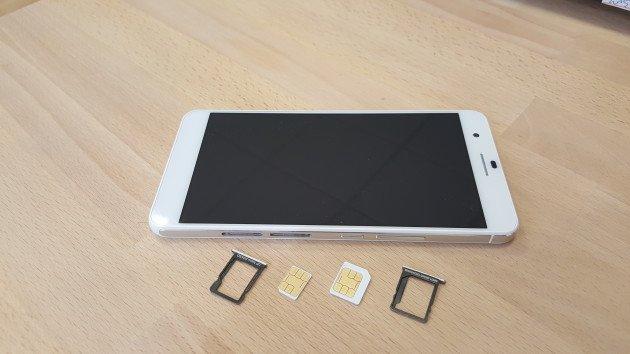 More and more dual SIM products are being announced with us and as more and more smartphones are offered with this capability, users are starting to take advantage of the additional SIM card slot. Let's take a tour of the possible uses that you may not have thought of and see how it can work.
To learn more
Which dual SIM smartphone to choose in 2020? our selection
For what uses?
To save your professional and personal life
While many companies have succumbed to the charms of BYOD (bring your own device) by no longer allowing employees to benefit from a professional line, there are still many companies for which this is the case. There are even areas, such as the liberal professions or salespeople where it remains almost essential.
With a dual SIM phone, if you have two SIM cards, but you don't have to have two phones. Everything is centralized in one place. This allows you to travel lighter and it's more convenient, because you don't have to ask yourself the endless questions "which phone should I use", "which phone has vibrated" or "where did I get it." put the phone i need? ".
Increase your data at a lower cost
A dual SIM phone is also very practical if you have a second data only subscription in addition to your mobile subscription. Indeed, you will be able to configure your phone so that calls and SMS go through your mobile subscription, but that the data goes through your second SIM card.
For example, if the mobile user has a B & You plan with 3 GB of data, as a customer of this operator, he will have been able to benefit from a Bbox Nomad offer at 1 euro per month for 1 year as part of a limited series. This is a data only plan with 6 GB of Internet per month. With a dual SIM phone, he can ensure that the data is only consumed on this plan, while calls and SMS continue to go through the mobile plan. Once the 6 GB are consumed, he switches the data back to his main plan. As if he merged the two packages into one.
This plan is initially only for tablets, but it works the same with a second mobile plan. For example, if you have fallen for the Free Mobile private sale for a second SIM card, not knowing what the operator's network is giving you, you can put it in the 2nd slot of your phone.
Two operators to properly capture in as many places as possible
A dual SIM phone has the other advantage of being able to benefit from two different mobile networks instead of one. Indeed, it is not uncommon in sparsely populated areas to receive very well with an operator A and to remain blocked with GPRS (even without network) with the operator B. Let us imagine that it is thus with you, but that on your workplace, it's the opposite: no network at A and full 4G at B. If you want to receive in as many places as possible, few solutions are available to you.
The first solution is to check if a 3rd operator (let's call it C) offers a network that you pick up at your home and at your work. If operator C is not better than the others, the alternative is to have a subscription with two different operators which are complementary. It is obviously less practical than the first solution, but sometimes, it is difficult to find an operator who captures in all the main places where it evolves.
The stranger
The dual SIM use with two different operators becomes even more relevant when we no longer speak at the level of a country, but at that of the world. Indeed, if you go abroad - for a few days or for several months - it is important to remain reachable on your main SIM card. But it can also be useful to be able to benefit from a local SIM card, if your subscription does not include roaming in your destination. Having mobile internet in a foreign country can always be useful for getting your bearings, finding your way and finding out about your visits.
Obviously, all operators offer options to call or have data abroad, but it is sometimes much more interesting to subscribe to a local SIM card than to take this type of option. This is all the more true when traveling outside the European Union.
To protect his privacy, his privacy or his secret garden
Having a second SIM card inserted in your main phone can also be an argument in certain conditions where you do not want to broadcast your main phone number. This is the case, for example, when we want to put a product for sale on the Internet. Rather than being disturbed on your main line, you sometimes want to get a prepaid card during the sale and only broadcast this phone number.
Bouygues offers an interesting solution with its B.Duo option which allows you to benefit from a 2nd number on your SIM card, but if you do not want to pay this option (2 euros / month) or if you are at another operator, having a dual SIM phone can be very practical.
Indeed, with a simple prepaid card available in any tobacco shop or supermarket, you can have a provisional line on which you will receive requests from buyers without having to give your mobile number - buyers, or any another person to whom you do not wish to reveal their main number. All directly from your dual SIM phone.
Two SIM cards, multiple uses
In conclusion, the dual SIM phone is above all a flexibility for the user allowing uses adapted to the life of each one. It is not because the phone is dual SIM that it should be used, but it is a very significant additional possibility. Based on this observation, some manufacturers favor phones where the dual SIM slot is shared with the microSD card. It's up to you to choose what you want to have, more memory or a different SIM card, knowing that you can easily switch between them.
This is perfect for occasional dual SIM use, but still quite restrictive since you have to choose between the flexibility of an additional SIM card and the possibility of expanding the memory of your phone. Indeed, it is not uncommon to use a memory card to store data very often used on a phone (music and even applications). In this case, having to remove it is quite restrictive since it will limit your activities on your phone. Having a dual SIM phone that also has a microSD slot or even better enough storage from the start (ideally minimum 32 GB) is a significant added value.
How it works ?
Behind the term dual SIM actually hides different realities which give quite different possibilities. On paper, there are 7 categories for dual SIM phones, as well defined by Wikipedia:
Pseudo-Dual : two SIM cards in the device, but only one card is working at any given time. Need to restart the phone to switch from one to the other (there are fewer and fewer phones of this type)
Dual Sim Shift : it is possible to switch from one SIM card to another directly from the phone menu
Dual Sim Stand-by (DSS) : each SIM card is used at the same time, but as soon as a call is established on one card, the other is no longer active
Dual Sim Active (DSA) : the phone is connected to both networks simultaneously and can switch from one call to the other without hanging up. These phones can only work with two transceivers.
Dual talk - possibility to chat simultaneously with two correspondents from two different mobile operators
Dual SIM Dual Call - Both SIMs can receive calls. During a call, a light indicates the call on the other line. The line change does not hang up. Widely used in China, these phones have two RF, two SIM and two modems. They are also known under the names of DSDA (Dual Sim Dual Active), Dual SIM Active or Duos. When one SIM receives or sends data, the other SIM can simultaneously transmit voice calls.
If historically, the implementation of dual SIM in telephones was very basic with only the possibility of switching from one SIM card to another more or less quickly, we are seeing the appearance of more and more dual SIM stand-by telephones or even active, which leave many more possibilities.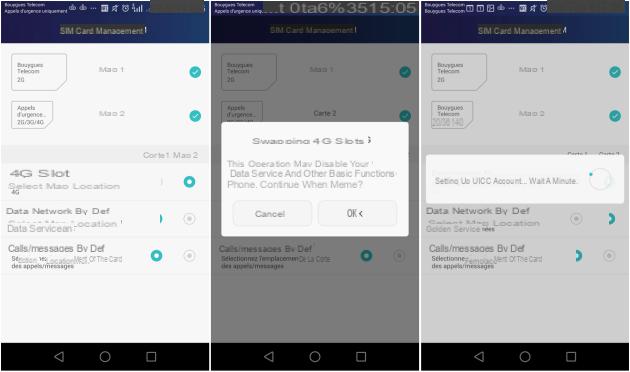 Dual SIM phones therefore have a specific tab in the settings. In it, it is possible to manage who does what, and in particular which one will have priority for data, as here in the settings of the Honor 6+.
What about autonomy?
To test the impact of a phone with two active SIM cards, we carried out a comparison using an Honor 6+ (Dual Sim Active technology). To have the most obvious conclusion possible, we focused our test on the calls part by deactivating WiFi, Bluetooth and with an automatic standby after 5 minutes of inactivity (only the first time). The exercise therefore consisted of making two calls of 5 hours each from the Honor 6+, once with a 2nd SIM card present and active in the phone (blue curve) and once with only the main SIM card in the phone ( green curve). Here are the results.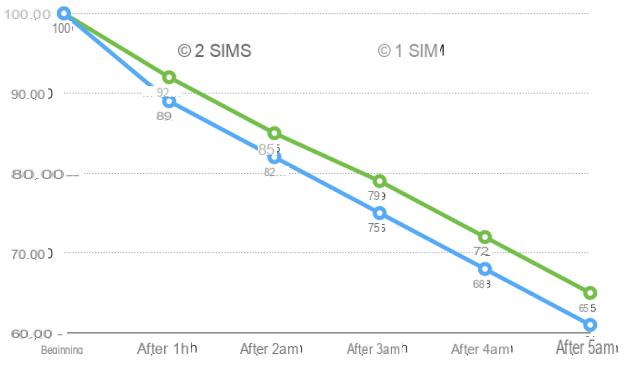 It can be seen that in a dual SIM configuration, autonomy is reduced more quickly, but only for the first hour. Indeed, if during the first hour, we lose 11% of autonomy in dual SIM against 8% in single SIM, beyond that we are on a loss of 7% per hour for both. For information, we repeated the test several times, especially for the first 2 hours in order to improve the relevance of the test.
It therefore emerges that the dual SIM does not consume much more battery than in a simple SIM configuration in call. Consumption is a little more important during the initial phase, but this remains marginal.
Article produced with the participation of the Honor brand