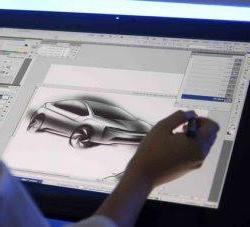 Artistic drawing, which was previously limited to the use of paper and pencil, can now be expressed to the maximum of creativity with some interactive online programs that provide a whole series of tools for drawing on the PC, even professional ones. Drawing on the PC is not only a hobby or an artistic activity but it can also be useful for creating diagrams or for studying problems to be solved at work such as when scribbling with the pen on a sheet of paper to summarize the data.
After the era of boring programs like Microsoft Paint, the drawing tool included in Windows, we see here the best web apps to draw on the PC, with any computer using the mouse or even with a tablet using the finger or the stylus, opening the various sites using the browser, Chrome on Android and iPad, Safari or any other that supports HTML5.
These are the best sites with
free web applications for drawing on PCs and tablets
READ FIRST:
Online painting, coloring and freehand drawing with artistic effects
1)
Sketchpad
is a drawing site that works without downloading anything to your computer browser, with an HTML5 image editor. Its rich section of tools allows you to create practically any image you want to make, the only difficulty is drawing, then saving your work and using the tools is really easy. The program displays the image as a PNG file that you can save on your computer. Drawing tools include those to add text boxes, brush, shape, pencil, bucket, stamp, calligraphy, crop, eraser, and color picker.
2)
Chrome Canvas
is a Google web app that allows you to draw freehand on a white screen. The app is very simple and quick to use, with all the space dedicated to the drawing area, with a few buttons and no advanced options. You can choose the stroke of the pen, the color and then even add different layers to overlay multiple drawings. Each new design can be saved as a PNG image.
3)
Autodraw, the Google site that designs itself
, excellent on PCs, tablets and smartphones, it is an artificial intelligence experiment and also a free blackboard in which to draw and create shapes and colors.
4)
Miro
is another app that makes a nice sheet on which to draw, in full screen, on PCs and Android tablets or iPads. AWW is a real online blackboard that allows you to draw even in a group on the same sheet. Few options, few tools, it is an ideal tool for immediate use. To invite other people to collaborate, you must submit your drawing board link. You can save the drawing as a PNG image and share it by email.
5)
Sumopaint
is a popular web application that works only on PC (not tablet) already mentioned among the online and free alternatives to programs for retouching photos like Photoshop. It is therefore possible to modify existing images, but also to start a new drawing using the professional tools provided, with many advanced features including layering tools, blending modes and blur tools. Other options include changing the contrast, color balance, brightness, and more.
6)
QueekyPaint
is an online drawing tool that also allows you to create a video of your work while you are painting. You can create your own artwork or visit other artists' galleries. It works a bit like a social network, requires registration and also works on tablets and smartphones.
7)
Deviantart Muro
is one of the best web apps for drawing online, made entirely in HTML5 and also works on tablets (even if the drawing surface is not full).
I had already written about this site in the article on
sites to create abstract art and free drawings with brushes, paints, shapes and texts
8)
Sketch.io
is an online tool for having fun drawing, developed in HTML5 that also works well on tablets and iPads. With this application you can also upload photos for editing, you can sign PDF documents and it is complete with tools for writing and drawing with brush, pencil, stamp and crayon.
9)
InspirARTion
is an easy and immediate web application for drawing, which opens immediately in full screen, without registration procedures and with all the available tools clearly visible at the top. From the button at the top right, you can download the version for Android tablets and smartphones.
10 )
Draw Island
is a simple web tool for creating drawings and GIF animations, on sheets of various sizes, with pencil and brushes. There is also a special version for iPad.
11 )
Slimber
is a browser application that allows you to draw, easy enough to get started, with a nice palette of tools that includes pencil, brush, line, shapes, bucket, eraser and colors. Once finished, you can click "play" to review how it is drawn.
12 )
Pencil Madness
is a flash web application to be opened on the PC browser to draw freely. You can save images to your desktop as a JPG or SVG file and use a variety of brushes and effects.
13 )
Sketchpaint
is a PC only flash app with lots of drawing tools.
14 )
CanvasPaint
is Microsoft Paint remade as a web application, free and identical to the original Windows program.
15 )
Paint WTF
is a site for drawing different from the others, where you can measure yourself against other people. The site proposes some things to draw every day and automatically judges, through AI, the quality of the drawing, ranking among all users. Very fun to use and also challenging.