Windows 10 continues to improve over the updates, while experiencing some failures. If Microsoft easily communicates on the advancements of its operating system, the company is not very verbose on certain "features" of its operating system, such as advertisements. After having put them aside for a long time, Microsoft is putting them forward.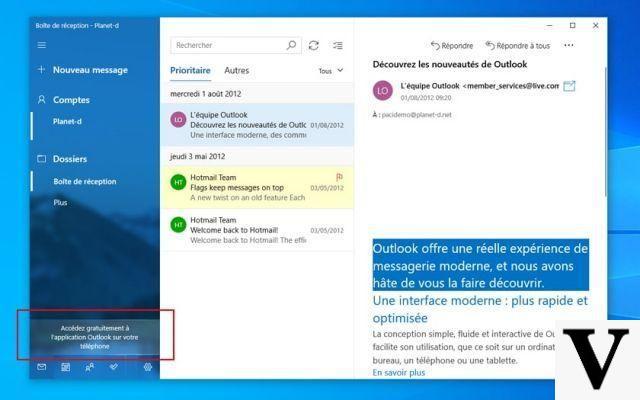 When you install Windows 10, this gives you the choice: either display targeted ads (and therefore track your activity), or offer generic ads, without taking your tastes and habits into consideration. But in all cases, it is impossible to get rid of advertisements within the operating system. Until now, these ads have been few and far between and not really annoying. Microsoft ended up backing down, especially when the company tried to integrate them into the Windows 10 taskbar or even into File Explorer. We even ended up forgetting them. But now these ads are back, targeting two Windows 10 apps in particular: Mail (Mail in vo) and Calendar (Calendar in vo). These ads are becoming more and more intrusive and above all, it is impossible to remove them.
Ads that target Mail and Calendar (for now?)
This is the discovery that the MSPowerUser site recently made. The Mail and Calendar apps now display ads that you can't get rid of. Courrier offers you, for example, to install the Outlook application for your mobile. Also, the ads in the app itself are displayed regardless of the email address you use. Finally, and this is perhaps the point that really poses a problem: if these suggestions are not annoying in themselves, it is impossible to suppress their display.

If you have a problem with this "choice" on Microsoft's part, you can share it with Microsoft through the Feedback Hub application. This is installed by default in all versions of Windows 10. By entering the term "pub" in the search field, we see that other users are already criticizing Microsoft for displaying too much advertising in its operating system and applications. You can leave your own message to express your dissatisfaction (or not?), But will this be followed up by Microsoft? Not sure, really not sure.