Electric scooters are now everywhere. If free-floating vehicles are an excellent entry point to discover the means of locomotion, having one of your own is less restrictive. But now, the market is a fair, flooded with products of dubious reliability and therefore accident prone. Which electric scooter to choose? We will advise you here on models for different uses.
TOP 3 of the best electric scooters
The enduring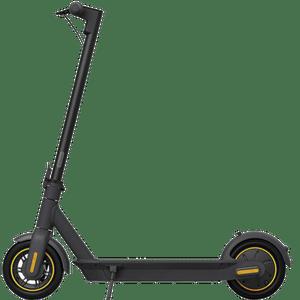 Ninebot Segway KickScooter Max G30
Very good autonomy
Comfortable
Powerful braking
749 € Our recommendation 9/10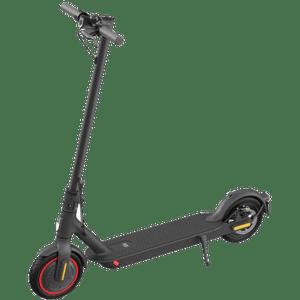 Xiaomi Mi Scooter Pro 2
Powerful
Autonomy the 45 km
Stronger tires
The test 499 € The alternative 9/10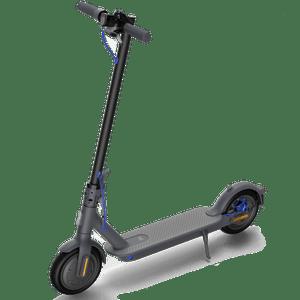 Xiaomi Mi Scooter 3
Excellent build quality
Simple and practical use
Increased power
The test 449 €
Difficult to choose an electric scooter. Very difficult. The price differences are very important, the brands little known and very numerous, there are all sizes, all weights, all speeds… And as a bonus, a good part of what is sold is of rather poor quality, even frankly dangerous. Fortunately, the legal framework has finally stabilized, which allows the buyer to see it a little more clearly.
Compared to free-floating use, owning your own electric scooter is a gourmet pleasure. No need to look for machines in the street anymore: yours is available at all times and always in good condition. In the long term, and depending on the purchase price of your scooter, it will also cost you less. At a rate of 3 euros for 10 minutes (the price charged by Lime in Paris) including one return trip per day ... Your scooter will pay for itself in 3 to 6 months.
To make it easier for you, we have selected the best electric scooters for you in various categories corresponding to the most common uses. And if you prefer to pedal, you can consult our guide to electric bikes to help you choose the right one.
Xiaomi Mi Scooter Pro 2 Our recommendation
9 / 10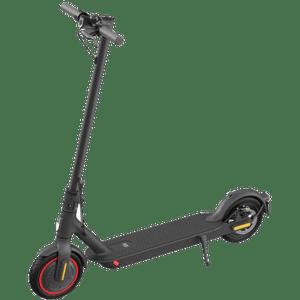 Product sheet See the Cdiscount test 499 €
Powerful
Autonomy the 45 km
Stronger tires
Available at 499 € on Cdiscount
In terms of scooters, Xiaomi has managed to convince a very large audience. The products of the Chinese brand generally present very good value for money, as with the Xiaomi M365, which still today remains very well placed among other scooters on the market. But in July 2020, the manufacturer enriched its catalog with three new scooters, including the Xiaomi Mi Electric Scooter Pro 2, which we recommend.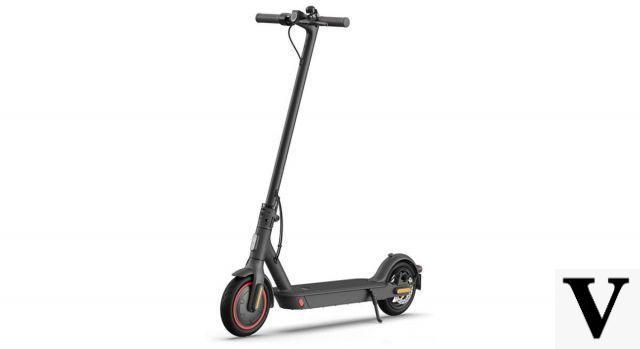 This scooter is the most powerful of the three. It replaces the M365 Pro, launched in 2019. No huge changes in sight in terms of technical characteristics. Its brushless motor (brushless) retains the 300 W of the previous model, which allows it to withstand a speed of 25 km / h (regulatory in Spain, therefore) even on a slope of 20%. Its advertised range is 45 km on a single charge, but under very specific conditions. In reality, count rather 30 km according to our tests.
Double braking, electromagnetic and disc, is always there, guaranteeing good safety at all times. The design is a little more refined than the M365 Pro, but still has the same kind of solid red on the wheels. The weight remains the same: 14,2 kg. A little heavy and bulky therefore, it will be felt at arm's length, especially during multimodal trips. But it is still ergonomic with good handling on a daily basis. And then it won't be too complicated to fold once your trip is over.
On the handlebars, the LCD screen is there. It allows you to monitor your speed in real time to modulate it as needed, as well as the remaining range and the chosen speed mode. There are three: sport mode to get to work on time, standard mode for less rushed walks, and pedestrian mode for… pedestrian areas, with a speed not exceeding 5 km / h.
A few points have been improved on this Mi Pro 2, especially at the level of the front, rear and side reflectors, as well as the 2 W front headlight for better visibility on your journey. Finally, the tires are stronger: their puncture resistance has been increased. According to the manufacturer, their durability has been tripled. This should ensure good results on rougher roads, with small gravel for example.
Where to buy the
Xiaomi Mi Scooter Pro 2 at the best price?
Cdiscount 499 € Discover the offer
Fnac Marketplace € 479 Discover the offer
Cdiscount Marketplace 480 € Discover the offer
Electro Dépôt 498 € Discover the offer
Fnac € 499 Discover the offer
Baker € 499 Discover the offer
Darty 499 € Discover the offer
Rakuten Marketplace 499 € Discover the offer
Rue du Commerce 499 € Discover the offer
Carrefour 499 € Discover the offer
Amazon Marketplace 539 € Discover the offer
See more offers
Xiaomi Mi Scooter 3 L'alternative
9 / 10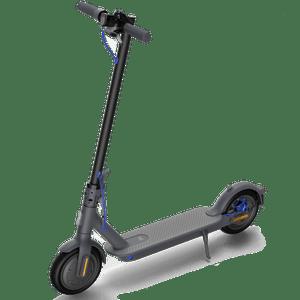 Product sheet See the Amazon test 449 €
Excellent build quality
Simple and practical use
Increased power
Available at 449 € on Amazon
Announced in the summer of 2021, the Mi Scooter 3 was expected around the corner. It has indeed taken the place of Mi Scooter 1S which is one of the benchmarks on the market. On the outside, it's also hard to distinguish the two models. Only a few differences in color and a redesigned folding system allow them to be differentiated. We therefore remain on a relatively light machine (13,2 kg), whose compact deck will require you to position your feet square.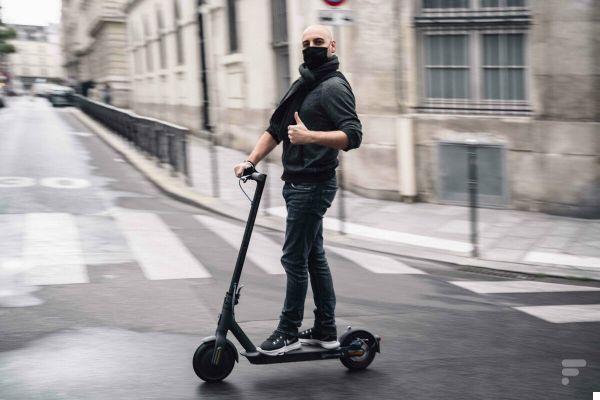 The Fonz of Strasbourg St Denis //
The folding system is more secure than before, but in return it takes a little longer to put into action. The relative small size of the Mi Scooter 3 makes it easy to store. As a counterpart to this small size, it has no secure attachment point. No question of hanging it in the street, it will always have to be carried with you.
The cockpit is unchanged, it's simple and efficient, even if we would have appreciated a little more information on the on-board computer. On the motor side, we find the same 300 W motor as on the Pro 2, i.e. a gain of 50 W compared to the one fitted to the 1S. The result is a significant gain in power when accelerating and especially the possibility of attacking hills of up to 16%. What to gain in versatility if you live in a very sloping city.
The machine is stable, but still ignores the shock absorbers. Coupled with its small wheels, this means that it has problems on paved surfaces or when crossing small obstacles. Nothing to say, however, on the braking system quite effective. There remains the question of autonomy, and on this point the Mi Scooter 3 is on par with its ancestor, with a little over 20 km on a charge and 5:30 to fill the battery.
Xiaomi therefore gives us here an excellent replacement for the Mi Scooter 1S, we have an extremely balanced quality product whose only real weakness is perhaps its autonomy, a little tight for daily use. We give you details in our Xiaomi Mi Scooter 3 test.
Where to buy the
Xiaomi Mi Scooter 3 at the best price?
Amazon € 449 Discover the offer
Cdiscount Marketplace 403 € Discover the offer
Cdiscount 449 € Discover the offer
Fnac € 449 Discover the offer
Baker € 449 Discover the offer
Darty 449 € Discover the offer
Fnac Marketplace € 454 Discover the offer
Rakuten Marketplace 544 € Discover the offer
See more offers
Himo L2 To get started smoothly
8 / 10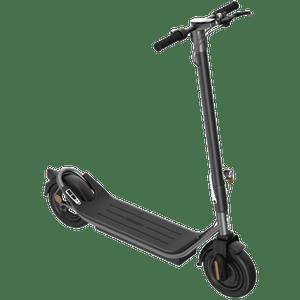 Product sheet See the Fnac Marketplace test 682 €
Effective brakes
Exemplary stability and driving comfort
Supports up to 150 kg
Available at € 682 on Fnac Marketplace
Chinese manufacturer rather specialized in bikes and balance bikes, Himo is launching a scooter called Himo L2 in France. Although sold more or less at the same price as Xiaomi's Mi Scooter Pro 2, it does not however box in the same category.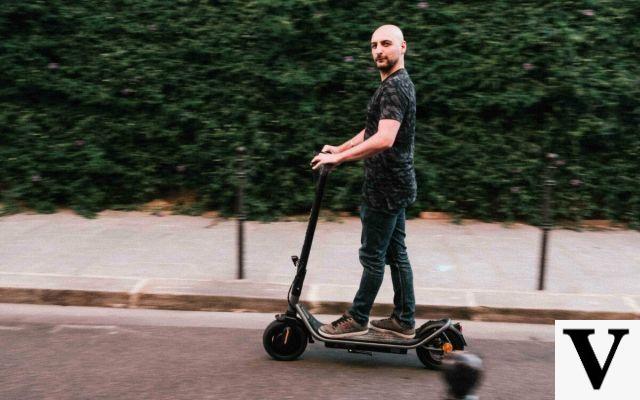 All haters // Source: Anthony Wonner - Idroid
And for good reason, with its 18,7 kg on the scale we are there in the presence of a real heavyweight. Unsurprisingly, this is felt during transport and it is not always easy to carry it up the stairs ... If it is easy to fold it up, it remains however imposing and not very easy to store. Counterpart of its size, the deck is spacious and above all we benefit from excellent stability. Rarely, it supports up to 150 kg, where competition is generally limited to 100 kg.
The cockpit is simple and functional and no app is available. The acceleration is controlled with the thumb, but the travel necessary to maintain full speed is a bit long. Result: the thumb tends to tire during long outings. The driving sensations are reassuring thanks to the 10-inch tires which smooth out the roughness. Although powerful, the L2 is however not super nervous. An impression of safety reinforced by the efficiency of the double braking.
The range is around thirty kilometers, with just under 6 hours to refuel. Himo therefore delivers us here a product which does not seek to amaze the gallery, but which shines by its simplicity of use and its comfort. If you are not looking to break speed records then this is a great choice for a beginner. We describe it in detail in our test of the Himo L2.
Buy the Himo L2 at Geekbuying for 423 € Where to buy the
Himo L2 at the best price?
Fnac Marketplace € 682 Discover the offer
Ninebot Segway KickScooter Max G30 L'endurante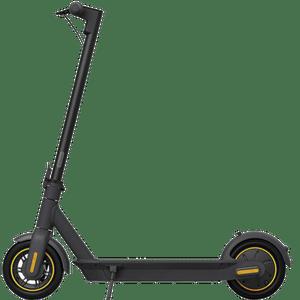 Darty product sheet 749 €
Very good autonomy
Comfortable
Powerful braking
Available at € 749 on Darty
If you are told "autonomy of 65 km". Rather enticing, no? To take advantage of it, you will have to turn to the Ninebot Kickscooter Max G30. This scooter is aimed at picky amateurs, who want to enjoy considerable autonomy without charging it every day or every other day. It is quite simply one of the best scooters on the market when it comes to runtime.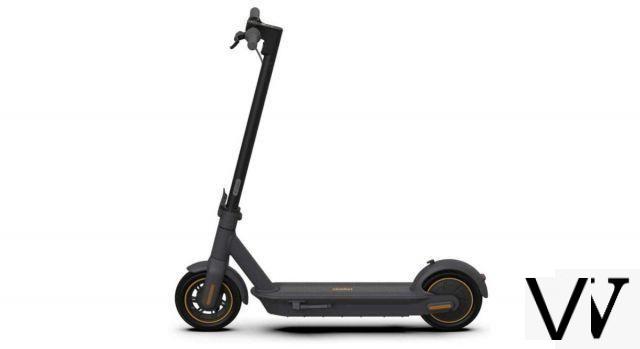 Among its other assets, we find its IPX5 certification which gives it good protection against the rain. But it is above all its comfort that we will remember, with 10-inch tires (tubeless) which absorb shocks and limit the risk of punctures. Comfort also on the deck side, with a platform 19 cm wide and 35 cm long, theoretically allowing to drive the two feet placed side by side, or one behind the other.
Safety is also essential with a double braking system (drum at the front, electromagnetic at the rear) operated by a single handle. For its power, we will count on an honorable 350 W motor, which can reach 700 W, with a maintenance of speed on inclined slopes of 20%.
Where to buy the
Ninebot Segway KickScooter Max G30 at the best price?
Darty 749 € Discover the offer
Rakuten Marketplace 729 € Discover the offer
Fnac Marketplace € 1 Discover the offer
Xiaomi Mi Scooter Essential The good value for money
7 / 10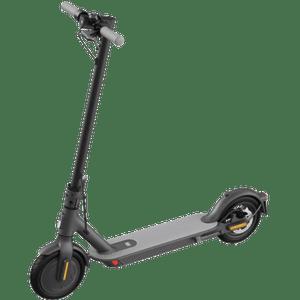 Product sheet See the Amazon test 349 €
A practical scooter for beginners
Double braking system
Only the essential
Available at 349 € on Amazon
For those who make short trips, the Xiaomi Electric Scooter Essential will be well suited. This is the most accessible version of the brand's three scooters launched in July 2020. It will inevitably be less enduring and efficient than its two sisters, but with a price displayed at less than 300 euros, this is 'A very good value for money.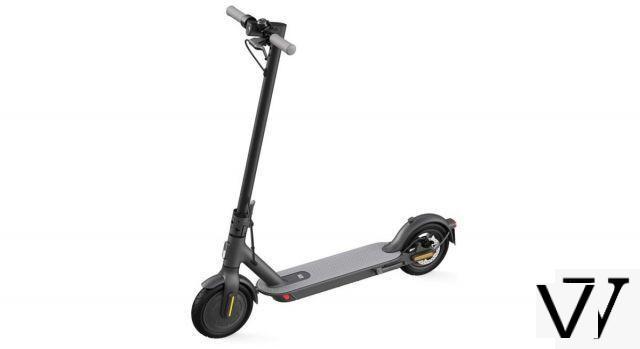 Its announced autonomy does not exceed 20 km (rather 15 km in fact), but this will remain more than sufficient for short trips between your home and your work, for example. Its maximum speed reaches 20 km / h with a 250 W motor, which is reassuring, but quickly becomes very limited: do not expect to climb slopes with more than 10% incline.
Good point: she is the lightest of the trio with only 12 kg on the clock. As for braking, we can count on the dual regenerative braking system as well as an E-ABS system on the wheel, which ensures good stability when slowing down.
In short, for all beginners and those who have not yet discovered the joys of this mode of locomotion, the Mi Electric Scooter Essential will get to the point and present itself as a satisfactory companion. You will find more information about it in our full review of this Mi Scooter Essential.
Where to buy the
Xiaomi Mi Scooter Essential at the best price?
Amazon € 349 Discover the offer
Rakuten Marketplace 321 € Discover the offer
Cdiscount Marketplace 334 € Discover the offer
Fnac Marketplace € 345 Discover the offer
Electro Dépôt 348 € Discover the offer
Cdiscount 349 € Discover the offer
Fnac € 349 Discover the offer
Baker € 349 Discover the offer
Darty 349 € Discover the offer
Carrefour 349 € Discover the offer
See more offers
The essential accessories for electric scooters
Buying the scooter is only the first part of the journey. Reserve at least a few dozen euros for essential accessories, starting with a helmet and gloves. Whether it's hot or cold, to do 500 m or 10 km, they are essential. In the same tone, always wear shoes that completely cover the foot. No flip flops or slides, even in hot weather. When you ride on two wheels, falling is not a possibility: it is an inevitability.
Even the best of pilots eventually fall out, and at that point you'll be happy to avoid a head injury or hands with a ground beef texture for several weeks. Any resemblance to facts experienced by the author is of course fortuitous.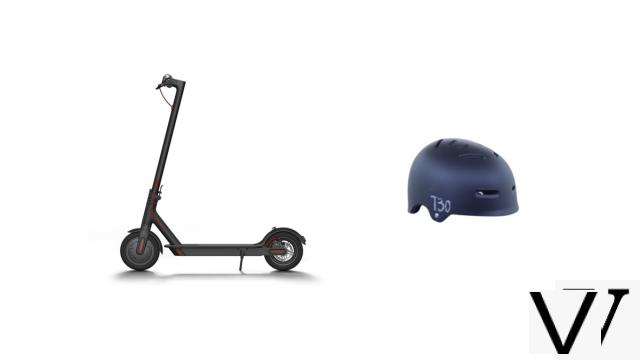 One does not go without the other !
If you like to travel to music, don't wear earphones or headphones. Not only is it illegal, but also suicidal. Luckily, the Bose Frames have you covered, with great sound that doesn't cut you off from the world. Several people in the writing use them in exactly this scenario. There are several sizes and formats.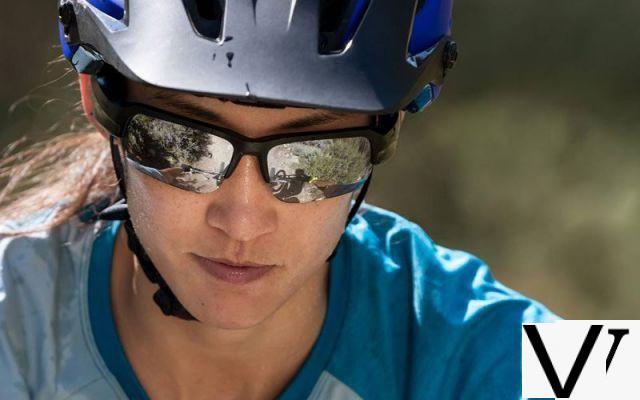 Find the Bose Frales Tempo for € 125 at Amazon
You'll also find great ideas in our guide to the best cycling accessories.
See and be seen
While all of the models selected here meet the front and rear lighting requirement, we highly recommend that you invest in an additional front headlight, especially if you're going to be driving at night. The small wheels of scooters make them particularly vulnerable to defects in the pavement and seeing clearly will prevent you from having nice bowls. The references available are endless, but we particularly appreciate this compact model from Knog.
Also avoid the urban ninja look with fifty shades of black: wear clothes in bright, reflective colors.
As the late Karl said so rightly: "it's yellow, it's ugly, it doesn't go with anything, but it can save your life". The good old yellow waistcoat doesn't cost much and can be worn over a jacket or a bag. If you are looking for things a little more aesthetic take a look at the jackets dedicated to cyclists, the offer is bloated.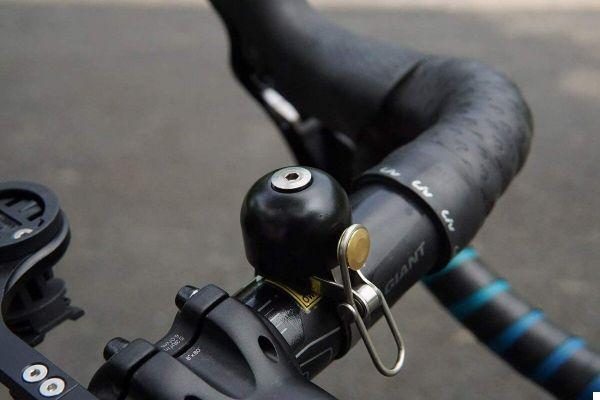 Tut tut !
A good doorbell is not a luxury. Invest a few euros to replace the delivered doorbell with a model worthy of the name. In the city, being heard is as important as being seen! Inexpensive, this RockBros doorbell has enough of a lively ringing and loud enough to turn the head of a gifted pedestrian listening to music. Avoid electronic models, however. They are expensive, must be recharged and, most importantly, their chimes are not always identified as such by pedestrians.
Last little tip: keep a pair of 5 and 6 mm Allen keys in your bag. These two sizes are the most used on scooters and for two euros you can tighten a stem or a wheel anywhere.
To learn more about electric scooters
How to choose your electric scooter?
Battery life, motorization, solid wheels or inflatable wheels… many criteria must be taken into account before making a choice. Our complete guide explains how to choose your electric scooter to help you choose your future means of urban transport.
What is the right price for an electric scooter?
Today you can find many references of very cheap electric scooters, around 250 euros. If there are some exceptions, it is recommended to avoid them in general. This is often poor quality equipment that must be overlooked, at the risk of traffic failure and a major accident. Below the 300 euros mark, you can seriously start to doubt the quality of the object. Better to spend a little more and come home from work safe and sound.
Electric scooters: what does the law say?
With a little delay, the decree finally consecrating the existence of electric scooters in the Highway Code entered into force on October 25, 2019. The main lines are as follows: circulation on obligatory cycle paths - or the roadway s' there is none - it is forbidden to exceed 25 km / h, to drive two people, with an audio headset and the machine must also have lights at the front and at the rear from July 1, 2020. Another important change: electric scooters can no longer "by construction" be able to exceed 25 km / h under penalty of a fine of 1500 euros.
You have the right to circulate in pedestrian areas, provided you drive at low speed and without hindering pedestrians. Some municipalities may also allow traffic on certain sidewalks, at walking pace, when necessary. Helmets are not compulsory, but are recommended.
How to maintain your scooter?
Scooters are vehicles that take a lot of shocks and get dirty quickly. Like any machine, it is advisable to maintain them regularly, and to check that no part is faulty. We recommend that you regularly take a look at the screws and particularly at the level of the stem which is subjected to a lot of stress. If it breaks in circulation, the consequences can be dramatic. When it comes to cleaning, the WD40 is your friend.
What are some good driving tips?
If you buy an electric scooter, it's probably for use around town. Adopt the same reflexes as in a car or on a scooter: look before you pull out, do not drive too fast, and obey the signs. On cycle paths, especially if they run alongside the sidewalk, watch out for pedestrians who can appear at any time, you never have priority. Also watch out for animals that are unpredictable. Finally, avoid riding in rain, the grip of scooters is usually not great.
What equipment do I need?
As on a bicycle, we recommend that you wear a helmet and gloves to protect yourself in the event of a fall. They can save you a lot of injury. It's the minimum. You should also invest in reflective clothing. These are also compulsory at night or when visibility is insufficient.
Do I need to take out insurance?
For damage caused to third parties, you are covered by your civil insurance. The latter is generally included in your comprehensive home insurance. If this is not the case, you will need to take out additional insurance. Most insurance companies now offer contracts specifically designed for users of electric scooters, provided that it complies with regulations.