WhatsApp is starting to roll out its new multi-device mode, allowing people to communicate with loved ones by connecting to other devices simultaneously without having to maintain an active connection with their smartphone. Here's how it works and the steps to activate it on your device.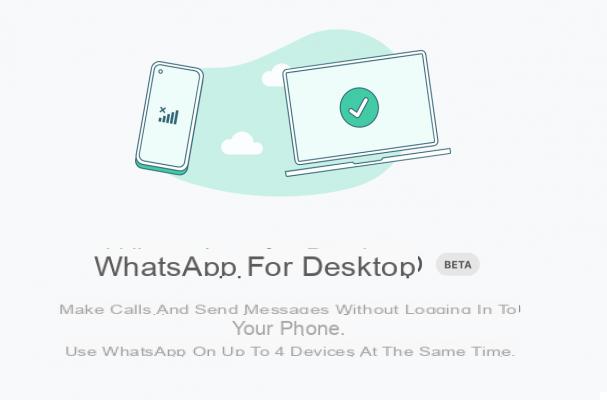 A multi-device mode had been around for a while in WhatsApp. The company then officially confirmed it last month, specifying that it would allow up to four additional devices to be linked to an account, without having to go through the user's phone to relay communications.
This new feature started rolling out gradually last week as part of a beta and is now expanding to more and more users. We were able to test this new multi-device mode, the details of which we will share with you.
WhatsApp without your phone
It was already possible to access your WhatsApp conversations from a browser or the web version. However, this mode required a constant connection with the smartphone, which served as a relay and took care of encrypting / decrypting the messages.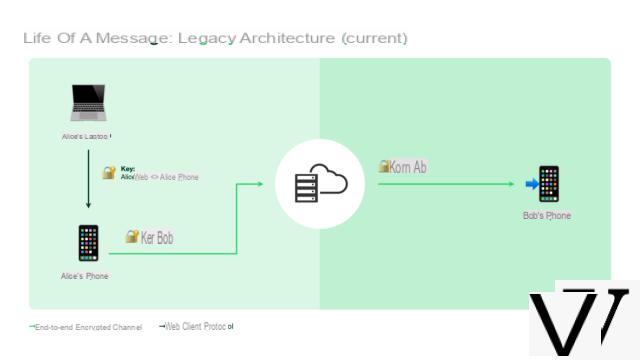 The old multi-device architecture, requiring a connection to the smartphone //
The new multi-device mode allows for its dialogue with loved ones, without the smartphone being connected. It thus allows the Web, macOS, Windows and Portal versions of the application to obtain an identification key, thus giving them the ability to encrypt and decrypt messages locally, as explained below. The messages therefore no longer pass through the user's smartphone, but directly between the secondary device and the recipient.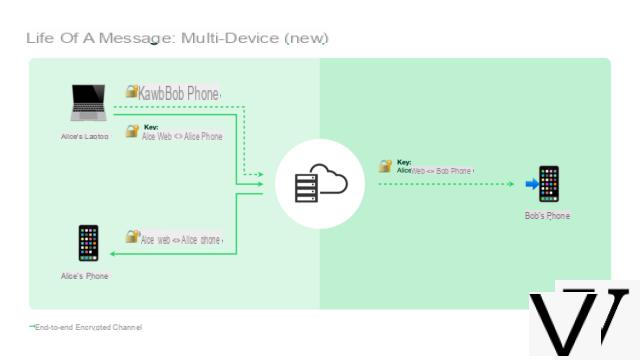 The new multi-device architecture, operating without connection to the smartphone //
It therefore becomes possible to continue writing and calling each other while using the Desktop, Web or Portal version of WhatsApp, even when the phone is offline or has no battery. Unfortunately, this mode won't work on other phones, at least for now.
How to join the beta
Now that you know the benefits of this new mode, here's how to get it before everyone else. First, you need to register for the WhatsApp beta program on the Play Store. Once you've signed up, make sure to update your app, then go to the WhatsApp menu at the top right and select "Connected Devices".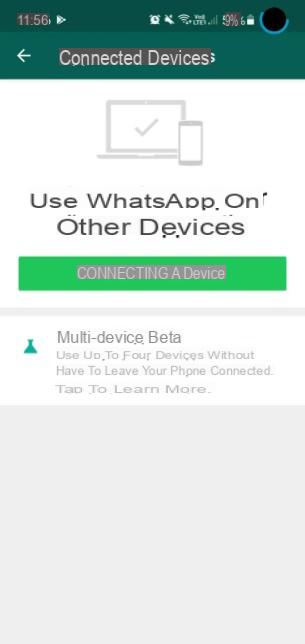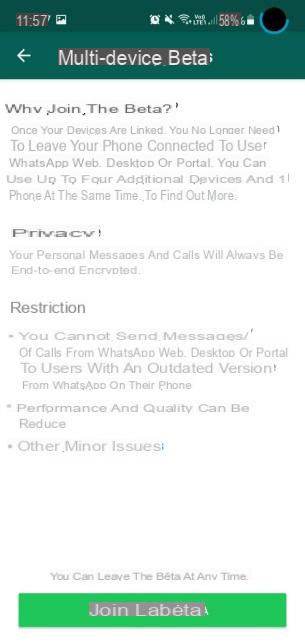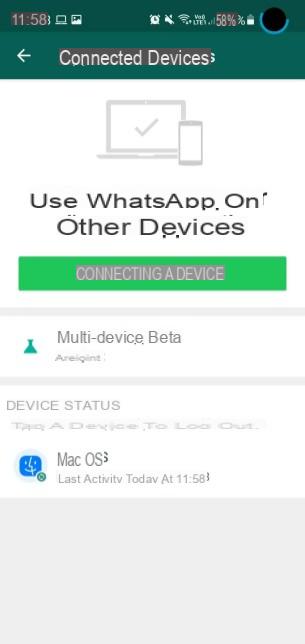 The multi-device beta mode should then appear. Click on it to activate it and, after having read the limitations of this new feature, validate by clicking on "Join the beta". Your devices will be instantly unpaired and you can then pair a new device as you normally would, that is, by scanning a QR code. The device will then synchronize and obtain its own encryption key and will then work independently of your smartphone, whether it is to exchange messages or calls.
Use: what changes and what remains the same
The interface remains the same on your computer, with the difference that a "BETA" mention is now present on the left of the window. Likewise, the main screen indicates that you are using the new multi-device mode. However, your shortcuts and settings remain the same. It is also possible to make audio and video calls, as on the classic version.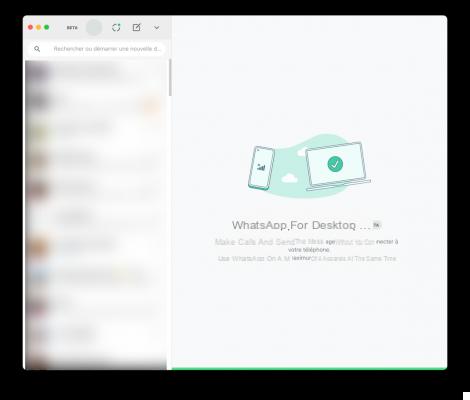 The main difference is the fact that your computer interacts directly with your recipient's device and does not require a connection with your smartphone. Not only can you continue to chat with your loved ones if you run out of battery, but you also receive messages instantly on your computer and save your smartphone battery a little more.
Despite this change, messages and calls remain fully encrypted end-to-end. Each device receives its own key, the mode remains limited to four devices in addition to your smartphone. You must also use it at least once every two weeks, in order to guarantee the security of your account.
Some problems that still need to be corrected
There are some issues with using an app in beta. Indeed, some regressions are to be expected compared to previous Web and Desktop versions. Thus, it is for the moment impossible to pin a conversation on your computer, or even to access those that you have already pinned from your mobile.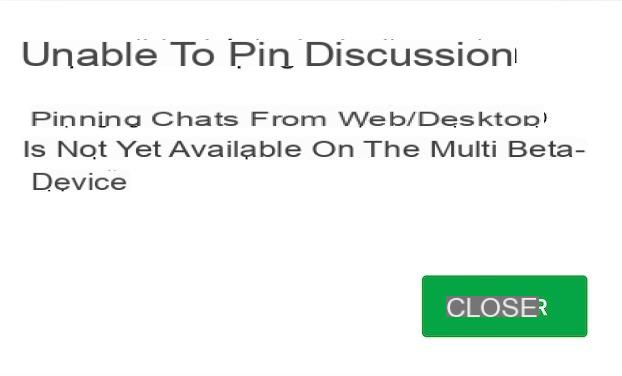 Likewise, live location sharing no longer works, since it is only shared with your phone and not the different devices linked to your account.

In addition, the conversation history transferred to your computer is only two years. While this is enough for the average person, you may have to dig up your phone to find older conversations.

Finally, if you delete an entire conversation on your smartphone, it will not be deleted from other devices and you will have to repeat the operation manually. This is all the more surprising as the fact of deleting a message in a conversation (even by selecting the option "for me") is reflected from one device to another.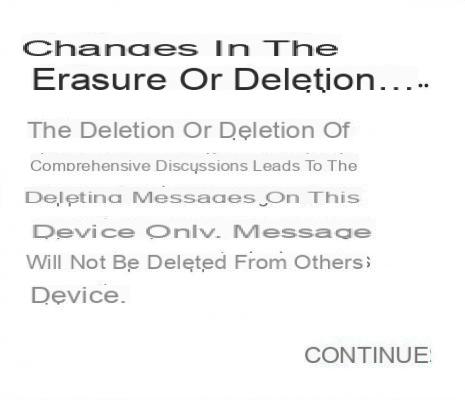 Other, more minor, limitations are also to be expected. For example, it is not possible to communicate with users using a very old version of WhatsApp. Likewise, calls will not result in the Desktop, Web, or Portal version of a user not using the new multi-device mode.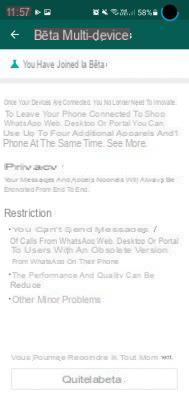 Although these limitations are not a problem, it is still possible to exit the beta at any time to return to the classic multi-device mode, which requires a permanent connection with your smartphone. However, the majority of these bugs should be fixed by the time the feature is rolled out globally.
In addition, some are simply due to an incompatibility between the old and new versions of multi-device mode and will no longer be relevant once all users have switched to the new protocol.