I forgot my caccess code and I disabled my iPhone. I really need some help solving the problem and getting access to my iPhone! What should I do?
Some access codes are so effective that you forget them. Sometimes, even worse, after trying to use different passcodes (6 times), a window appears saying that theiPhone is disabled and asks to try a few minutes later.
This is the situation that many iPhone owners face every day, for various reasons. When you forget the access code to the device you can try one of the following ways to unlock the iPhone depending on the situation:
Solution 1: Unlock iPhone by restoring it if it was previously synced with iTunes
If you have synced your device with iTunes before, you can try resetting the login password by restoring the device with an iTunes backup. Here are the steps:
Step 1. Connect your iPhone to the computer via a USB cable and launch iTunes. Make sure the computer is the one you used to sync your iPhone with iTunes. If it's not the same computer, iTunes will ask you to enter the code. However, if you can't find the computer where iTunes doesn't ask for a password you could try the second way which is to reset your iPhone.
Step 2. If your iPhone is still disabled or iTunes doesn't sync your iPhone automatically, you need to sync your iPhone with iTunes manually. Click View> Show Sidebar, your iPhone will be displayed in the left sidebar.
Step 3. When the backup and sync finishes, click on "your iPhone" below DEVICE in the sidebar. On the right side, click the Summary tab. Click the "Restore iPhone" button.
Step 4. Access the Summary tab again. In the Backup area, click on "Restore Backup". Then you can reset your iPhone's passcode.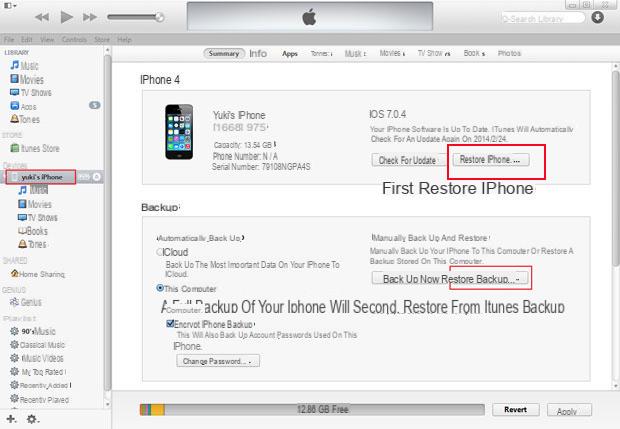 Solution 2: How to unlock iPhone if you have never synced your iPhone with iTunes
If you have tried solution # 1 but Tunes cannot connect to your iPhone because it is locked with a passcode or you are trying from another computer then we recommend that you use one of the following two solutions.
La first solution is to use the program Dr.Fone Unlock which allows you to unlock iPhone with forgotten password, too WITHOUT USING iTunes.
La second solution instead, perhaps more complex and manual, is to put the iPhone in DFU mode as indicated below. Note that by following the instructions below you will be able to reset your iPhone (all data on your iPhone will be erased):
Step 1. Press and hold the power button (some people call it the Sleep / Wake button) of your iPhone for a few seconds until the red slider appears. Slide the slider to turn off your iPhone.
Step 2. Reconnect your iPhone with the computer via the USB cable and press and hold the Home button.
Step 3. Don't let go of the Home button until you see the "Connect to iTunes" screen on your iPhone screen. iTunes will detect the device in recovery mode. Click OK to restore (reset) your iPhone.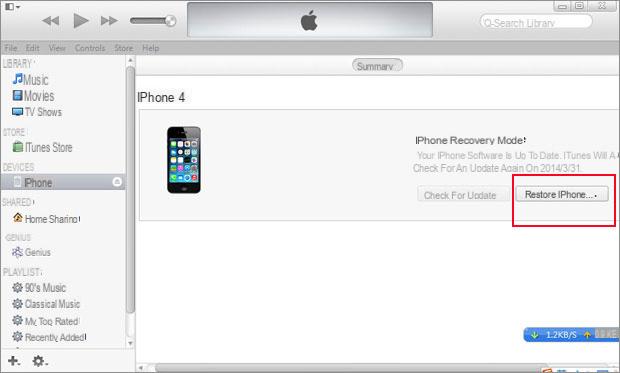 Solution 3: How to Unlock iPhone with Forgotten Passcode via dr.fone
As a last, desperate attempt to be able to recover your iPhone data before the eventual reset, we recommend that you give it a try Dr.Fone for iOS. This is a program designed to recover data mistakenly deleted from the device memory but in many cases it can be useful to unlock iphone with forgotten passcode, in the sense that it can also access the internal memory of the iPhone to back up data before making reset (reset) the device.
For more information read this article.
hi, my iphone crashed suddenly
cm do I retrieve all the data and numbers saved in the phone?
I forgot my passcode of my iPhone 5S THEN I have blocked as lost plus I have removed my iPhone finder this iPhone I have sent a gift to my sister in Brazil what can I do, will it be that apple in Brazil can solve this yelp?
Guys excuse me, when you configure the iphone 7 they give you a 6-digit code via message that you then have to enter, now I don't remember auel code anymore, how can I do to recover it? Because he won't let me unlock my cell phone. Even if you have to lose all the data it doesn't matter
Hi how can I do or bought second hand iPhone 4s restored it and asks me old owner's email how do I unlock it
you solved? I have the same problem with a 4S, I found it but it asks me for the email of the old owner that I don't know who he is.



for those who have forgotten the various passwords, they can contact APPLE directly, providing the original proof of purchase of the apple devaice, I mean original because if you bought it from a private individual or through unofficial apple stores they must also go backwards to find the first one owner then have a copy of the receipt sent to you and with the imei code of the mobile phone call the APPLE which solves the problem.
I forgot the passcode of my iPhone but I have the mode find my iPhone active so it does not allow me to restore it (with ITunes) what should I do? Isn't there a way to do it via email?
Log in to the icloud site and disable Find My iPhone first.
At Christmas I gave my nephew Iphone 5S bought 8 months earlier. Unfortunately I have forgotten the access code and I don't know how to recover it.
Can someone help me?
thanks Giuseppe
You solved? If you tell me how did you do it I have the same problem
My problem and password. Of my email. I don't remember
Hi, I'm Marco, I forgot the unlock code for an iphone4. How can I unlock it?
My iPhone 4 unlock code does not recognize me
Can you help me!!!
I forgot the lock code of my iphone 5, how do i unlock it?
Hi, I have an iPhone 6s 64GB which appears when I turn it on: weQR is blocked anomalously… It asks me for a code that I never had, I recently bought it on facebook.
What do I have to do? It won't let me access the phone. If I don't enter the weQR unlock code
Can you give me a code ???
Hi, I have an iPhone 6 I did option 2 but it tells me that I have to put the unlock code of the mobile but if I have forgotten the code, what should I do?
Hi everyone I forgot the code I also ran the recovery options but when I restart the device iTunes tells me - To allow access, answer on the iPhone -, and I am asked again for the code, I don't know how to do it. .
Excuse me I no longer remember the password for unlocking my iphone 6 plus siri is disabled pk there is no wifi and it does not make me do anything, the imprint does not go pk ask for the code. I wrote the unlock code on the notes of my iphone but it does not make me lift up on the (curtain, box) the one where you turn on the internet etc ...
How can I unlock it?
I have an iPhone 6 from the USA and I have not used it for more than 4 months so I forgot the code and now it gives me a disabled iPhone as I do since with the ios8 the procedure is no longer like that of the iOS 7?
yes but now I have liphones removed and in my hand I find only the motherboard tomorrow I reassemble it and I try so to the maximum I threw 80 euros but if I can surely I will be very happy and logically I will write here too
hello I tried with the 2nd option but while I download the update (because it comes out written restore and update) it stops and the device disconnects ... what can I do?
hi valeria, i had the same problem with your iphone 4, i got the code wrong several times and now it tells me that it is disabled, i tried the 3 solutions here but nothing !. have you solved with yours? if yes can you tell me how? thanks!

hi i have an iphone quattro which i don't remember the security code plus the screen is completely destroyed and i urgently need to recover some data inside

Try scanning through the dr.fone program. The important thing is that a PC "with consent" is used, that is, on which the iPhone has already been connected in the past (for example to synchronize data on itunes or for other ...)
hi I left my iPhone for a few months to replace it with another one.
now I have taken back my iPhone 4, and I have tried over and over again to put the code.
now it tells me (i phone is disabled connect to i tunes)
but I do not know how I can do it. since I do option 2 and it doesn't tell me anything. Help me
!!
SOLUTION 2: HOW TO UNLOCK iPHONE if you have NEVER synced your iPhone with iTUNES
are you from Cappadocia ??? How do you ask questions about things that have already been explained to you?
My favorite is this: "Hi everyone I have an iPhone5, I forgot my password and I don't have an iTunes account, what can I do?"
Holy shit they wrote it in big letters, what the hell are you still going to ask:
<>
I love you <3
I forgot the activation code of my aiphon 6s i tried several times to type the code i thought right. Now it tells me to wait 15 minutes and that blocked emergency phone call only. How can I go about solving the problem? Without connecting it to the PC. Thanks for the help if possible. Thanks.
But if I do option 2, is the data saved? Before forgetting the password, I did not make any backups
no, they made the premise on purpose, nothing is saved with option 2, I'm sorry.
but it also applies to iphone 4 s, because mine has become a bit slow.
hi guys i have a problem i forgot the icloud code how can i do help me my email sandrotesacalda@libero.it
Hi everyone I have an iPhone5 I have forgotten the password I do not have an iTunes account what can I do?
i took the phone 6 plus copy used 20 days when i connected it to the internet hlo turned off and it doesn't turn on anymore? Help
Just hold down the release button for switching off and the home one at the same time for 8 seconds then leave and hold down only the release button (not the home one) and it should turn on again

SORRY ME ASKS FOR UPDATE BUT THEN GIVES ME A NETWORK ERROR WHAT SHOULD I DO?
I forgot the passcode of my ihpon 6, never connected to itiuns
What should I do. Help
Hi you can also throw it away to the maximum use it as Ipod

Hi! I wanted to ask you but did you manage to unlock iPhone 6 in the end? PE right to understand why it happened to me too! If you can tell me something, do I listen to you very willingly?

Send it in dfu, reset and log in with iCloud credentials

change the internal memory and you will have your iPhone as good as new. in an unauthorized center or you do it yourself. very simple. you will lose the data but you will have your iPhone again.
But does this procedure also apply to an iPhone 8 with IOS 8?