Data encryption is an increasingly sensitive topic, and it can come in handy when your phone is lost or stolen to know that no one can recover their entire digital life with just a few clicks. Let's see together how to encrypt your phone running Android 5.0 Lollipop and how to restrict app access to anyone.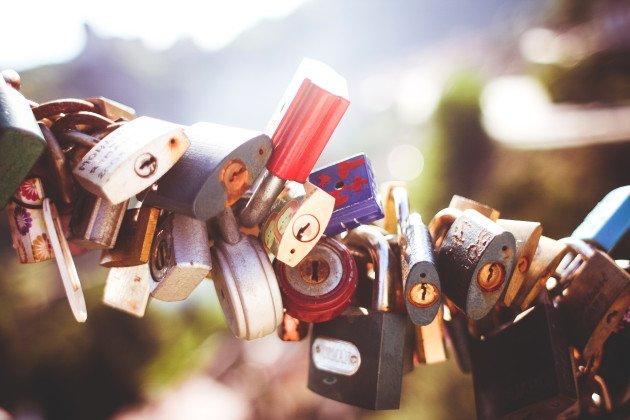 Since Android 5.0 Lollipop, Google has integrated data encryption functionality directly into Android. This option is unfortunately quite unknown to users. However, it allows to add additional security to their smartphone. Data encryption helps prevent a third party from accessing your personal information. For example, if a malicious individual steals your phone, and tries to access your data by connecting it to a computer, they will be faced with fully encrypted files. Without this encryption, your data would have been fully accessible. Also, encryption can be a good solution for anyone with sensitive files on a mobile device.
For owners of a phone running Android 5.0 Lollipop, it is not necessary to use a third-party application since Android natively integrates this option in its settings. To access it, go to your phone's settings, then "Lock screen / Security", "Other security settings" and finally activate the "Encrypt device" option.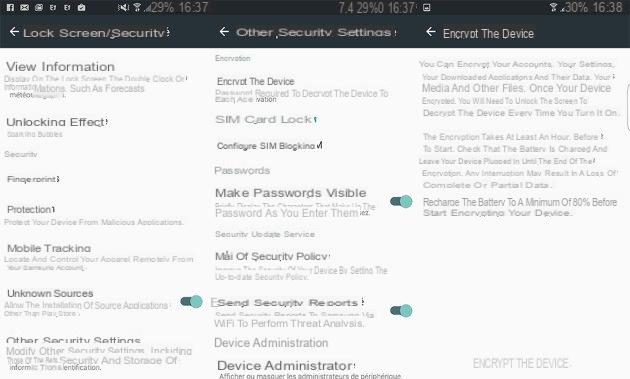 It is necessary to set up a secure unlocking mode (diagram, pin code, password or even fingerprint) before proceeding with the encryption, and to have a minimum of 80% battery. The operation then takes an hour during which the phone will be unusable. Once this is done, your smartphone will be fully encrypted and you will be asked for your previously configured code or pattern at each start. If you want to remove the encryption, it is necessary to restore your phone to default. Through the reset option accessible in the settings (Settings => Backup and reset => Restore default settings).
Lock the application opening with a code
Android does not natively block the launch of applications with a code, and some will regret that the web giant has not yet integrated this feature. It is practical to be able to lock access to certain content in order to lend your phone more serenely, for example. Fortunately, a small application available on the Google Play Store offers to add this option to Android. Named Serrure(AppLock), it is completely free and allows you to choose which applications you want to lock with a code.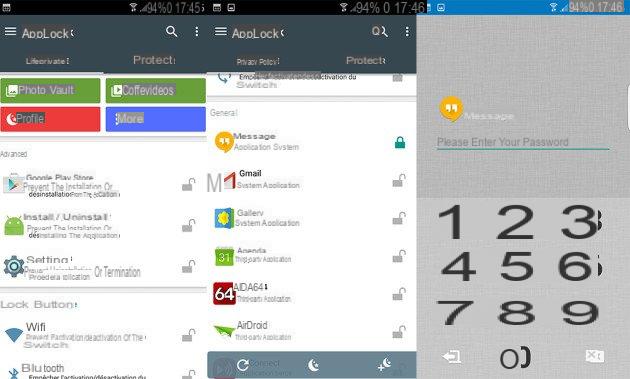 When launching the application for the first time, you will be asked to configure a PIN code. Note that this will be requested each time you open a blocked application and open AppLock. Then choose the apps you want to block.
Good point, it is possible to lock the download of applications from the Play Store and to set up profiles allowing to change blocked applications in one click. It is also possible to hide certain photographs, or even videos, directly in a "safe" accessible only from AppLock. To access it, open the application, click on "Photo boxes", then choose your photos, and click on the small padlock located at the bottom right.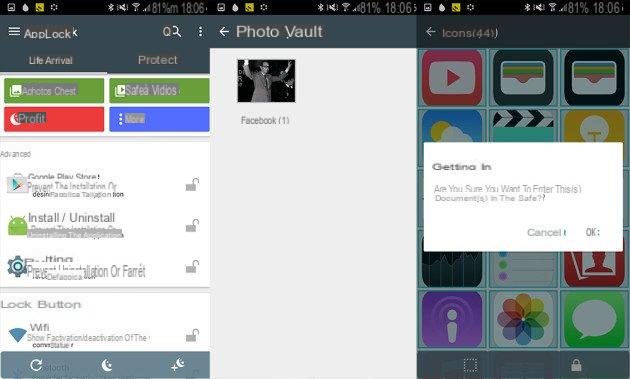 Your photographs will no longer be accessible from the Gallery application. You must go through AppLock to view them.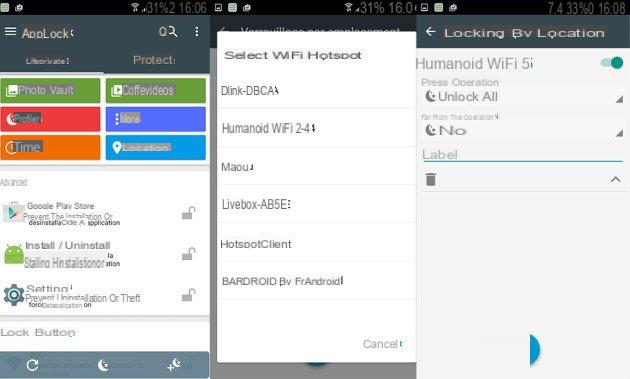 Another singularity, it is possible to configure the application lock according to your location. To do this, launch the application then click on the blue button "More" and finally on "Location". This system works thanks to the WiFi connection of your smartphone. Once a WiFi network has been selected, the profile will be set up automatically. Convenient for not having to enter your password at home for example.
It is also possible to activate additional security, preventing the uninstallation of the application. To do this, go to the "Protect" category and activate advanced protection.
The application is completely free, but nevertheless includes a monthly subscription billed 0,69 euros per month to be able to access the WiFi or mobile data lock.