When it comes to transfer edited photos from iPhone to computer, we mean those photos to which effects have been added or changes such as brightness adjustment have been made. As you know, these photos can be copied to your computer in their original appearance without the effects added later.
For users who use a Mac computer with the program installed iPhoto, you can save photos with effects. But if you are using a device with iOS 8 or later, it is no longer possible to get the edited photos even on Mac. If the edited photos are not many a first solution could be to send them by e-mail to yourself.
Or you could take advantage iCloud to share these edited photos: go to Settings> iCloud and activate the "Photo Stream" on yours. Enabling Photo Stream will allow you to see edited photos on other iOS devices or on the Mac.
For Windows users the transfer of edited photos from iPhone to PC it could be more complex, in any case we want to indicate a program that will allow you to do this without problems. The program to use is TunesGO, a powerful iPhone Manager that allows you to manage all data on your iOS device directly from your computer. With this program it is possible transfer photos from iphone to PC and vice versa import them from the computer to the iOS device!
First download and install TunesGO on your computer:


How to transfer edited photos from iPhone to PC / Mac with TunesGO
Step 1. Install and start TunesGO
This is the initial window you will see after connecting your iphone to the computer via USB: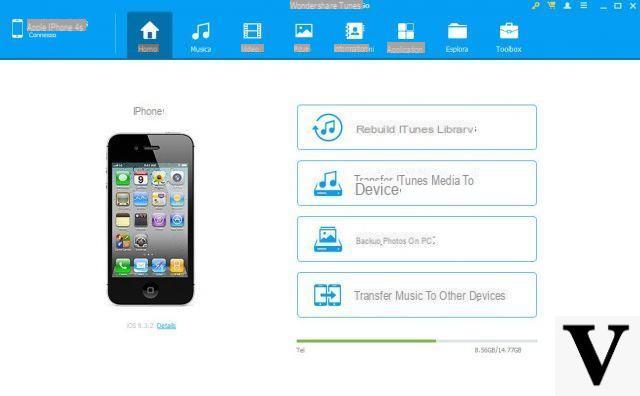 Step 2. Access the PHOTOS section
Click on PHOTOS at the top to see all the photos on your device (even the modified ones)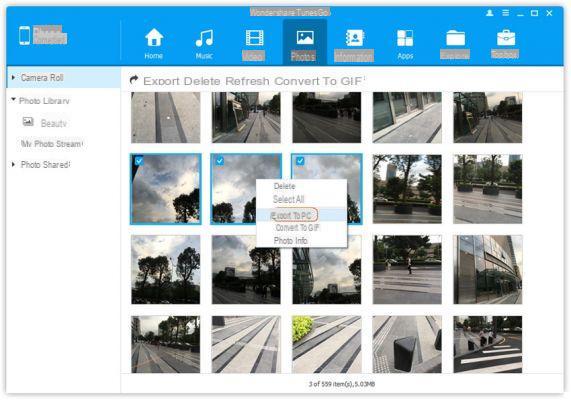 Step 3. Export edited photos
Select with the mouse all the modified photos that you want to copy to your computer and finally click on "EXPORT". Alternatively, you can select the photos with the right mouse button and then from the drop-down menu click on "Export to PC" (see fig. Above).
The photos will be exported to your computer in their original format (and resolution).
NB: From the left of the program you will be able to access all the photo albums on the device and / or access the shared photos (Streaming Photos) or camera photos.
The transfer of photos from PC to iPhone is very slow, it has already been two hours to copy 200 photos and it still hasn't finished
Use the Photo Backup function found on the program's home screen. This way you can save all the photos (even if they are thousands of photos) in a few minutes.
Transfer Edited Photos from iPhone to PC or Mac -