WIKO is a French company that in recent years has been establishing itself on the smartphone market thanks to its "mid-range" devices that stand out for their good performance and excellent value for money. The design also makes these phones unique and distinguishes themselves from the competition. There are many models of Wiko smartphones (all based on Android operating system) and among these we can mention the following: Wiko View, Wiko Go, Lenny 5, Jerry 3, Jerry 2, Wiko Rainbow, Pulp Fab, Tommy 3, Harry, Wim, etc…




The practicality and design of this phone have also led many users with a Samsung or iPhone device to choose WIKO. But it is equally true that many Wiko users over time decide to switch to a higher-end smartphone such as Samsung Galaxy or the latest iPhone models. Below we will see how to deal with the problem of data transfer (contacts, messages, photos, videos, music, notes, etc ...) when you switch from Samsung or iPhone to a Wiko phone or vice versa you switch from a Wiko to another mobile (ioS or Android).
Transfer Data from Samsung and iPhone to Wiko (or vice versa)
The ideal program to use when changing phones and wanting to transfer different types of data from old to new mobile is dr.Fone Switch. It was one of the first programs to be designed for this purpose and to support both iOS and Android devices. It also fully supports all Wiko phones and so if you are switching from an iPhone or other Android phone to Wiko, or vice versa, you can use this program to copy sms, contacts, photos, videos, and other useful information.
First download and install dr.Fone on your computer (Windows or Mac) from the links below:


After starting dr.Fone you will need to click on the function TELEPHONE TRANSFER and then connect the Wiko to the PC and wait for the program to detect it.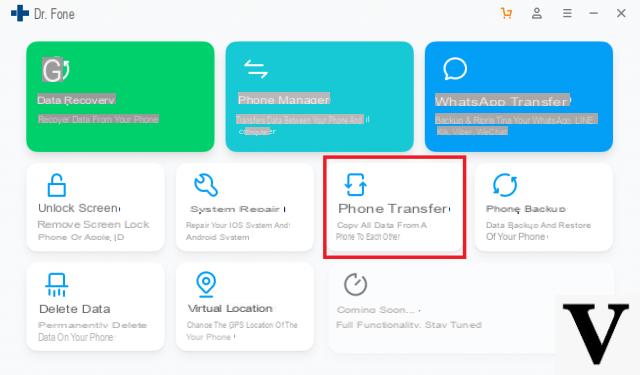 In order for it to be detected, it is essential to activate USB debugging mode on the Wiko (activate usb debugging on Wiko)
Dr Fone Switch Data Transfer Screen: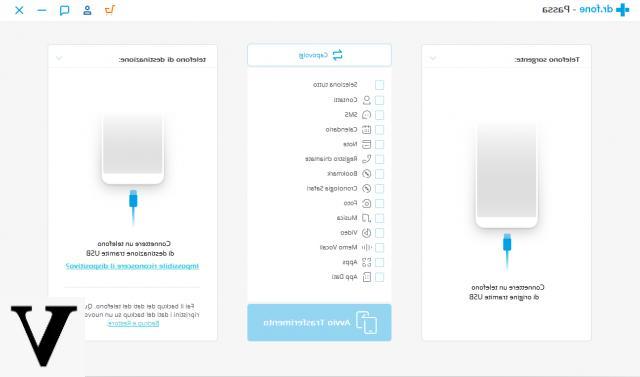 After connecting the Wiko also connect the other phone to or from which you want to transfer data (eg Samsung, iPhone, etc ...)
The moment it is the W that the other smartphone is recognized by the program, you can proceed with the selection of the data to be transferred and start copying. You will be able to transfer contacts, messages, call logs, applications, photos, music and videos.
As for Whatsapp, you will need another program called WhatsApp Transfer. In this regard, read how to transfer whatsapp chat
Happy data transfer!
Nice program, thanks for the tip