We have already seen how to use bluetooth to transfer data between two mobile phones, but if you have tried to activate this function on your iPhone to transfer photos or other data to an Android device (eg Samsung, Huawei, LG, HTC, Sony, Motorola, etc ...) you will have noticed that Does not work. Because? The reason is that Apple allows their iOS devices to connect via bluetooth only to other iOS devices and not Android or other devices ... all this for "safety".
We do not want to discuss whether this is a choice made precisely to ensure safety or just a marketing action, in any case in this article we want to point out alternative methods that will still allow you to share and transfer or receive data between iPhone and ANDROID devices!
Solution 1: Sharing files via the Internet
To share files over the Internet, you can use any cross-platform online service that allows you to share content with other people. WhatsApp is a very popular service for sharing photos, music or videos with your contacts. But if you want to share other types of files, SendAnywhere it's another decent service for this purpose.
SendAnywhere is available for iOS, Android, Windows Phone and also as a Chrome extension. It also has a web version for unsupported platforms like Blackberry. To send and receive files using SendAnywhere, you need to install and open the app or website on both devices.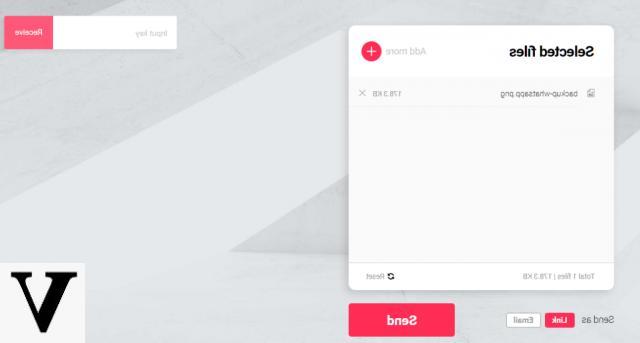 Using SendAnywhere on iOS, you can send photos and videos from your Camera Roll and any file stored in the app's local storage. If the file you want to share is not available in your local storage, you can import it using "iTunes File Sharing" or the "Open" function (if available) from other installed apps. On Android and Windows Phone, you can select the files to send from your device by browsing the accessible storage locations.
On the receiving device, the shared files can be viewed within the app. On iOS, received files are stored in the app's local storage, while on Android and Windows Phone they are stored in a default location. You can find the location of the stored files from the app specific settings.
Solution # 2: Sharing files via WiFi
WiFi hotspots are very common in public areas and you can use these hotspots to share files between connected devices within the same WiFi network, without using the Internet.
SHAREit from Lenovo, is a decent cross-platform app for sharing files over WiFi, available for Windows Desktop, Android, iOS, and Windows Phone devices. Platforms that do not have a native SHAREit app can access and transfer files via the web interface (WebDAV). The steps below show you how to share files between iOS and Android or Windows Phone devices over WiFi, using SHAREit.
Download and install SHAREit on both devices where you want to transfer files.
Connect the devices to the same WiFi network and open the SHAREit app on both.
On the sending device, tap the icon SEND and select the file to send. Once the file is selected, tap OK or Next to continue.
On the receiving device, tap the button RECEIVE. The receiving device will be displayed on the sender's screen.
On the sending device, touch the recipient's avatar to send the file.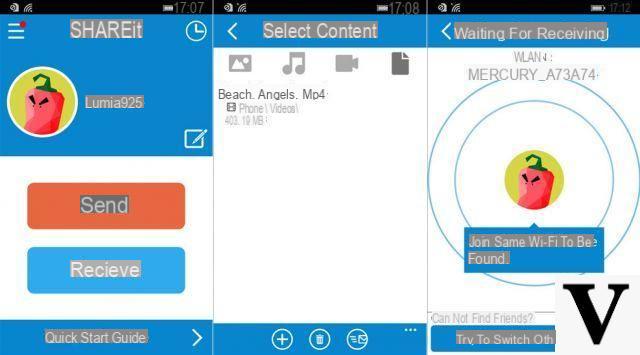 The file will be sent to the recipient and stored in the app's local storage (on iOS) or in a default location (on Android and Windows Phone). Check the app settings to find out the save location.
Please note: On an Android or Windows Phone device, you can choose the file to send from your photo or video library, as well as via the file browser. On iPhone, iPad, or iPod Touch, you can send files from Camera Roll or in-app storage. If the file you want to send is not available in these locations, you can import it into SHAREit's local storage via iTunes File Sharing or using another app's "Open in" option, containing the desired file.
Solution # 3: Transfer data between iOS and Android with dr.Fone Switch
- disadvantages bluetooth and the solutions proposed above (transfer via internet or wifi hotspot) are essentially these:
They do not allow you to transfer some data such as contacts, messages….
They are not ideal for transferring a large amount of data, only single files
They are not fast in data transfer and they are not even safe for your privacy
One solution that bypasses all these limitations is dr.Fone Switch, a program to be installed on your PC / Mac and which allows you to communicate with the two mobile phones (iPhone, Android, Windows Phone) connected to the computer in order to transfer directly (and even without internet or wi-fi) all the data that you want: photos, videos, music, contacts, sms, notes, etc ... You can download a free demo version of this program from the following buttons (for Windows or Mac):


Below is a short video tutorial showing how it works:
Here are the detailed gudes:
a) How to transfer data from Android to iPhone
b) How to transfer data from iPhone to Android