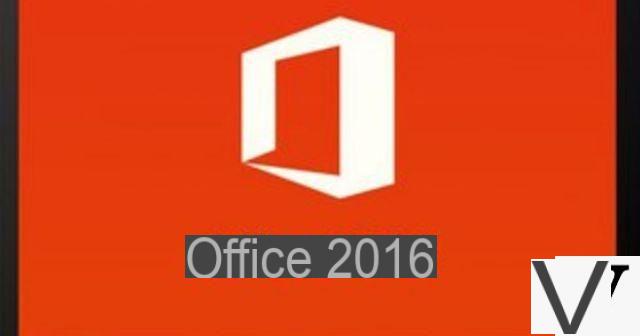 Launched in the fall of 2015, the latest version of the famous Microsoft office suite brings a lot of new features, without being a break with previous versions. With more than 1,2 billion users worldwide (all versions combined), the Redmond firm does not want to take the risk of killing the goose that lays the golden eggs ... After more than 6 months of use , here is what we think of this version and its new functions.
Stability and performance
Compared to the 2007 and 2010 versions of Office which have the annoying tendency to crash regularly, this version is more stable. However, we encountered a few unexpected closings, especially on Word 2016, but the application was automatically relaunched each time, offering a complete recovery of the current document. Ditto when the computer gave us its own by displaying a beautiful blue screen with the message "Your computer has a problem and must restart ..."; we were then able to find the files duly saved at the time of closure.
The ideal would obviously be that the software suite no longer crashes at all, but we can at least now recover our documents safe and sound, without having to get our hands dirty like on previous versions. However, sometimes opening documents created with older versions of Office continues to generate errors, especially with Excel.
In terms of performance, we have seen an evolution in the management of document synchronization in the cloud via the OneDrive service. This is now done completely transparently and with less latency, including with an ADSL connection. The same goes for the management of add-ins (third-party software: PDF, spell checkers, translators, etc.) which no longer causes repeated problems as in the past. A message clearly indicates to you when an add-in is not compatible with this edition, or when there is a problem. Necessary optimizations that improve the overall user experience.
Document sharing: real-time collaboration
Microsoft is giving pride of place to collaborative work by providing Word, PowerPoint and OneNote with simplified document sharing tools via OneDrive.
Each of these applications includes a "Share" button which is located at the top right of the ribbon and which allows you to save documents online and share them with remote people by indicating their e-mail addresses. It is possible to manage access permissions (read and write), view and modify in real time the modifications made by each other, or even consult the history of files.
Note that to activate this function, you must register the credentials of a Microsoft email account (Hotmail, Outlook, Live ...) which includes a free storage space of 5 GB on OneDrive. All files saved in the cloud can then be accessed from any device (laptop, smartphone, tablet, etc.) via OneDrive. Essential tools for working in groups, which Google has been offering for ten years on its free office suite competing with Google Documents ...
Smart search: integrated web functions
This feature brings a plus to the office suite, whether in Word, PowerPoint, Excel or Outlook. Accessible through the contextual menu, "Intelligent Search" offers the possibility of searching for additional information on the Internet, without having to quit the software used. Let's imagine that a student is preparing a presentation on Picasso, all he has to do is right-click on the name of the artist and launch the search which is being done simultaneously on Wikipedia and Bing without leaving the application. All information about it is then displayed in a side pane.
This function makes it possible to carry out searches on proper names, but also on any terms, including in foreign languages. In this case, it gives access to their definition, synonyms or translation from different sources on the Web. Although practical and useful, this function may be arriving a bit late, because you don't necessarily think about using it. Habits die hard and we tend to do our research directly in a browser.
Importing images and videos online
There is nothing revolutionary about the "Online Pictures" and "Online Video" functions, but they save time. Whether it is to enrich an Outlook message, a PowerPoint presentation or an Excel table, for example, all you have to do is select "Insert / Online images" in the ribbon to be able to add images coming from Bing, or stored on a OneDrive account, Flickr or Facebook.
Likewise, it is possible to search and embed videos from Bing, YouTube or other websites by clicking on "Insert / Online video". A rather successful and easy to use integration.
Up-to-date themes and graphics
The new interface evolves by small touches with graphics a little more modern and contrasted. On the boxed version, the editor offers three themes: "Dark gray" supposed to improve contrast and readability, "In color" which changes color on each application, and finally "White" which is the classic version of Office. Unfortunately the most contrasted "Black" theme is reserved for Office 365 subscribers (the rental version of the office suite). The Excel spreadsheet and the PowerPoint presentation software are enriched with six new types of graphs accessible via the ribbon by clicking on "Insert / Graph": Zone and value, Subdivision, Sunbeams, Histogram, Pareto and Cascade.
Finally, each application has its own color code: green for Excel, dark blue for Word, orange for PowerPoint, purple for OneNote, etc. A practical tip to identify at a glance the different applications of the suite.
Virtual assistant: finally effective help
Unlike its predecessor "Clippy" (the little paperclip), the new virtual assistant accessible via the "Tell us what you want to do" field does not just display tutorials. He is indeed able to provide concrete answers to a request. If you do not know how to integrate, for example, a signature in an e-mail in Outlook, all you have to do is enter "Signature message" in the wizard field. This displays a drop-down menu with a link to directly access the "Message options" menu allowing you to create a signature. Whether it is to learn how to draw a table, polish a presentation, or even create a mathematical formula, all you have to do is enter the question in spoken language for it to find an appropriate answer. The virtual assistant is just as effective in Word, PowerPoint or Excel. An advanced function that derives directly from advances in artificial intelligence and which is one of the strengths of this version of Office.
Office Online 2016: a light version and free online
Whether or not you have the office suite, you can access light versions of Outlook, Word, Excel, PowerPoint, or even OneNote for free via a Microsoft account (Hotmail, Live, Xbox, etc.). All you have to do is connect to your email account from any connected terminal, identify yourself and click on the menu button at the top left of the browser window to choose the application of your choice. We find in particular the new interfaces of Office 2016, the functions of sharing and collaborative work, the virtual assistant, intelligent search, etc.
More efficient messaging
The Outlook messaging software, which had hardly evolved since the appearance of the ribbon in 2007, has finally had a facelift. To begin with, we should highlight the significant improvement in Outlook's internal search engine. This essential function for finding e-mails using keywords was far from keeping all of its promises on previous versions. Each query now leads to more relevant results. The new version also offers intelligent management of attachments. By clicking on "Attach a file" to add an attachment, Outlook automatically displays the list of the most recent documents allowing them to be attached to the message with one click. Like Gmail, Outlook offers intelligent message management. Over time, the software analyzes the user's habits and automatically transfers low priority messages to a folder called a jumble.
Office 2016 and Office 365: boxed and rental versions
Microsoft offers different versions for purchase or rental by the month or year. The classic "Office Home and Student 2016" package or download package (1 workstation in Mac or PC version) includes Word, Excel, PowerPoint and OneNote (€ 149). To take advantage of the Outlook messaging software, you must purchase the "Office Home and Small Business 2016" version, the price of which climbs to € 279.
The publisher offers two rental formulas: "Office 365 Home" (5 PC or Mac + 5 Android / iOS / Windows tablets) for € 10 / month or € 99 / year, and "Office 365 Personal" (1 PC or Mac + 1 tablet) for € 7 / month or € 69 / year. These two formulas have Word, Excel, PowerPoint, OneNote, Outlook, Publisher, Access, and OneDrive with 1 TB of online storage per user, as well as 60 min / month of Skype calls to landlines.
In short
As it did for Windows 10, Microsoft has made efforts to harmonize and optimize its office suite, which is more stable and efficient than its predecessors. Note that it is now multiplatform and available on PC, Mac and Android, iOS and Windows 10 Mobile devices. In addition to the (too) timid graphic evolutions, this edition benefits from new functionalities (virtual assistant, sharing and co-creation tools, intelligent search ...) which improve and facilitate daily production.
On the other hand, we regret that Microsoft does not offer more attractive prices for the final license, which is moreover limited to a single workstation (PC or Mac)! On the other hand, the publisher is doing everything to promote its subscription formulas, which are more advantageous. With this abysmal difference between its two offers, Microsoft is taking the risk of disappointing a majority of consumers reluctant to take out a subscription for a software suite ...