Introduction
While waiting for the Galaxy Note 10.1 scheduled for July, Samsung is revisiting its 10-inch tablet. The Galaxy Tab 2 10.1 intends to seduce enthusiasts by using the recipe of the previous model. Successful bet ? This is what we will see at the end of this test!
Galaxy Tab 10.1
Key Features
OS
Android 4.0
Processor / Frequency
1.0GHz ARM Cortex-A9 (double coeur).
GPU : Power VR SGX 540
Memory / Storage
RAM: 1GB
Internal memory: 16GB or 32GB depending on models
Extension via micro SD
Screen technology and definition
Ecran 10,1 pouces PLS TFT (1280x 800 pixels)
Camera
3 megapixel backend
VGA webcam
GPS
Yes
FM radio
No
Battery
7000 mAh Not removable
Dimensions
256,7 mm x 175,3 mm x 9.7 mm
Weight
581 g (Wi-Fi), 583 g (3G)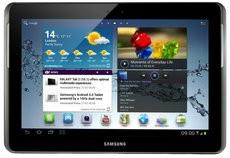 Design and components [/ anchor]
On the design side, the least we can say is that this Galaxy Tab 2 does not really revolutionize the genre. Apart from the slightly wider metallic side surrounds incorporating two speakers, the tablet takes up the lines of the previous model. After all, Apple, which remains the leader in the field of tablets (with the iPad) is even more timid during range renewals. Coming back to the Galaxy Tab 2, the appearance and handling remain pleasant. The finish remains at a good level, even if some criticize the "all plastic" side that inevitably emerges from the tablet.
If the lack of real aesthetic changes is not really a problem, we can not necessarily say as much about technical characteristics that flirt with the status quo. Let's get to the heart of the matter: this Galaxy Tab 2 is more or less content to take the technical sheet of the previous model released ... in October 2011. Dual-core processor clocked at 1 GHz, 1 GB of RAM, resolution of 1280 x 800. The only big difference in terms of hardware: Samsung is abandoning the Tegra 2 processor in favor of a homemade dual-core SoC of identical frequency. The graphics circuit is provided by a Power VR SGX 540.
The Galaxy Tab 2 10.1 is available in a 16 GB or 32 GB version, but at the time of this writing, only the 16 GB model appears to be available. Like the iPad, a Wi-Fi model and a 3G / Wi-Fi model are offered.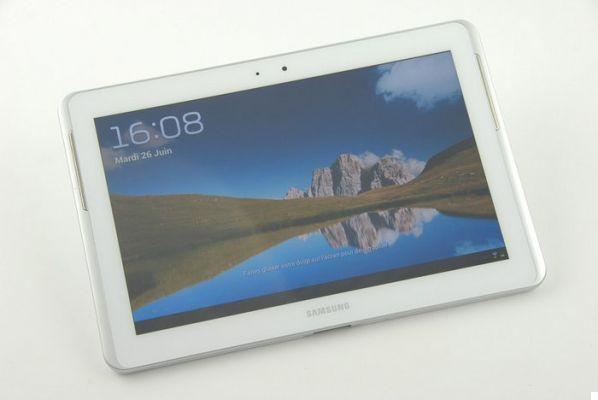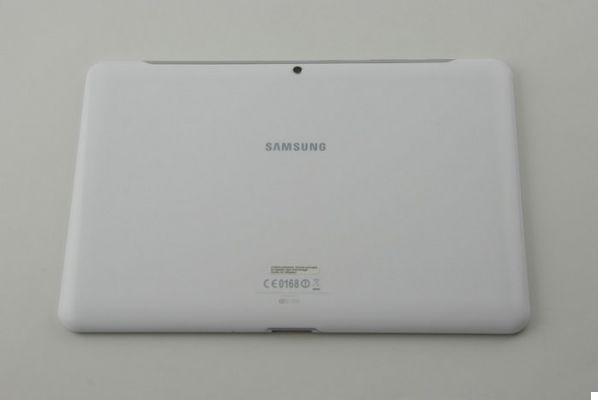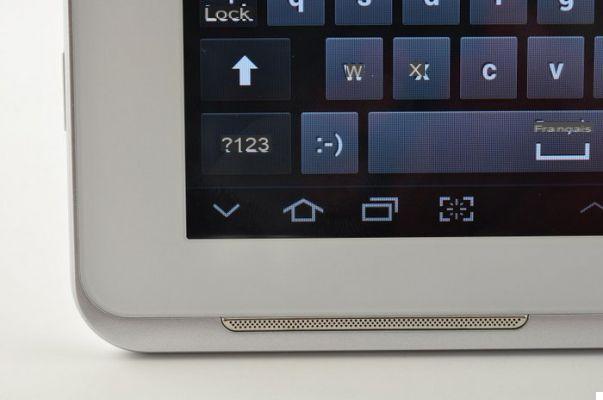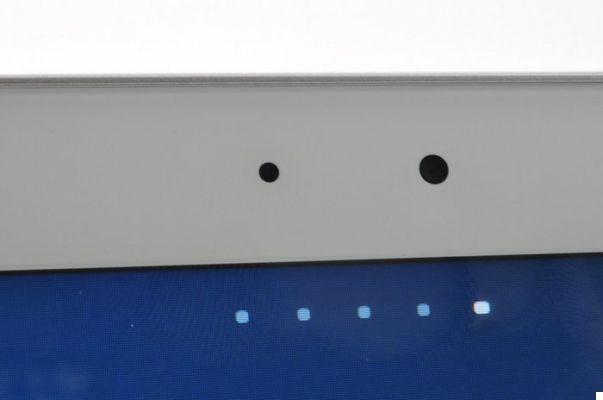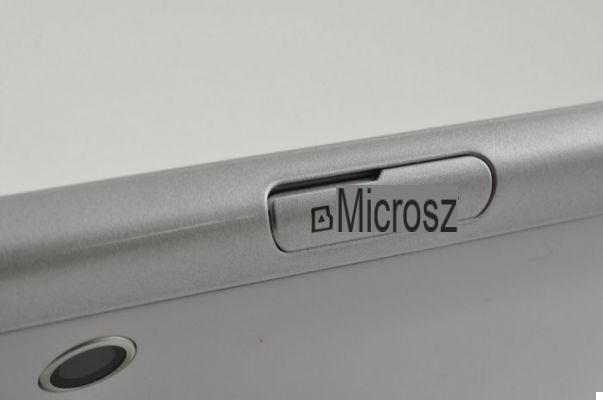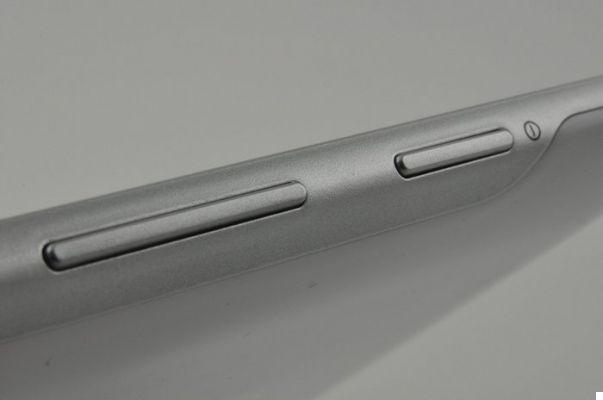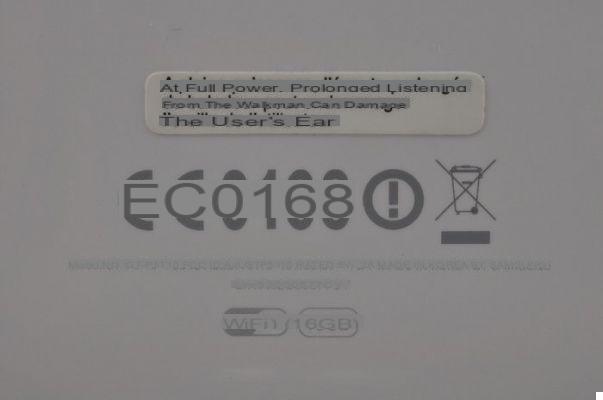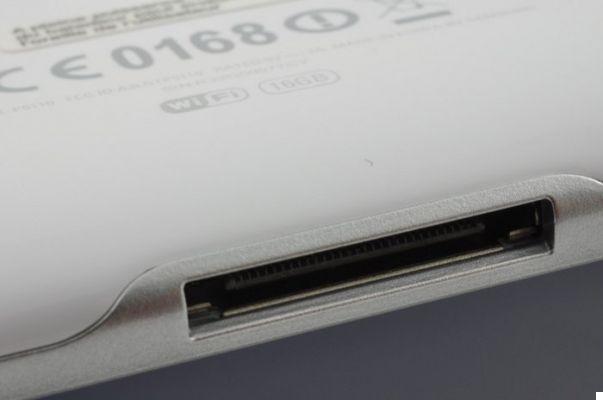 We take the same ones and start over: the design has not changed since the Galaxy Tab 10.1. A rounded all-plastic back. The finish remains at a good level. Two small external speakers on the front: here we touch the main difference in physical design with the first version.Webcam VGA and light sensor. It is possible to use a micro SD slot to expand the internal capacity. Single volume key and Power key. On the back, a typography reminiscent of a certain iPad. Proprietary connector for charging and synchronization.
Small appreciable novelty compared to the previous version: a Micro SD slot has appeared. Its absence was one of the omissions of the Galaxy Tab 10.1 compared to other Android tablets.
In terms of multimedia, Samsung equips its tablet with a 3 megapixel back photo sensor. Everything is completed by a VGA webcam on the front.
On the software side this time, as we could imagine, HoneyComb (Android 3.0) gives way to Ice Cream Sandwich. This did not prevent Samsung from adding its TouchWiz overlay.
TouchWiz: ergonomics in Samsung sauce [/ anchor]
The TouchWiz overlay does not revolutionize the ergonomics of Ice Cream Sandwich. The operating mechanisms of the system remain unchanged: there are virtual desktops accompanied by an annex menu listing all the applications and Widgets installed on the machine. Only a poorly integrated dock makes its appearance. Frankly, we could very well have dispensed with this wart. Some of these tools are already present in the applications or Widgets, the others could have been integrated there.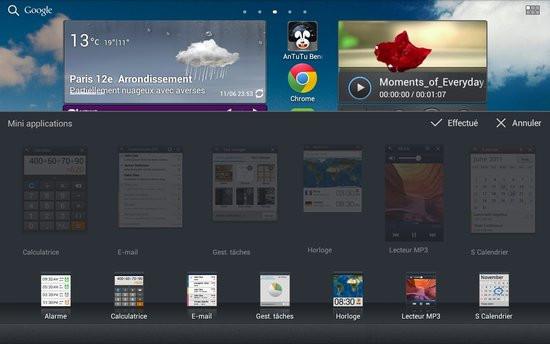 Customizing the Samsung Dock

On the other hand, the interface disappoints by its lack of pep. By vigorously scrolling through the home screens, there is a glaring lack of fluidity. However, on competing Android tablets, the hardware acceleration of Ice Cream Sandwich works wonders ... Should we blame the overlay, or the processor? Difficult to know. In any case, we clearly expected better.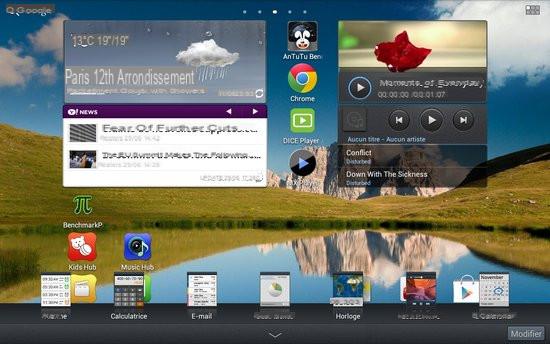 Home screen with Widgets


Internet [/anchor]
In this area, the Galaxy Tab is particularly disappointing. The embedded web browser offers us a compilation of more or less annoying faults. When scrolling the page quickly, the elements appear in blocks, sometimes showing the background theme of some websites.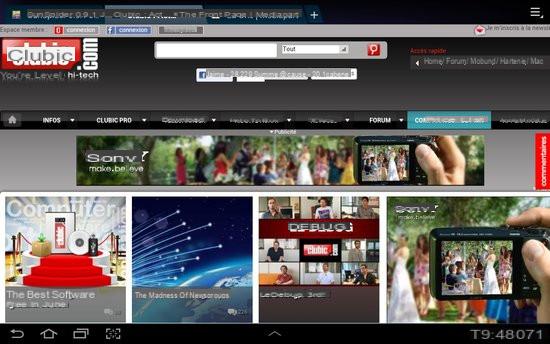 Navigator in landscape mode
In addition, even if the scrolling is fast, it lacks fluidity. Multimedia side, with the Flash plug-in, the experience remains uncertain. Fortunately, in most cases, Adobe's format is still usable.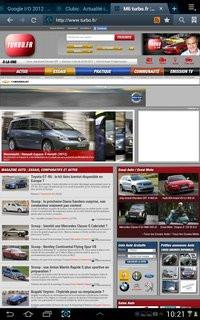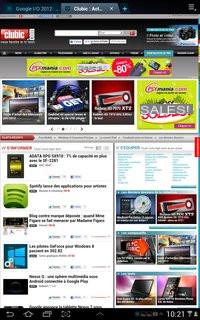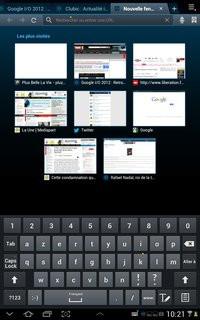 Portrait mode
Multimedia [/ anchor]
As usual, Samsung is making efforts to expand Android's native video compatibility, which is still limited, even with Ice Cream Sandwich. Divx certification requires, the Galaxy Tab 2 and supports almost all existing video formats. From MP4 H264 to MKV HD 1080p including of course the Divx and other Xvid, everything is read with impeccable fluidity.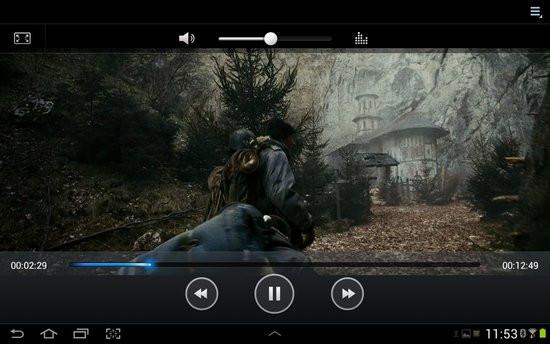 Playback of an HD MKV: from 720p to 1080p, all our test files are played with perfect fluidity
On the audio side, Samsung offers a particularly complete player with 12 listening profiles (pop, rock, jazz, etc.), as well as a manual equalizer. We can simply criticize the unflattering audio rendering of the in-ear headphones included in the pack. The latter is still sufficient for VoIP uses.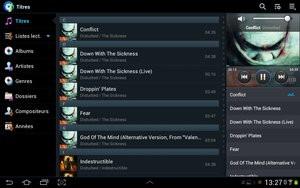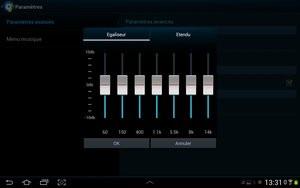 A complete audio player
Finally, also note that multimedia content (photo, music, video) can be played on any device compatible with the DLNA standard thanks to the AllShare application. A significant additional effort to facilitate viewing of content in the show!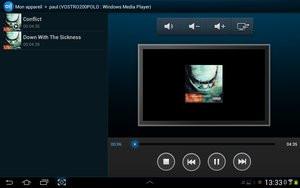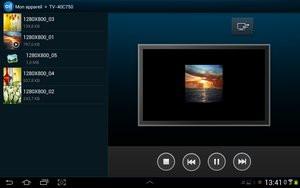 Share all your content via DLNA on a compatible device thanks to the excellent AllShare application (here, audio and photo sharing).
Photo and video capture [/ anchor]
The Galaxy Tab 2 10.1 is equipped with a back camera without autofocus, with 3 megapixel sensor. Even though photography is not really a tablet user's main activity, we would have liked Samsung to set the bar a little higher.
With natural lighting, the result is sufficient to make a souvenir photo. However, given its limited resolution, the sensor cannot collect a lot of detail. You should not count on zooming or recarding your photos. Another small drawback, the solid and dark areas exhibit noise.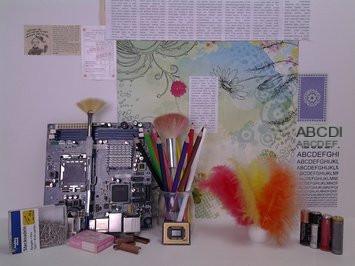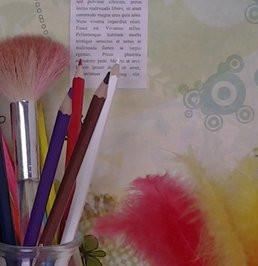 3 megapixel photo sensor without autofocus. Even though we are dealing with a tablet, we expect more from Samsung!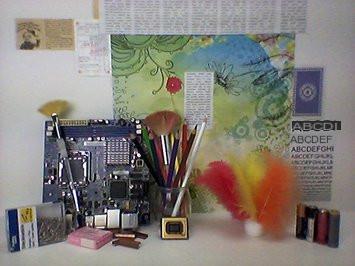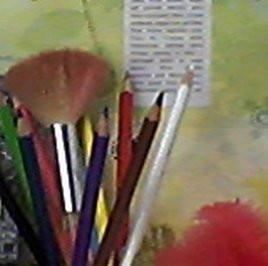 Webcam still limited to VGA when the Transformer Prime offers 1.2 megapixels!
On the options side, Samsung offers a smile detector, a self-timer, geotagging of photos, as well as a panorama mode. The options provide access to certain manual settings such as exposure, white balance or metering mode.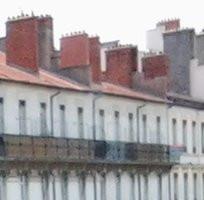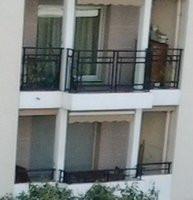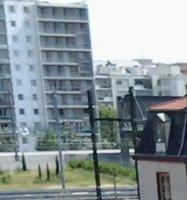 Poor detail, noise phenomenon on dark areas
On the video capture side, the Galaxy Tab 2 10.1 manages to achieve fluid sequences in 720p (maximum). This time again, we observe a phenomenon of noise on dark solid colors as well as an absence of details. It will also be necessary to do without autofocus. Overall, the result is still acceptable.
Performances[/anchor]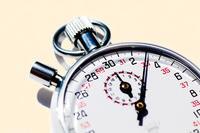 Performance and autonomy tests [/ anchor]
How does this tablet compare to its competitors? How does it perform on theoretical tests or in a practical situation? You will find quantified and compared results by consulting the following page: +
Performance tests
Conclusion [/anchor]
This conclusion can be articulated from two very distinct angles. If we consider only the technical aspects, this Galaxy Tab 2 is a frank disappointment. Data sheet that takes us 9 months back to the time of the Galaxy Tab 10.1, performance at half mast and slowdowns ... Let's face it: Samsung is doing something new with old.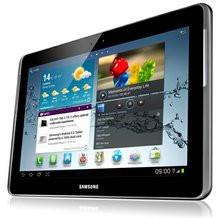 However, characteristics are not everything. When it comes time to take stock, it is important to take pricing considerations into account. This rule valid in normal times is all the more so in the case of the Galaxy Tab 2, because it is on this ground that Samsung seems to want to play its card (after losing the battle of performance on the previous generation? ). Available at 350 euros in 16 GB version, a Galaxy Tab 2 is billed on average 150 euros less than an iPad of identical capacity, or 50 euros less than an Android equivalent powered by Tegra 3.
Is the economy wise? In either case, we would tend to answer in the negative. On the Apple side, the iPad justifies its price by providing a screen resolution that has no equivalent on a tablet, as well as a particularly extensive ecosystem of applications. Finally, for around fifty euros more, the Tegra 3 tablets (Transformer TF300T 32 GB, at random) provide double the storage memory, as well as a real performance gain, which should also translate into durability. more important. Finally, even if it is a 7-inch tablet, let's not forget Google's Nexus 7, which should soon point the tips of its pixels for a minimal price.
In the end, in all cases, the balance does not really tilt on the side of the Galaxy Tab 2. Even if the tablet remains practicable, it is strongly recommended to ogle the competition.
Samsung galaxy tab 2: find the lowest price for this model on our price comparison!
Samsung Galaxy Tab 2 10.1
4
Most
Good autonomy
Finish / robustness
Integrated Divx / DLNA certification
The lessers
Unresponsive interface
Few (no?) Evolutions
No Tegra 3
0
Finishing7
Web5
Ergonomics6
Multimedia9
Good autonomy
Finish / robustness
Integrated Divx / DLNA certification
Unresponsive interface
Few (no?) Evolutions
No Tegra 3
0
Finishing7
Web5
Ergonomics6
Multimedia9

You want to know more ?
Find our article on Android 4.0 (or Ice Cream Sandwich) which describes in more detail the mobile operating system that manages this smartphone.