Do you have a large PDF file that you can't upload to the Internet for sharing? Or are you in the situation that you cannot email a PDF contract due to its high weight?
In everyday life, the PDF format has become commonplace and it is not uncommon to find a large PDF file that cannot be uploaded online or sent as an attachment to an email. In these situations the only solution is to compress the PDF that is in the reduce the weight of the document.
There are several ways to reduce PDF weight on Windows but not all of them guarantee good compressed PDF quality. In this article we want to report the program PDFElement which among the many features also has that of compress PDF files reducing its size. In this guide we focus on the solution for Windows PC, in case you have a Mac OS X then read the guide: how to compress PDF on Mac >>
PDFElement is a complete solution for managing and processing PDF files. It has all the tools you need to edit, convert and annotate PDF files. But it also has features of PDF compression to make the file smaller and easier to upload to the web or share via email.
Guide: How to Reduce PDF Weight on Windows
Step 1. Scarica PDFelement
Click below on the download button to download the free demo version of this PDF Editor. Install the program on your PC and launch it.

Step 2. Comprimi PDF
When you open the program you will see an OPTIMIZE PDF icon. Click on this icon to compress your PDF document and thus reduce the weight of the PDF. A window will open asking you for the compression level.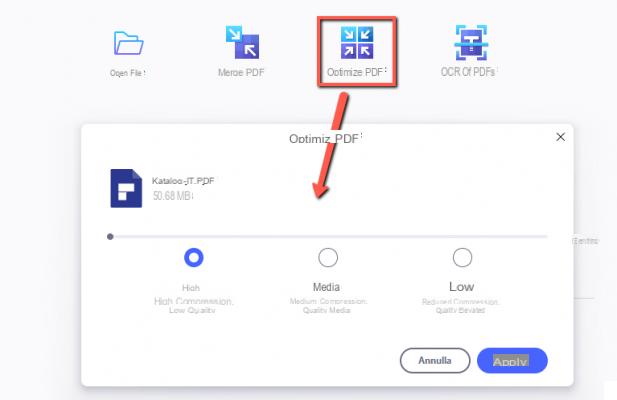 You will have three choices to choose from:
Compression HIGH: High compression but low quality of the output PDF
Compression Media: medium compression, medium quality of the output PDF
Compression Bassa: slightly reduces the weight of the PDF, and the quality of the output PDF is almost similar to the original
Step 3. Save PDF file
After compressing the PDF file, click on "Save As ..." from the File menu to save the PDF document on your PC. It is advisable to specify a name different from that of the original PDF so that you can have both the original variant and that of the reduced-size PDF.
Download and try PDFElement for now reduce PDF weight on Windows !!
Reduce PDF Weight on Windows -