If you have accidentally deleted some very important photos from your Samsung Galaxy smartphone you don't need to despair. There are still several chances that you will be able to retrieve them and put them to safety. For example, we have already seen how thanks to powerful software such as dr.fone o Fonelab it's still possible recover photos from Samsung, even if the device is reset to factory conditions. But this is not the only possible solution to the problem and below we point out two other ways with which you can recover deleted photos from Samsung. We are talking about:
Samsung photo recovery via Samsung Cloud
Samsung photo recovery via Google Photos
Before you start attempting to recover lost or deleted photos from your phone and follow the steps listed below, you will need to take some precautions which we will describe all later in the article. The following photo recovery methods on Samsung only work on those deleted photos of RECENT. If your photos have been deleted for some time you will have to rely on the software solutions mentioned above.
# 1. Samsung photo recovery via Samsung Cloud
The first method you should try to recover recently deleted pictures from your Samsung is the one that makes use of the app Samsung Cloud. This is actually one of the easiest ways, just launch the app and access the backup data to find the pictures you were looking for and restore them to the phone memory. Here are the precise steps to follow: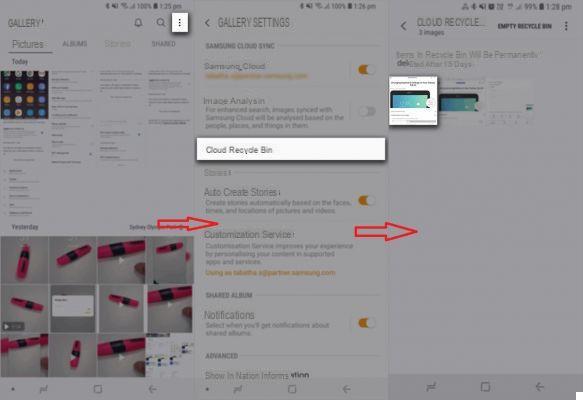 Go to your phone's Gallery
Click on the three-dot menu and then access the settings
Once in Settings, tap Trash can
All the recently deleted photos will be displayed on the screen, all you need to do now is select the ones you want to restore and click "Restore" to restore them to the phone memory.
For this method to work properly you need to have (previously) activated the sync option between the gallery and Samsung Cloud, in this way all your media files will be backed up to the cloud. Under normal circumstances, recovering deleted photos on Samsung with this method is simple and hassle-free.
The only problem with this method is when trying to recover lost photos on Samsung older than fifteen days. This is because the Cloud Recycle Bin only keeps files for fifteen days before deleting them from your device and cloud.
#2. Samsung photo recovery via Google Photos
This is another great way to find and recover deleted photos on Samsung, while not as effective as using recovery software, it works the same way as Samsung Cloud. However, for this method of work, you need to keep a few things in mind. For example, you need to have a backup of the photos in question stored on Google Drive.
If you haven't done so yet, you should follow these steps before trying to recover them.
The first step is configure Google Photos for backing up media files. Log in to your Google account, go to your account settings, tap Google, then tap Back up and sync, And that's it. All your media files from your Samsung phone will be backed up to your Google Drive account.
This method has the same downside as recovering via Samsung Cloud, with the only exception that instead of fifteen days, you have up to sixty days to recover your files before they are permanently deleted from your phone.
Here are the detailed steps to follow to recover deleted photos on Samsung via Google Photos:
Sign in to the Google Photos app.
Click on the pencil icon at the top a
You will be able to see all the photos in the next window
Choose the ones to recover and restore to your phone
That's it!
Recover Samsung Photos via Samsung Cloud and Google Photos -