When it comes to "clearing browsing history on iPhone", you might think the simplest way to do it is: open Safari> click the small book icon at the bottom> click History> press "Clear history". That's all! Very simple to do but you have to consider the fact that even if you click on 'Clear history', the next time you use Safari to search for something, you might get the suggested items from the search box, which means that the data is still present in your browsing history.
Apparently the 'Clear History' button only removes the history that is obvious to your eyes, but it always remains in the iPhone memory. This is why if you really want to permanently delete history and cookies from your iPhone or iPad, you need to use an alternative tool.
What do you need:
> Your iPhone / iPad at your fingertips and its USB cable
> The software dr.fone or SafeEraser
To be able to use dr.Fone to permanently delete Safari history read this article.
SafeEraser is another professional tool designed for iPhone / iPad users to permanently erase private data or unwanted data from their device. All data deleted with SafeEraser will never be recoverable or viewable by others. Thus, all your personal data will be annihilated making your privacy finally safe. Below are the simple steps to use SafeEraser and permanently delete Safari history your iPhone / iPad.
Step 1. Download and install SafeEraser
Download the right version of the SafeEraser installation package. Install it on your computer and launch it. Connect your iPhone (or iPad) to the computer via a USB cable. If a window opens asking to authorize the computer, you need to tap the 'trust' button on your iPhone / iPad. If the device is connected correctly, your iPhone / iPad image will appear at the top left of the main window.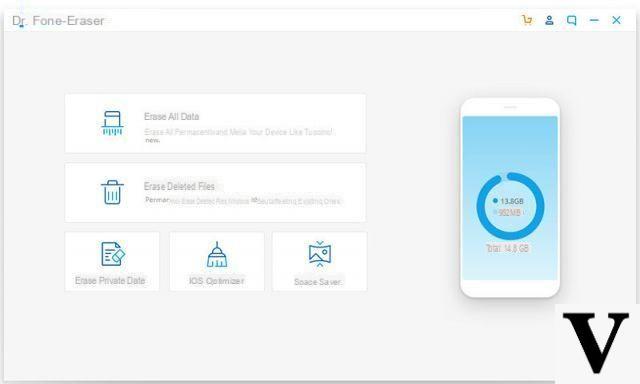 Step 2. Search the browsing history and cookies on iPhone / iPad
In the left sidebar, click 'Erase Private Data'. Safari history and cookies belong to private data that have been stored while browsing the internet. On the right side, click 'Start Scan'to let the program search and extract the entire Safari history of your iPhone / iPad from the memory. First, the program will analyze the data and sort it into categories.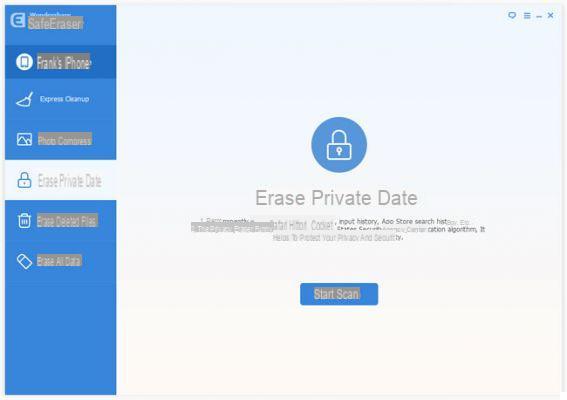 Step 3. Permanently delete iPhone / iPad browsing history
When the scan is complete, you will be able to see the Safari Cache, the Safari history and all the cookies still stored. Select them to see details. To delete all history data, select it again and click on "Erase Now". That's all!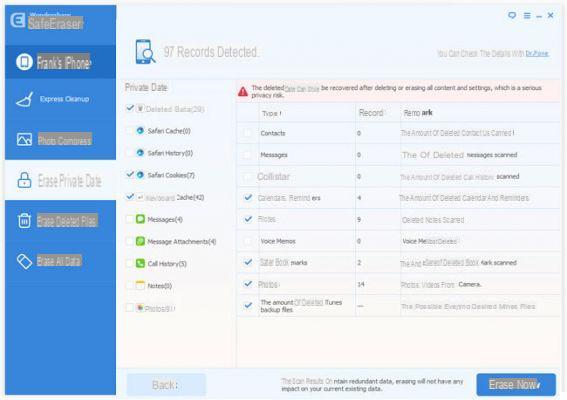 How can sites visited in private browsing be permanently deleted?
It's all described in the guide above ...