Do you want to train in web technologies to create professional quality sites? Take online training, to learn to master languages ​​and tools remotely and at your own pace!
sponsored Article
The Internet is at the heart of the digital revolution. And the Web is its best showcase. Whether it is information, commerce, industry, culture, entertainment or administration, all structures, from the largest to the smallest, today have a website and online services that go with it. But to set up these platforms, you have to immerse yourself in Web technologies and learn to master the languages ​​of the Internet, from HTML to SQL via CSS, JavaScript, PHP and others. So many tools and techniques that require real expertise, especially since they are constantly evolving.
However, contrary to popular belief, you don't have to be a geek to build and maintain websites. On the one hand, because there are tools like WordPress that allow you to easily embark on the adventure, without having to dive into the code or even have a great deal of technical knowledge. On the other hand, because today we can quickly or gradually train in the tools and techniques of the Internet by learning to master the different languages, even when we are just starting out in programming and development. And this, thanks to e-learning.
In fact, online training - as it should be called in French - is on the rise. And not just from confinement! It must be said that this form of distance education has many advantages. In fact, all you need is a device (computer, phone or tablet) connected to the Internet to take lessons, at any time of the day or night, and therefore at your own pace. Especially with video on demand, you can take breaks when you want and go back to review a delicate passage. Best of all, there are courses in all kinds of fields and for all levels, from beginner to expert. All at prices much lower than those requested for on-site training. In short, online training is the ideal formula for those who want to learn without having to travel, whether it is to progress in their discipline by deepening their knowledge or to change direction - and career - by developing new skills.
You still have to choose the right organization. Because if online training has multiplied in recent years, not all platforms are created equal. In addition to the prices, you have to compare the content of the programs offered - number and duration of videos, points covered, tools for validating prior learning, practical exercises, downloadable resources, etc. -, but also the quality of the courses - in particular the tone, the clarity and the pedagogy of the trainers -, the ease of access - on mobile or TV, for example -, and the various certifications issued at the end of the training.
In this very fashionable sector, Udemy is an international benchmark. Created in 2009, this platform has been offering online training since 2010, with a catalog of over 100 courses for all levels in areas as varied as marketing, accounting, design, photography and, of course, computers and the Internet, high-tech universes that lend themselves particularly well to distance education.
Udemy thus has a very wide range of web development offers, with several training courses covering in detail the tools and techniques necessary for the complete creation of websites (HTML, CSS, PHP, SQL, Bootstrap, WordPress, etc.). Provided by recognized professionals, these video courses are for the most part accessible to beginners and always include many exercises allowing the theory to be immediately put into practice. And excerpts are available for free viewing, to get an idea of ​​the content and the trainer. Offering unlimited access to VOD, both on computer, mobile and TV, all these training courses also benefit from a 30-day "Satisfied or refunded" guarantee, a guarantee of reliability and quality.
Comprehensive Web Developer Training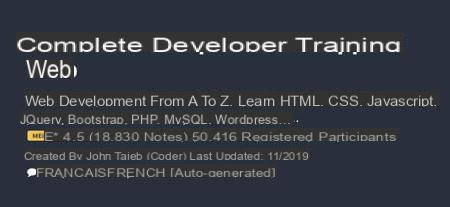 Over 38 hours of videos
7 concrete projects from A to Z
11 quizzes to test your skills
46 downloadable resources
Comprehensive Web Developer Training
With nearly 38 hours of videos divided into some 240 sessions, this very comprehensive - and very popular - training course tackles Web development from A to Z, in a very progressive way. HTML, CSS, Javascript, jQuery, Bootstrap, PHP, MySQL, WordPress ... all languages, tools and techniques are clearly explained through many examples, based on 7 concrete projects (site for travel agency, blog, site e-commerce, contact form, etc.). No prior skills are required to follow this training which remains perfectly accessible to those who start from zero, and the quizzes face to take stock of the knowledge acquired in each chapter. And as the coach-trainer repeats, who gives valuable advice and tips: "The best way to learn is to do!"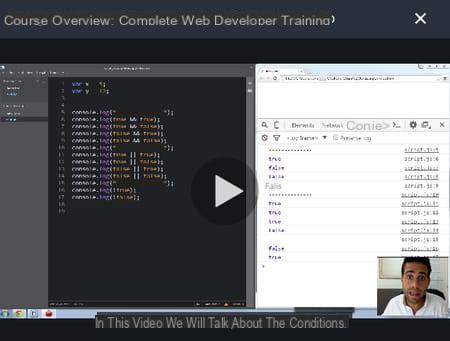 Comprehensive Web Developer Training
Offer with a reduction of up to 75% for a limited period of time.
Web development from A to Z through practice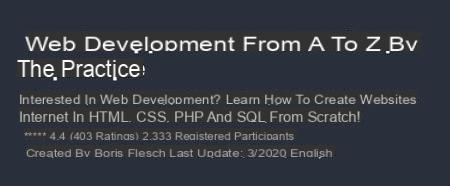 13 hours of videos
83 sessions
2 downloadable resources
Web development from A to Z through practice
As the title promises, this training allows you to build websites from scratch independently. Composed of 13 hours of video lessons divided into 83 thematic sessions, it provides the keys to learning to code in HTML, CSS, PHP and SQL by detailing the installation of tools, the structure of languages, the syntax rules. , the principles of loops, the notions of variables, object programming, etc. Oriented towards practice, this intense and accelerated training requires no prerequisites in terms of development and thus remains accessible to beginners.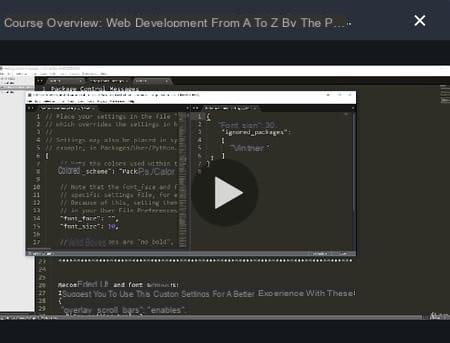 Web development from A to Z through practice
Offer with a reduction of up to 75% for a limited period of time.
Create your WordPress site from A to Z - Beginners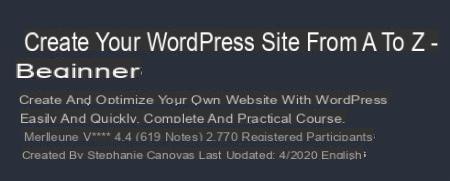 8,5 hours of videos
24 articles
11 downloadable resources
Create your WordPress site from A to Z - Beginners
Entirely dedicated to WordPress, the most famous content management system for the web, this concentrated training allows you to quickly learn how to create tailor-made sites, blogs and portfolios. All stages of the process are covered in detail, from site setup and search engine optimization (SEO) to installation, hosting, article creation, media integration, the choice of themes or even updates. Structured in 119 sessions, the whole is built in a very progressive way, with particularly clear explanations as evidenced by the many positive testimonials. Targeted and effective training, perfectly suited to beginners.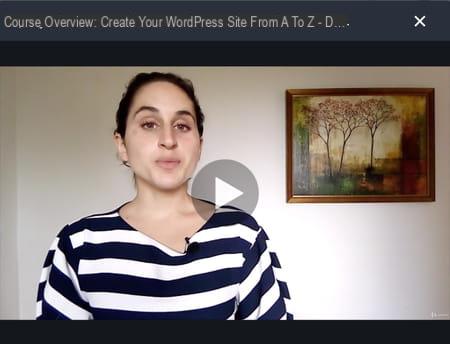 Create your WordPress site from A to Z - Beginners
Offer with a reduction of up to 75% for a limited period of time.
HTML5 and CSS3: the ultimate training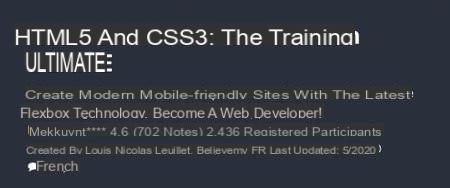 10 hours of videos
17 articles
13 downloadable resources
HTML5 and CSS3: the ultimate training
Even if no prior programming knowledge is required to follow it, this specialized training aims to prepare apprentice developers to the most modern standards of the Web: HTML5 and CSS3. With a simple objective: knowing how to create professional, media-rich, dynamic and perfectly suited to mobile sites from A to Z thanks to Flexbox. Divided into 17 sections and 97 sessions, the 10 hours of videos cover all the key points, from the essential basics to the latest innovations, including the layout, advanced techniques, social media management, visitor tracking and 'optimization. The expertise, methodology and pedagogy of the trainer are greatly appreciated by the students.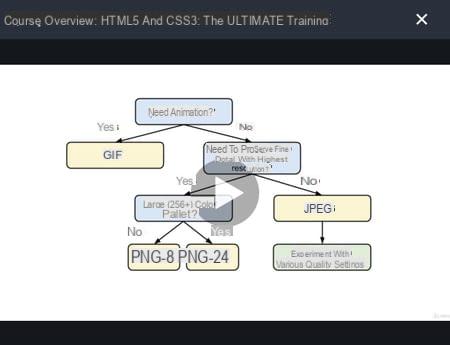 HTML5 and CSS3: the ultimate training
Offer with a reduction of up to 75% for a limited period of time.
Bootstrap 4 : la formation ultime
6 hours of videos
26 articles
6 downloadable resources
Bootstrap 4 : la formation ultime
Aimed at developers who already have the basics of HTML and CSS, this short course focuses on Bootstrap, a popular collection of tools for creating and designing sites and web applications. Building on three practical projects - including a clone of the famous Tinder! -, the 6 hours of videos allow to concretely approach the concepts and the techniques to be implemented, from the modification of the themes to the integration of animations via the implementation of the classes, the management of the grids and even the use of Sass. A specialized course, but always clear, to train experts!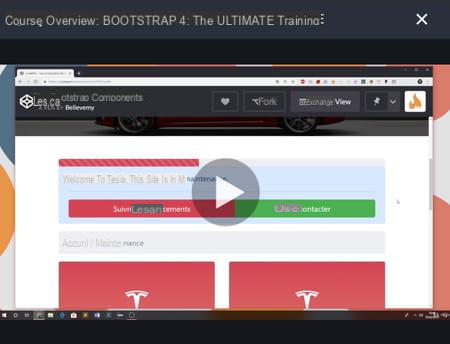 Bootstrap 4 : la formation ultime
Offer with a reduction of up to 75% for a limited period of time.

This article is sponsored by Udemy
Online training: learn how to build websites