Orange Vallée has recently offered a new iPhone application on the App Store called On Voicefeed, which allows you to personalize the message returned by your mobile telephone answering machine according to the person trying to reach you.
Impossible to indulge in good heavy jokes on your answering machine message when your parton is likely to try to reach you. To overcome this problem, as well as the more general shortcomings of the automatic voice mail principle, Orange Vallée offers On Voicefeed, an iPhone application which allows you to record several answering machine messages, then associate them with the different groups of contacts that the we will have made up from his repertoire.
During the first connection, the On application will start by synchronizing - after your approval - the list of your contacts on the Orange Vallée servers, which in the process allows you to take advantage, via a Web browser, of a management interface dedicated. Within the application, you can then create a group, then drag some of your contacts into it. Each group can then be assigned a dedicated answering machine message.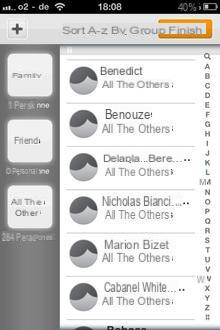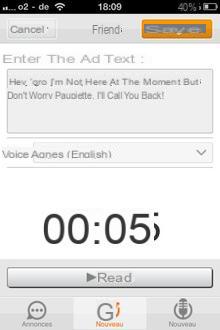 To facilitate the rapid updating of the status displayed by the answering machine, On Voicefeed also offers a text-to-speech module, which will allow you to take advantage of an oral message (several voices are available) made from a text entry. Thus, we will be able to confess the escapade to the countryside to the members of the "Family" group while maintaining the mention of a very opportune gastro for colleagues classified in "Work".

The application also offers an alternative to the iPhone answering module by integrating its own visual voicemail, from which you can consult the messages received or call your correspondents directly.

Inherited from the On program (see for example Discovery of Orange's "ON" service in video) which focused exclusively on contact management, particularly through social networks, On Voicefeed therefore incorporates an additional dimension with this customizable answering machine. The app, which works on the Spanish, UK and US networks, is available for free download through the App Store.

Update : "ON Voicefeed will remain free but will offer a premium service or for 99 cents per month, with which app users can record as many personalized messages as they want (against 3 maximum for the free version) and their voice messages will be saved indefinitely (compared to 30 days for the free version) ", the teams in charge of the project tell us.