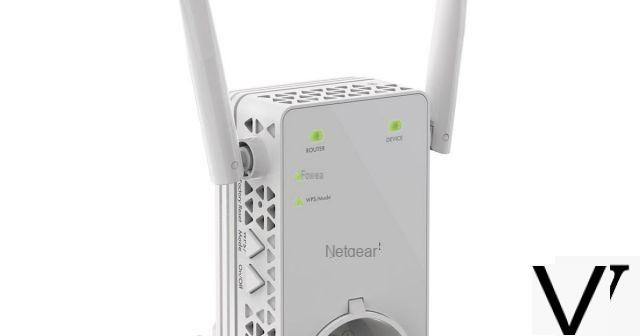 Capable of repeating Wi-Fi signals to 802.11n or 802.11ac standards, the Netgear EX6130 plays in the big leagues. This is not its only advantage, since it also offers a very practical female electrical outlet.
Presentation
Of medium size, this repeater integrates two orientable antennas and therefore visible. Too bad, we would have preferred to see them integrated, because we are never immune to shock during household chores, for example. The first positive point is therefore to be found on the side of the presence of a female electrical outlet. It is a very good idea which makes it possible not to condemn an ​​electrical outlet when one plugs this repeater. It is thus possible to connect any other electrical device or multiple socket to it. On the left side, there are 3 buttons that allow you to turn on / off the device, use WPS mode or reset to factory values. Finally, it is possible to connect the body device up or down.
As on the EX6150, Netgear speaks here of a theoretical speed of 1,2 Gb / s. As always in the field of Wi-Fi devices, this is an aggregate throughput, which results from the use of several devices on the two managed frequency bands. Thus, it is a question of a maximum of 300 Mb / s on the 2,4 GHz band via the 802.11n standard and a maximum of 867 MHz on the 5 GHz band via the 802.11ac standard. Netgear therefore rounds off the aggregation of these two bandwidths by speaking of 1200 MHz instead of 300 + 867 = 1167 MHz.
We also find here the Fast Lane mode that we had already crossed before at the brand. Instead of repeating two networks - one at 2,4 and the other at 5 GHz - it repeats only one Wi-Fi stream, in 802.11n. We then choose to connect the router to the repeater on a frequency of choice while the other frequency will be used to connect the devices. This method makes it possible to increase the flow rates, which we will verify a little later in this article.
The warranty is two years.
Ergonomics
As always with Netgear, there is a visual positioning aid. Two indicator lights are provided for this purpose. The first makes it possible to optimize the placement according to the Wi-Fi transmitter (router, box) via four states: green for an optimal connection, orange for an average connection, red for a bad one and off in the absence of connection. A second LED is used to check the connection quality and a Wi-Fi mobile device, in the same way as the first button. This is quite handy for devices that do not have connection indicators, although there are few.
[link src="https://dyw7ncnq1en5l.cloudfront.net/test/11/11603/netgear_ex6150_01-1-.jpg"]
[/link]
Configuration can be done automatically via the WPS system. On compatible routers and boxes - not all of them, like Freeboxes - all you have to do is press the WPS button for a longer or shorter time, then the same operation is carried out on the repeater. This simple manipulation allows the repeater to repeat the signal sent by the router through a new network taking the name of the initial network followed by the suffix "_EXT" and having the same password. If the router transmits on two bands, the two networks will be repeated.
[link src="https://dyw7ncnq1en5l.cloudfront.net/test/11/11603/netgear_ex6150_02-1-.jpg"]
[/link]
A web interface also allows manual adjustment or fine-tuning of said adjustments. Well designed and easy to use, this interface allows you to force the switch to a given speed, to activate or deactivate one or the other frequency or to manage a planned access. It then becomes possible to restrict operation to specific times. Note that the change to summer time is done automatically. The firmware update also goes through this interface, no automatic update system having been implemented. You have to visit the interface periodically to check if an update is available. If so, the download and installation is done automatically.
Debits
The speeds are quite decent, with an average of between 40 and 75 Mb / s and peaks at 90 Mb / s in 802.11n on the 2,4 GHz. In 802.11ac on 5 GHz, we go to an average of about 135 Mb / s for peaks at nearly 170 Mb / s. We are generally slightly below the EX6150.
We also tested Fast Lane mode by activating the 5 GHz band to communicate with the router and the 2,4 GHz band to communicate with our test Wi-Fi bridge. We again find a nice increase in speed with an average that oscillates between 52 and 84 Mb / s for peaks at 134 Mb / s. A very good functionality for people who are only equipped with 802.11n devices.
Signal strength
On the 2,4 GHz band, the signal strength is rather correct at short range. On the other hand, you lose power fairly quickly when you move away and floor-to-ceiling walls and slabs come in between the repeater and the device.
On the 5 GHz band, we see that the signal strength is poorer than on the EX6150 at short range. When we move away, we find ourselves facing an identical power between the two devices. In both cases, the power remains good in absolute terms.
Consumption
Electricity consumption is very well controlled (less than 3 watts at rest). There is little difference in consumption when a network activity is in progress since we remain at 3,3 watts. We also appreciate the presence of a switch to turn the device on or off. Convenient when it is only used occasionally. On the other hand, it is not possible to program the switching on and off of the device.
Highlights
Female electrical outlet.

Compatible WPS.

Easy configuration.

Flow rates.

Mode Fast Lane.

Visual positioning aid.
Weak points
Creation of a secondary network.

Theoretical flow rate announced rather misleading.
Conclusion
Note globale
Very easy to use, this repeater is also particularly practical with its female electrical outlet and its positioning aid mode. Offering correct flow rates and a convincing Fast Lane acceleration mode, it ultimately only sins by its signal strength a little less good than that of the superior model.
Sub Notes
Ergonomics
Debits
Signal strength
Consumption