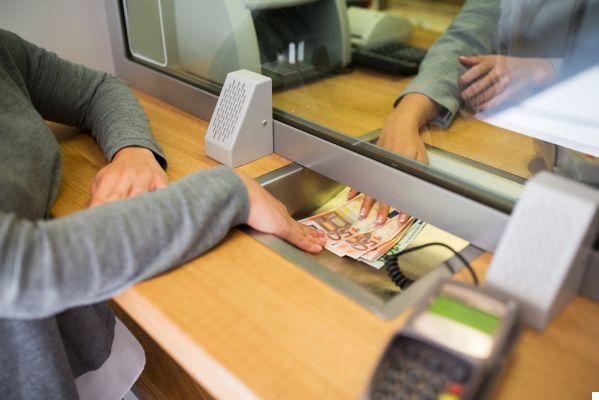 The question of depositing checks or cash arises automatically when dealing with mobile banks, online banks and other neobanks. In fact, not all of them offer the possibility of depositing checks and cash to credit your account. And, you might as well tell you straight away, at the online banking N26 , that is not possible either. So what are the alternatives for depositing money into your account?

Discover the N26 offer
Checks and cash: deposits not possible with N26
By choosing 100% mobile banking, you accept many advantages, such as non-existent management fees, sometimes free bank cards, total autonomy with a complete application… But also its faults. Without a physical agency, it is notably not possible to deposit checks and cash.

It may seem like a real constraint. However, there are alternatives to this, which will require you to learn how to manage your account differently or to call on relatives to credit it.
CASH26: a back-up solution not available in Spain
Remember that N26 is a German mobile bank based in Berlin. While it is open to the whole world, it does not always offer the same services depending on your country of residence. Thus, CASH26 is only available in Germany, Austria and Italy.
However, this solution is appreciable. With it, N26 has set up a network of 10 partners to enable its German, Italian and Austrian customers to deposit cash. Here, N000 relies on the principle of the Nickel account to deposit cash. The partners are not banks, but shops.

If CASH26 is not an offer proposed in Spain, nothing can prejudge the future actions of N26, which asserts itself more and more as an international bank. You may therefore be able to deposit cash into your N26 account in the future.
Fund your N26 account via the SEPA transfer
Can't deposit checks and cash with N26? Opt for the SEPA transfer. All you need to do is communicate your bank details to the person who wishes to credit your account, and everything takes place in a natural way as in a traditional bank.

Two solutions are available to you within the framework of the SEPA transfer. You can ask the person who wants to give you the money to make a SEPA transfer, or ask that the check be in the name of a third party, who will deposit it in their own account before making a transfer from the bank. equivalent sum on your N26 account.
For cash, it's even easier. Entrust the sum to a relative who will make a transfer as soon as their account is credited.

If these "solutions" may appear to be constraints, it is clear that checks are less and less legion. The same goes for cash that can be used in place of a credit card, Google Pay or Apple Pay instead of depositing it into an account.
Also, it should not be prohibitive to open an account in a mobile bank that does not accept cash or checks.
MoneyBeam transfer
If you already have an N26 account, MoneyBeam is no stranger to you. This is a solution that makes it extremely simple and secure to make transfers between users of this online bank.

How it works ? Very simply! With MoneyBeam, you don't even have to communicate your RIB to the person making the transfer to you. So, to avoid checks and cash between N26 customers, just give your phone number to the person who wants to credit your account.
Activate the visible mode on N26 so that she can see you and send you the planned sum, which will be credited in real time to your account. It's even faster than checks and cash.
Fund your account using a credit card
Does a loved one owe you money? If you have not yet made a transaction with N26, he can credit your account directly with his bank card, de facto avoiding checks and cash. It's quick and easy. However, the amount must be between 20 and 150 €.

Please note, to fund your account in this way, only debit cards are accepted. Excluded are credit cards, prepaid cards, and American Express.
Apple Pay and Google Pay to overcome the inability to deposit checks and cash
Thanks to Apple Pay and Google Pay, a loved one can easily make a payment to your bank account. Again, some cards are excluded. And, once again, the payout must be between $ 20 and $ 150.

To learn more about N26 online banking, we invite you to consult the following articles:
How to open an N26 account and how to close it?
N26: what are the bank charges?
Which N26 card to choose?
N26 application: what services does it offer?
How to contact N26 customer service?