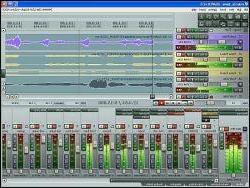 One of the first things I tried to do when my first computer was given to me was music programs, programs to create music without knowing how to play. It was not long before my aspirations as a DJ and music producer vanished into thin air because, even if it is true that these programs are well usable even by those who do not know how to play any instrument, it is also true that to create their own music it takes a lot. patience and attention.
In fact, it is the same patience that it takes when you intend to use programs like Photoshop to edit images and create new ones.
Multitrack programs
These software can be used to combine musical "loops" - short combinations of notes or simple sounds - and arrange them on a striped interface to create a composition. For example, if we imagine breaking down electronic music, we see that it is made up of a more or less regular bass, a monotone background sound and a three or four note melody; by placing these three tracks in three different lines you can make it so that, during playback, the song created first begins with the monotone sound, then the regular bass is superimposed on it and finally the melody is inserted.
Among the best multitrack programs to create music and mix audio starting from scratch there is Fruity Loops or Magix Music Maker which however are professional level programs and which cost.
1)
The best free multitrack program to create music from scratch but also to mix the existing one
it is therefore the free version of Fruity Loops, the opensource program
LMMS
.
It is a professional (not easy to use) studio to download and install on your pc to produce music with your computer, create it, and mix sounds. LMMS also includes a MIDI keyboard and interface,
similar to Fl Studio
, it is simple to use even if it is very varied and full of possibilities. I am not an expert so I remain brief by listing some main features even if it would take a whole page to dedicate to this excellent program. The music editor allows you to
create music without being experts and musicians and without needing to know the notes
, just using your ear and composing the loops and tracks made available as you like. The creation of sounds and rhythms is accompanied by the piano roll to modify the bases already included in the program and create melodies.
The mixer is 64-channel
and there are many sound effects with which you can create a remix worthy of the best producer and professional DJs like David Guetta, Bob Sinclair and Dj Tiesto.
2)
Magix Music Maker free version for PC
, it is very powerful, with some limitations, but ideal for exploring the potential of a professional music creator tool.
3)
Podium
is another multitrack program alternative to FlStudio that allows you to record, mix and edit audio, MIDI files, and VST Instrument effects and plug-ins
4)
MuLab
has an intuitive interface and allows you to record, edit and create multitrack music with ease.
5)
Tracktion
it is also one of the best FL Studio and LMMS alternatives with an advanced digital audio dashboard for music production. It supports audio files, unlimited VST plug-ins, video files from which, sampler, sound effects, various mixing tools and standard audio editing.
6)
Reaper
allows you to create songs and music from scratch with absolute simplicity of interface (remember, however, that it also takes a lot of patience).
Reaper works as if it were one
virtual music studio
and allows you to import any type of audio sound or track, both mp3 and Midi with a wide choice of sound effects. Everything can be processed, edited and customized and the song can be recorded or saved.
I could now pass myself off as a music and composition expert but I prefer to report the Reaper guide and features page (in English). In my own small way, more than to create music that I am not capable of, I have found this program very useful for
mix mp3 tracks
dance music and compose a mixed music playlist like the one that professional DJs do, which is the main function of the professional Traktor DJ program. Reaper is not actually free but the current version, at the end of the 30-day trial, still allows you to use the software in all its features, even if, every time you start it, a warning will appear asking you to buy. the program.
Free music mixing programs
Below instead
5 programs especially suitable for mixing and creating remixes of music
.
1) The program plus
simile a Traktor Dj
è
VirtualDJ that you can download for free
, easy to use and with many features
to mix music like real professional DJs
.
2)
Dex 3 LE
is a program for DJs among the most powerful and professional, in a limited free version but still very usable. You can mix the added songs using the decks, knobs and effects provided. You can control the mixer volume, bass level, playback speed, frequency and resonance. The program also has a tablet mode for use by touchscreen PCs. You can also add and mix music by importing your collection from iTunes. This software also allows you to record an entire mixing session.
3)
Zulu DJ
is another great program for playing records on your PC and mixing music. Zulu DJ is a complete DJ software that uses an easy to use interface, even live, applying special effects and keeping the right rhythm. Once a track is loaded onto the virtual deck, Zulu DJ automatically controls the beat (BPM) of the track to synchronize it with the rest of the mix automatically, making anyone able to DJ professionally. Key features and functionality include: crossfade between tracks, automatic tempo and rhythm adjustment, mixer and synchronization between decks, effects such as distortion and reverb, mix recorder, support for VST plugins and samples.
4) Another free program
TacTile MP3 DJ
which is fully opensource and is very easy to mix songs and music on PC without too many advanced features.
5) The program is always open source
Mixxx
, software that runs on Windows, Linux and Mac, created as
mixer per i DJ
, both amateur and professional, with which you can mix music. On the interface there are two dishes where the songs that you want to play in the playlist are loaded which can then be mixed manually or automatically. Many other audio editing functions allow you to mix the sound and apply effects on music and transactions. Mixxx is compatible with hardware devices such as MIDI and cymbal controllers and sequencers. Here is a list of compatible devices that can take advantage of the free power of Mixxx.
Mixxx is one of the
Best Audio Mixers for PC Free
.
6)
Partycloud
It is one of
sites to mix online
, without installing programs on the PC. It has a simple user interface and a huge database of free songs.
7) In another article, there are two free programs for
turn your computer into a DJ mixer and play mixed music
, with turntables spinning.
8) On the site
VST Planets
many programs are collected to manipulate music, process music tracks, cut them, add effects, remix mp3s and much more. All free programs to discover and try.
98) Although for a fee it is worth mentioning here two sacred monsters among the professional DJ programs used around the world: MixMeister and Traktor Pro
From MixMeister, an extraordinary program to mix music tracks easily, but in a very precise way, to create a prepackaged playlist to be heard at parties, there is the free tool
BPM Analyzer
that allows
sort mp3 files according to their speed and time
.
On another article a software to play drums online and create drum machines.
For mixing, the
sound effects
, downloadable for free from the internet, of all kinds, in wav or mp3 or aiff format.
Several fun and even professional online tools are mentioned on the post where we talk about how
create electronic music on the web
.
To get free audio editing software and integrate the activity of DJ and music producer, you can read the article: "
Audio editor on mp3 files to mix, cut and join different music tracks
".