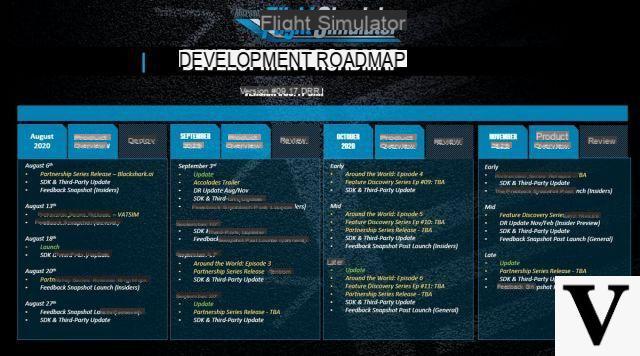 The roadmap has been updated for the next two months: rich in patches, partnerships and videos of the series Around the world.
Long awaited by fans of aerial simulations, Flight Simulator 2020 took off just a month ago, on August 18. Since then, the developers of Asobo Studio have strived to refine their game through various updates; after the release of patch 1.8.3.0 the day before yesterday, they are sharing their updated flight plan for the next few weeks.
Read also:
Flight Simulator, a new patch full of promises
Three episodes of Round The World in October
This roadmap, called version 09.17, propels us until the end of November. It has various stages; those highlighted by the team include the release of episode 3 of the Around The World series focused on Africa, the announcement of a new partnership with Textron, an update of the SDK (Software Development Kit ) or the landing of the next patch scheduled for September 24.
So let's go over each of the key points mentioned above in more detail. As for the Around The World series, October will be a busy month with the release of three new episodes. They will be added to those already released dedicated to Oceania, Asia, the Middle East and now Africa, presented in the video below. Future destinations will notably include the European and American continents.
The coming weeks will also be punctuated by new partnerships. The latest highlights the American company Textron, founded in 1923.
Read also:
Hades is available on Switch and coming out of early access on PC
Several fixes made to the SDK
After the form, let's get to the bottom. The team made several changes to the SDK; an SDK used by more than 150 companies according to WindowsCentral. According to the information published on the site, the fixes concern the scene editor, with the resolution of an issue affecting the rotation of models, the aircraft editor thanks to "several fixes and stability improvements", the particle effects system with the addition of additional adjustable parameters or the WebAssembly, now more responsive.
In addition, Microsoft welcomes the interest of third-party developers in its Flight Simulator 2020. The company announces that it has received more than 900 requests for the Marketplace Partner Program to date.
Finally, be aware that the next game update is scheduled for September 24. In order to prioritize the correction of bugs, the developers draw in particular from the Feedback Snapshot, which brings together recurring problems and requests from the gaming community.
Source : FlightSimulator , WindowsCentral