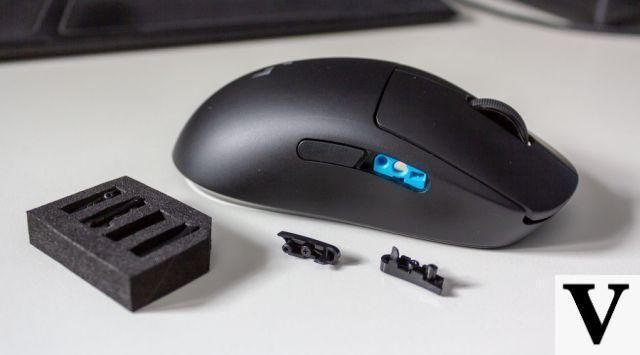 Logitech continues to rely on its Lightspeed wireless technology to equip its gaming mice. After an already convincing first step with the G900 at the start of 2016, then several globally successful models using the same technologies, the Swiss manufacturer is offering a new, unprecedented product which is this time focusing on lightness: the G Pro Wireless, a wireless mouse designed for professional players, but which has something to satisfy a much larger audience.
Ergonomics
Finished the exuberance of the G900 / G903, Logitech has recently opted for more consensual designs, even for its G range mice. The G Pro Wireless is part of this trend towards more sobriety and sports a rounded shape, without salient angles or other convoluted corners.

© Itopdroid
On the other hand, its proportions are more reminiscent of the G900 than the latest G403, G603 and G703 from the manufacturer. With a length of 125 mm, a width of 63,5 mm and a height of 40 mm, the G Pro Wireless is suitable for all hands and allows all the grips, whether one prefers to rest completely the palm or vice versa only grip the mouse with your fingertips.

From left to right and top to bottom: mouse only; palm grip; claw grip; Finger tip grip. Hand size: approximately 20 x 10 cm. © Itopdroid
Another ergonomic feature, the G Pro Wireless adopts a totally ambidextrous shape and takes the excellent idea of ​​the magnetic and removable edge buttons of its big sister G900. We can thus disable the right buttons if we are right handed or left if we are left handed, or even remove those of our choice and replace them with simple plastic covers.

© Itopdroid
Unlike most of the brand's other G mice, the G Pro Wireless does not exhibit a sensor sensitivity change button above the wheel. A request from some pro players who do not want to take any risk of accidentally pressing this button. It is therefore under the mouse, which will not disturb the players, changing their sensitivity only according to their activity or the type of game they play. Those who need a quick change in the heat of the moment, to gain precision when aiming, for example, will however be able to assign this function to another button, on one of the slices of the mouse - at the risk, much more important this time, to activate it by accident, precisely. A point to take into account if you enter this second category, therefore.

Caches are provided to lock out unused edge buttons. © Itopdroid
Regarding the buttons themselves, we appreciate their very good responsiveness, improved on the two main ones by the tension mechanism that Logitech has used for several generations of G mice. Their longevity is essential with Omron switches guaranteed for 50 million activations. We just regret that they are not quieter. The four slice buttons must be content with less enduring switches, but quite responsive and satisfactory too.
The dial, for its part, is both soft and well notched. Very good for gaming, without neglecting office use. However, it is only associated with a switch that is activated when pressed. Unlike the G900 / G903, no side switches on this model, which would have allowed horizontal scrolling, for example, or other ancillary functions.

© Itopdroid
Despite its lightness and removable edge buttons, the G Pro Wireless benefits from excellent finishes, with careful adjustments. The matte black plastic of the case is also of good quality and is not too sensitive to fingerprints. We would have appreciated a few games of textures and especially a non-slip coating on the edges, but we suspect that adding elastomer inserts - as is done on other mice - would have increased the total mass. Despite this absence, the mouse remains pleasant to handle and the fingers do not slip too much thanks in particular to the curved shape of the edges which allows a good grip, and precisely to this lightness facilitating lifting. Players accustomed to low sensor sensitivities and who therefore have to constantly place their mouse in the center of the mat will therefore not be unduly disturbed and will be less tiring to lift a mouse weighing only 80 g.
And this is all the technical prowess of this G Pro Wireless, which offers itself the luxury of being lighter than many wired mice despite the integration of a battery. A small battery, certainly, but which requires hunting down milligrams at all levels to compensate for a few grams that it and its associated components add. However, this did not prevent Logitech from making its mouse compatible with Powerplay wireless charging technology and therefore from providing the corresponding charging zone on the underside.

A small 240 mAh battery powers the G Pro Wireless (© Itopdroid).

For recharging and if you still want to use the G Pro Wireless wired, Logitech provides a 1,8 m USB cable that plugs into the front of the mouse via a micro-USB connector. The plug is proprietary and designed for optimal support, but you can easily use a standard cable, since the opening is wide enough. Convenient when traveling, so you don't have to carry an extra cable. Logitech has also thought of mobile gamers by providing a small storage space for the USB transceiver in the mouse, which avoids losing it.

© Itopdroid
Unlike the G305, Logitech has not sacrificed the backlight on its G Pro Wireless, but leaves the choice to activate it or not. We can thus achieve an autonomy of up to 64 hours by deactivating the lighting of the logo and the 3 LEDs indicating the level of sensitivity of the chosen sensor, or take advantage of customizable color variations with maximum intensity, at the cost of 14 hours of autonomy. . Personalized parameters (for example a brightness set to the minimum), however, make it easy to grab several hours of battery life, if you still want to see your mouse light up a little. But it is possible to save even more energy by limiting the performance of the mouse, for office use, for example. Thus, without backlighting and being satisfied with an exchange frequency with the computer of 125 Hz, against 1 Hz by default with maximum performance, the G Pro Wireless can operate for 000 hours, according to the indications displayed in the software. of the mouse. Enough to take more than a week in practice. Even in the context of intensive gaming sessions, there is no risk of breaking down, especially as the LEDs indicating the sensitivity level of the mouse light up red when it is time to recharge it. You then have plenty of time to come and plug in your USB cable after the game in progress, for a quick emergency charge giving a few hours' respite, or even a full charge, the operation taking less than an hour.

The specific plug of the cable supplied with the G Pro Wireless does not prevent the use of a standard plug cable. © Itopdroid
Precision
Developed specifically for its wireless mice, the Hero (for "High Efficiency Rated Optical") sensor from Logitech is upgraded to a "16K" version. A name that corresponds to its maximum sensitivity of 16 dpi and an extreme level of sensitivity that still doesn't do much with our current displays, since even using a three-screen Ultra HD 000K configuration, all you need is a movement of 4 cm to move the pointer across the entire width of the display. We will say that such a sensor will still be good when the screens arrive ... 2K!
What interests us more however, are the recognition performance of the sensor in a game situation, that is to say at much more reasonable sensitivities (most pro gamers evolve at less than 4 dpi, or even less than 000 dpi). And there, with operation guaranteed up to speeds of 1 m / s and accelerations of 000 g, we can be reassured that the sensor is not at risk of stalling and withstands the most sudden movements. Precision is impeccable with 10,16: 40 tracking with no smoothing or acceleration.

The Hero 16K sensor of the Logitech G Pro Wireless (© Itopdroid).

The only precaution to be taken, optical technology requires, to ban coatings that are too shiny or transparent. To our surprise, however, the mouse manages to work on plexiglass or even some glass supports, but with the risk of the sensor dropping out. However, we can only recommend the use of a good mouse pad in order to take advantage of optimal precision, but also a better glide which will at the same time avoid wearing the pads too quickly.
Regarding the wireless link, we make the same observation here as with the latest Logitech mice equipped with Lightspeed technology. The Swiss engineers have mastered their subject perfectly and here we benefit from a mouse as fast as a wired mouse, without additional latency, with an exchange frequency set to 1 Hz (000 ms). The same goes for the stability of the signal which turned out to be unperturbed during our tests. However, Logitech recommends that the USB transceiver be as close as possible to the mouse whenever possible using the supplied cable and adapter. It is therefore better to avoid being satisfied with a connection to a central unit which would be located under the desk, although our tests in this configuration did not reveal any particular deterioration of the signal. This advice is especially valid in an environment loaded with various airwaves, that is to say more particularly in lan-party.
Highlights
Very light for a wireless model.

Several days of autonomy.

Compatible with Powerplay wireless charging.

High performance optical sensor.

Impeccable wireless connection.

Pleasant handling / Little messy coating.

Totally ambidextrous / Removable slice buttons.
Weak points
No grips on the edges (the price of lightness, though).
Conclusion
Note globale
Freed from the wire, the G Pro Wireless offers the luxury of being as powerful and light, if not more, than many wired mice. Pleasant in the hand, ambidextrous, it has something to satisfy a large number of players, whether they are pros of eSports or not.
Sub Notes