When he finds himself in the problem that theiPhone won't turn on o iPhone shows no signs of life, you have to consider all possible solutions to solve it. Instead of immediately thinking about throwing your iPhone away, it is better to wait a couple of minutes to check that there is no cause (even a trivial one) behind the malfunction. Below we have made a list of possible solutions that have helped so many users to resurrect their iPhone. If you have such a problem with a cellphone other than iPhone, read the article: What to do if cellphone does not turn on.
1. Charge the battery
If your iPhone has always worked perfectly and has been turned off for a few hours, it is very likely that it has run out of power. The iPhone turns off automatically when there is not enough charge. In this case you will only have to connect the phone to the charging socket or to a computer via USB. After a couple of minutes it will be plugged in, it will turn on again and show the image of the battery being charged. We recommend that you wait at least 30 minutes before restarting your device and starting to use it.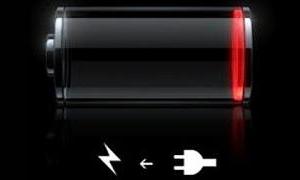 2. Restart the iPhone in case of Sudden Crash
If you noticed that your iPhone suddenly crashed, shutting down and never turning on again, then the firmware has probably crashed. In this case, simply restart the iPhone by pressing the Standby / Wake button at the top for a few seconds and your iPhone will immediately restart and return to work as usual.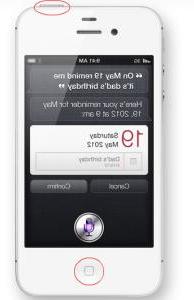 Note: If the device cannot be restarted by pressing the Sleep / Wake button, then try holding the Sleep / Wake button and the Home button at the same time. The Apple logo will appear on the screen.
3. Put the iPhone into recovery mode and reset the device
If the iPhone gets stuck on the Apple logo screen and won't turn on, you can try putting the iPhone into recovery mode and then reset the device. Press the Sleep / Wake button and the Home button at the same time for a few seconds until an icon with the itunes cable and logo appears. This means that you will need to connect the device with iTunes.
Connect your device to your computer and launch iTunes. iTunes will recognize the device by clicking on the restore button and you can proceed. Note that with the restore all files will be deleted!
If you don't want to delete data, read also: How to restore iPhone without deleting data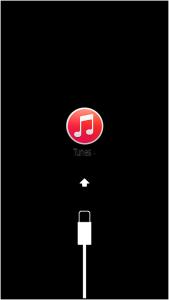 4. Unlock iPhone from recovery mode
The problem of the iPhone no longer turning on or showing signs of life often occurs when you try to update your iPhone to a new iOS version but for some reason the update gets stuck in recovery mode. To solve this "block" you can use Dr.Fone for iOS, a professional tool to fix iPhone data loss and freeze issues in recovery mode. Download and install dr.fone iOS on your computer and connect iPhone to it via USB cable. Start dr.fone iOS and from the home screen click on "Reboot Device" to unlock it.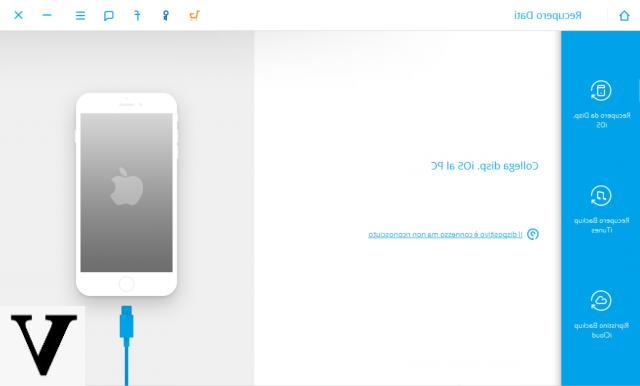 I have an iphone SE until two ago it worked perfectly then suddenly it turned off and no longer shows signs of life
I HAVE AN IPHONE 5s IT ALWAYS TURNS OFF ALSO IF EA 100 ONE DAY WAS 100per100 AND IT WAS TURNED OFF FROM THERE I PUT IT TO CHARGE AND IT IS NO LONGER TURNED ON now I don't know how to turn it on COULD YOU HELP ME
My iPhone XS got stuck, I was watching videos and suddenly the video stopped and the phone went out, I tried in every way thinking it crashed but it doesn't restart, the phone seems to be on even if it remained with the black screen, for a matter that when I receive a call the phone vibrates and rings. I'm in a panic I don't know whether to take it to an Apple Store.
I advise you not to buy more iPhones switch to other brands as I did I had iPhone 5s and suddenly it turned off and I tried to charge it for a whole night but nothing died and changed it now I have a Samsung a7 and I am very good
Good evening I have an iphone 5, after having completely discharged, and then turned off, I put it in charge, the fact is that both from the power supply and from the USB it reads the cable and signals me the charge but does not turn on. All this for more than an hour now. Help pls !!!
I have an iPhone 6, I was going to get it so to see the notifications and no signs of life I tried to put it in charge but nothing help! What can I do?!
I have an iphnoe 8 plus and this morning I realized that it was turned off, I put it on charge but nothing is dead. It should be noted that I never fell to the ground
it happened to me too this morning, same phone, same problem
I can no longer turn on my iphone 6s I replaced the battery thinking that was the defect, unfortunately nothing to do, I can not even connect it to the computer because it does not show any sign of life, can someone expert help me?
Today my Phone 6 is turned off and shows no signs of life anymore. I tried to reset it but nothing. The apple turns on and it doesn't turn off anymore. TWO MONTHS OF LIFE You passed the iPhone for the first cowardice thinking you had finally made a qualitative leap but I'm regretting
You have probably stumbled upon the "Indian symbol" bug. I recommend that you try to repair the operating system using the DrFone program mentioned in the article.

Nicola Ai Reason Phone 6 are defective from the parent company
My iPhone X 10 no longer knows signs of life. The battery is charged but not
The display and the phone show no signs of life.
How can I do??
Please help me, I have an iphone 5s also quite new (for a year) and about a month ago, I took it to repair for sudden crash (but it did not turn on without any technique, the motherboard was dead) and just returned the phone with the motherboard fixed, everything was fine, until it rebooted several times and crashed. Except that after an hour I tried to turn it on, but it has a totally different problem: It restarts every minute or so! It ticks the Apple logo for 10 seconds and then a bluish screen (that screen that pops up when the phone appears to be off, but it isn't) until it restarts again. I can turn it off by holding it down for at least 30 seconds, but then if I turn it on it always causes the same problem. Right now I'm making it continue hoping that with light it wastes energy and therefore battery ...
Hello I the 7 plus 128 giga asked me to update it but then it is not accessed anymore I tried in every way you advise me how to do it otherwise I put it under my feet
iPhone 4 shows no signs of life even by keeping it charged all night.
I tried holding the power and home keys for ten seconds but nothing, it's dead.
I just bought an iPhone 6s. I have been opening it for 2 days. Yesterday while I was taking screenshots my screen went black but the phone received calls and notifications because they could be heard. Then the tragedy. I read on the internet about turning it off and on and so I just didn't turn it on. I left it on charge all night and nothing. I repeat it is new and it is without guarantee it gnaws at me a lot, do you answer me? Thanks.
I have an iphone 6 almost two years old .. for a while I had problems with the battery (it turned on and off by itself, it went from 80% to 1%), the day before yesterday it turned off, thinking it was dead, l 'I put it in charge and the low battery appeared but it said it was charging, unfortunately it did not turn on… despite having kept it for a whole day and it goes under charge. Now it still gives me that it is empty and when I put it in charge, it charges but does not turn on…. do you think the battery needs to be changed?
Yes, it should be the battery that went ...
My 6-year-old has passed away and he doesn't want to leave anymore than phone shit
I think it is a defect of the iphone 6. I have the same problem, suddenly the display went black even though it was turned on having received calls. then nothing, nn he wanted to know more. I changed battery, display but nothing… dead
good morning ,
I have a problem with iphone 6 no longer turns on from signals only when charging as I see the apple.
as soon as I unplug it, nothing if I attach it to the PC the apple flashes or no signal and I can't reset it ...
could it be battery or motherboard?
I too have the same problem, I have the power button broken and suddenly it stopped turning on and now I don't know what to do ... have you solved it?
My iPhone 5 c purchased a month ago online from ebay impressively regenerated no longer gives me signs of life how can you help me
I had an iphone 4s and yesterday afternoon it was turned off and I tried to connect with the mac but it didn't work
also my iphone 5 has the same problem as your power button does not work the home button ditto, the rear camera does not work, the speaker where you listen to calls as well, does not charge, I changed the battery, I changed the charger but nothing is dead, and before turning off the screen was half lit like when you put it in charge but without apple symbol, then the screen turned green and turned off ..... advice thanks
I bought a 6s used very little and I tried to re-mark it only that the first few moments it turned on and then it didn't show any signs of life even though I put it in charge all night and all the resets froze
Maybe to change the dead battery.
Last night my iPhone 5 discharged normally and no longer charges with a charge. I am desperate .. no dfu or reset does not show signs
Hi I'm in the same situation, the iPhone 6 turned off on Monday evening and shows no signs of life. new taken less than 2 months it does not turn on neither with the ignition nor with the restoration, it does not even take the charge
I also help my iPhone 6 today not showing signs of life! It does not turn on, I put it in charge and nothing !! What can I do.? I also tried to reset but nothing at all no sign of life !!
that cell phones of shit, they cost a bang and shit
good evening. from this morning the Iphone 6 does not show signs of life. it was perfect .. suddenly it didn't turn on anymore. I agree shit cell phones ..

exactly a phone 6 s plus paid 30 installments of 30 euros + 99.00 = TOT. 999,00EURO BETWEEN WHICH I STILL HAVE TO FINISH IT TO PAY 2 YEARS AND 3 MONTHS, AND THE 2 YEAR WARRANTY EXPIRED, AND DEAD, ALL TO DUN BOTTO, WITHOUT FALLING WITHOUT SLAMING IT, YOU CAN A SO IMPORTANT COMPANY TREAT CUSTOMERS IN THIS WAY, DO NOT ADJUST IT IF YOU WANT TO PAY 400,00 AND TENE GIVE A REGENERATED ONE, SO WITH MY REGENERATED IT AND RESELL IT WITH THESE FURBETS FROM APPLE, AND THOSE WHO LOVE MY PHONE 6 PLUS. THANKS FOR THE DISASTER AND DISCOMFORT THAT CREATED MY EVE, NEVER PHONE AGAIN

How did you solve the problem, the same happened to me. The warranty expired in December 2017 and my cell stopped working on February 26th 2018, I went to Apple in Roxano and they tell me that the phone is dead and to get another one I have to spend € 389. I'm really worried because I had a lot of information that I don't know how to get it back. HELP ME PLEASE !!!! I'm desperate !!!!

Same mobile phone and same situation, I turn it on connected to the power cable, after a few seconds the white background appears with the black Apple logo in the center, it stays like this for 2/3 seconds and then turns off as dead ... ... .. and what I feel from days …… what should I do?

Hi Anita, may I know if you have solved?
It happened to me too yesterday ... And now I've brought him in for assistance ...
If you have found the solution, can you contact me on my cell?
3384846560… thank you

Hi I have this problem too. If you managed to do something. Can you explain to me how to proceed?
helpooooo my iphone 6 closed I put it in charge and then everything to ppsoto only that after a few minutes it gave me no sign of life what should I do ????????????????
I have an iphone 6 that has shut down ... I had updated it yesterday and then it worked for like an hour before running down and now it doesn't charge anymore
it could also be the power supply that is not working. Try connecting it via usb to your computer
I have had the iPhone 5S for not long and it happened that suddenly it went from 67% to 1%, after which it turned off and there is no longer access: I tried to keep it connected to the battery charger all night thinking it was simply unloaded but, after almost 24h still no sign of life; I tried any method found on the internet, the most common was to press and hold the on / off button and the home button at the same time for at least 10 seconds but it was useless.
Can someone help me?
Hi, I have the same problem as you, how did you solve it in the end?

HELLO SARA HAVE YOU SOLVED THE iPHONE 5S PROBLEM? THANKS ANGELA
I bought an iPhone 6s on a website. I have tried several times to turn it on and put it in charge but the phone does not give any kind of signal.
Same problem nn from signs of life loaded more than an hour and not even turn on made all the reste with the keys even goes I even changed the display thinking it was broken but nn goes what can it be ???
in practice last night it suddenly died. (refurbished iphone 5s) I tried to charge it, but nothing !!! the problem is that the home button doesn't work very well .. and I don't know how to do it 🙁
I have an Iphone 5S until last night it went perfectly without problems, but this morning it was off and it hasn't turned on anymore, it has been charging for more than a few minutes and shows no signs of life.
I tried to download the program and I followed all the instructions but the screen is always black and shows no signs of life.
Please help me I'm desperate, using it even at work is a big problem for me.
I'm in the same condition as you, how did you solve it in the end? Please answer me, I need to access my iPhone right away!
I have a one and a half year old IPhone 5c. Today 90% accidentally dropped me. Initially it was only the display that was blocked (for example if I was called, the mobile phone rang, but the screen I did not turn on); afterwards it didn't give any signs of life, it didn't ring anymore, it didn't make any sound when a message arrived…. I searched the internet and went through all the steps to do, but nothing. It has been charging for 25 minutes right now, but still nothing. Please help me !!!
Hello, the exact same thing happened to me yesterday, IDENTICAL, then you managed to solve it? If so, how and what did he have ???

hello sorry but how did you solve in the end? I await your reply as soon as possible as I had the same problem
I have an iPhone 4S that no longer turns on. I tried to go out of my way to turn it on but unfortunately it didn't work. I have the power button broken and you no longer what to do! Help!!
did you manage to solve? I also have the broken button and I don't know how to restart it

I too have the same problem, I have the power button broken and suddenly it stopped turning on and now I don't know what to do ... have you solved it?

They are in the same condition: broken power button and iPhone 5 that suddenly shows no signs of life even if, by calling the phone number of the installed SIM, it seems active. Advice? Thanks.

Hello. Same worry, I don't know what to do anymore, I tried the various reset programs but as soon as I connect the Iphone 5 to the mac it asks me to "unlock" the phone with the code, too bad the screen is always black .. The power button it's broken, I tried to call me, it seems to ring but the phone doesn't make any sound and if I plug it into the socket nothing happens ..