Using a Microsoft account is now mandatory when installing Windows 10 Home or getting started with a new PC. But there are some tips on how to get around it and just use a local account.
You have surely noticed it if you are used to the PC world: for some time - more exactly, since version 1909 released in the fall of 2019 -, during the initial configuration of Windows 10 after an installation or a reinstallation or at the when starting a new PC fresh out of the box, you must now create a Microsoft account. What was once a mere option has become an obligation that seems difficult - if not impossible - to escape, with the install screen offering no other solution. This disappearance only concerns the Family edition of Windows 10, the others are not affected. But it is precisely the version most used by individuals, because it is automatically installed on most consumer computers.
Thus, after the choice of the language and the country, the configuration screen does not offer any other choice than the connection to a Microsoft account. Unlike previous versions, it is no longer proposed at this stage to continue the configuration with a local account.
Why avoid installing Windows 10 with a Microsoft account?
Certainly, setting up Windows with a Microsoft account is very easy. If you already have one, all you need to do is enter its email address and password. And if you don't have one, you can create one in seconds. Microsoft strongly encourages you to use an email address linked to one of its services (Outlook and others), but this is not mandatory and you have every right to use any email address (Gmail, Yahoo, LaPoste.net, Free, Orange, etc.). You should know that using a Microsoft account has several advantages, by offering many very practical functions linked to various publisher services (synchronization of parameters and file backups on OneDrive, direct connection to Skype and Microsoft 365, download apps from Microsoft Store, etc.). One way to simplify your life.
The problem with a Microsoft account is that you have to share a lot of information with the publisher, as you can check by clicking on the button LEARN MORE or on the link Terms of use. Read the full terms of use - the document is very long! - really has something to make you dizzy. And, above all, enough to frighten all those who want to preserve their privacy by leaving their personal data and their activities out of sight ...
How to force the installation of Windows 10 with a local account?
If you don't want to share information with Microsoft, it's much better to use a local account. You will not be permanently connected to an online service of the publisher, all your data remaining stored locally on the PC. But what can be done during the configuration now that this choice is no longer offered? Fortunately, there are several solutions.
The easiest way is to continue with the installation with a Microsoft account. Then all you have to do is create a new local administrator account, then delete the Microsoft account. To find out more about the operations to be performed, see our practical sheets Quickly create a local account under Windows 10 and Create and manage user accounts with Windows 10. Your Microsoft account will only be active while you finalize the configuration of Windows.
The smartest and most effective technique - the one we recommend - is to simply turn off your Internet connection. Indeed, for lack of connection with Microsoft's servers, the Windows 10 configuration tool will have no other choice than to invite you to create a local account! To do this, you must unplug the Ethernet cable from your PC, if you are using a wired connection, or switch off the Wi-Fi module, if you are using a laptop for example: there is in principle a special key on the keyboard to activate and deactivate the Wi-Fi module, but you can also turn off your box or your router or move away from the coverage area for a few minutes, the time to carry out the operation. You can also skip entering your Wi-Fi network key when prompted by Windows 10. The ideal time to disconnect is when you come to the language or country choice on the setup screen. If necessary, do not hesitate to go back to the previous step by clicking on back arrow at the top of the screen. This time, instead of forcing you to use a Microsoft account, Windows 10 will only offer you a local account, simply asking you who is going to use this computer. Enter a name, then a password, and answer the security questions asked. It's a bit long, of course, but you will avoid being constantly tracked by Microsoft on your PC ...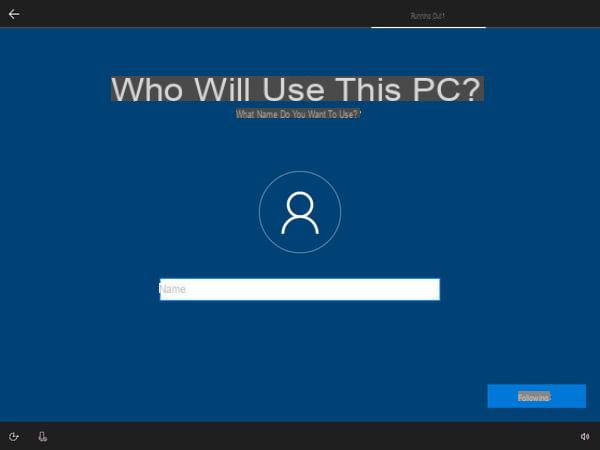 Install Windows 10 without a Microsoft account