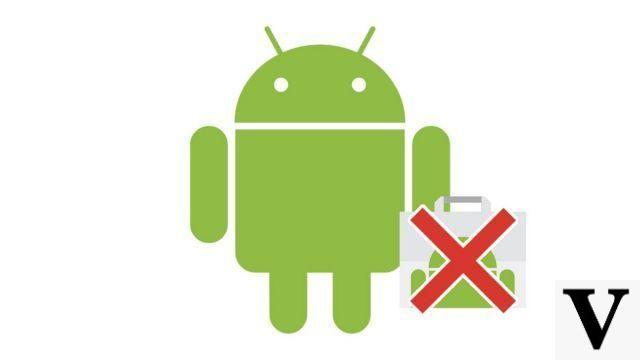 Because we don't always want to have some of our applications under our nose or within sight of others, Word offers the possibility of hiding them. The operation can also be very useful to declutter your menu of applications preinstalled on your smartphone or tablet that do not serve you.

Let's find out together how to hide an application in this tutorial dedicated to learning how to manage the applications of your Android smartphone!


Remove an app from your Android home page
If you want to remove an application from the privileged space that is your home page, the procedure is very simple.
Touch and hold your finger on the app you want to disappear. A small dialog box will open. Then touch the delete button.
That's all ! The application is now only stored in the menu of your device, next to others. You won't have it in front of you every time you use your Android device.
Disable an app preinstalled on Android
See you in the Parameters from your device which is in the main applications menu.


Once in the parameters, scroll until you see the line Applications and touch it.


Tap the preinstalled app you want to hide.


Now tap the button deactivate.


Confirm the operation by pressing again deactivate.


Android may ask you if you want to replace the app with its factory version, then tap the button Cancel to refuse.
The preinstalled app is now missing from your menu. To use it again, you just have to follow the same path again and this time press
activated
.
Hide apps on Android
To hide an app that you yourself have installed on your phone, you need to download a new app launcher that you can customize.
To do this, go to the menu and open the Play Store of Google by touching its symbol.


In the search bar at the top of the screen, type launcher, eventually free launcher if you don't want to spend money in this app.


From the list offered to you, select the program that appeals to you the most. It is always a good idea to consult the user notes before starting the installation.


On the page of your future launcher, here Apex Launcher Classic touch Installer.


Wait a few seconds for the application to set up, then click on Open.


You are on a different home screen. Touch the icon Parameters of the new launcher which differs slightly from the usual symbol.


Then touch the line Drawer.


Then press Hidden apps.


The list of your applications appears. Check the one (s) you want to hide then press Save.
The chosen applications are now hidden on this menu. You can try different launchers to see which one works best for you. Be careful, if you uninstall an application in your usual menu or on the downloaded launcher, it will disappear completely from your phone and therefore from the other menu as well.
Find other tutorials to help you manage applications on your Android smartphone:
How to remove application access to personal data on your Android smartphone?
How to authorize application access to personal data on your Android smartphone?
How to activate the automatic update of applications on Android?
How to delete an application on Android?
How to update an application on Android?
How to install an application on Android?
How do I turn off notifications from an app on Android?
How do I activate notifications from an Android application?
How to install an APK file on my Android smartphone?
How to change keyboard on Android?