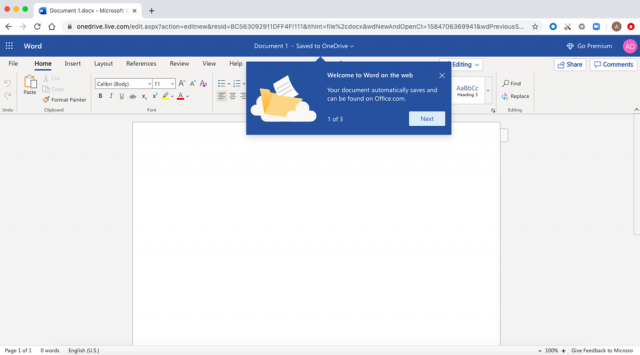 If a time Office was only paid, now you can easily find a version of legal free trial of this package, or you can buy it at a very affordable price. One of the biggest benefits of taking advantage of the free download offer of Windows 10 is that it supports Microsoft Office Mobile, a lighter and free version of the Office package. If you are a Windows 10 user, don't miss this opportunity: find out how to get free office for windows 10.
Microsoft Office Mobile allows Windows 10 users to read and write documents using Word, Excel and PowerPoint, all totally free. Plus everyone who downloads this app to get Office free for Windows 10, they will have two additional apps: Outlook Calendar and Outlook Mail.
NB: if you are interested in getting Office for free for Windows 10 you must keep in mind that Microsoft Office allows you to make changes to documents only if the device in which it was installed has a screen of less than 10 inches. If it is downloaded to larger screen devices, you will need to sign up for Office 365 to edit documents.
Having clarified this point, we can move on to the explanation of how to get free office for windows 10. First, you need to go to the Windows Store to download the app. To do this, registration is required: if you don't have a Windows account, immediately create one (Windows Store will automatically redirect you to the form page to fill out). Once you have created your account, type the name of the app in the Windows Store search bar and follow the instructions on the screen.

As soon as the device has finished installing the app, you will finally be able to get Office free for Windows 10. This version of Office is designed to be lighter than the traditional version and for this reason every document is automatically saved on Microsoft OneDrive, a feature that will allow you to create, read and edit your documents even from different devices.

Unfortunately, however, users with devices larger than 10 inches will not be able to use Microsoft Office Mobile to edit documents, but only to consult them. However, all users who have larger screen devices and who want to get free Office for Windows 10 will be able to choose WPS OFFICE, a software practically identical to Microsoft Office, but available in a totally free version. With this program you will be able to create and edit documents totally free not only on WIndows 10, but also on WIndows 8.1, Windows 8, Windows 7, Windows Vista and even XP.
To justify my request to install only the free Word software I must state the following. I was a university lecturer, in the role of first level professors at the Faculty of Letters of the University of Lucano. During the years in which I directed the Department of Historical Sciences, [….] An agreement was stipulated with Miscrosoft for the purchase of "Office" packages at special costs reserved for universities. Therefore at the time of possession (both institutional and private) the computer was equipped with the complete software. I am now a role but my "Personal Computer" has been formatted for aging hardware. But all the saved files are in WORD format.
I want to install word because having done the full restore, everything has been deleted.
[...] also described in this article, Windows 10 owners can access Microsoft's mobile applications and download them [...]
Ask for the installation of the free Word software, I'm an 80-year-old retired housewife and I often have to lists and small letters. Thank you.
How to Get Office Free for Windows 10 -