This article / guide is inspired by a question found on a blog and which we report below:
Is it possible to create a backup of SMS ONLY, restore the iPhone and restore SMS only from backup? Because currently they are the only thing that interests me that is not saved in iCloud and I would like to make an installation as clean as possible. With iCloud backup, as much as I try to make it as selective as possible, it still restores settings and other things that I wouldn't want to restore.
The gist is that I would like an iPhone reset to 0 with only sms, I would take care of the rest by downloading and setting things by hand. Thanks! by Vittorio
The question posed above is very clear and clever. There are many users who, before carrying out an iOS update, backup their data, but as we know iTunes or iCloud do not allow you to make a selective backup and therefore you are forced to restore the iPhone every time by importing all the data.

On this page we see how extract and import SMS to iPhone, ONLY the sms and not all the rest. Obviously the procedure described below also applies if we want to extract / import only photos, or only contacts, etc ... in short, a very selective operation.
Below we point out two software solutions that allow you to do this.
Solution # 2: Extract / Import SMS to iPhone with dr.Fone
dr.Phone for iOS is a complete software that all iOS users should have because with it they can recover deleted files, transfer data between iPhone and computer, copy data from iPhone to another mobile phone, and much more.
We have already seen how to use this program to save and extract SMS from iPhone to computer. But there is also another dr.Fone function that can be used for extract and import SMS to iPhone it's called Backup & Restore. Let's see how it works.
First download and install dr.Fone on your PC or Mac:


Home screen: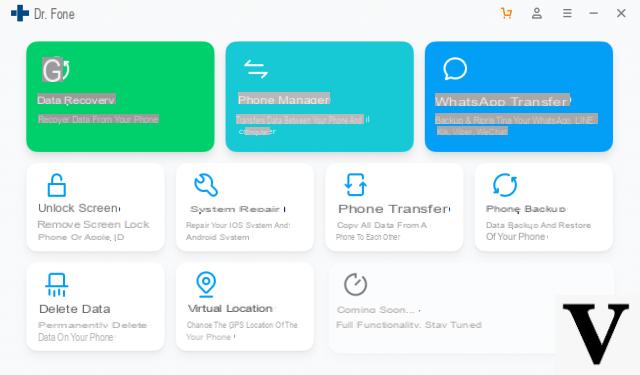 Click on the function BACKUP & RESTORE and this screen will open: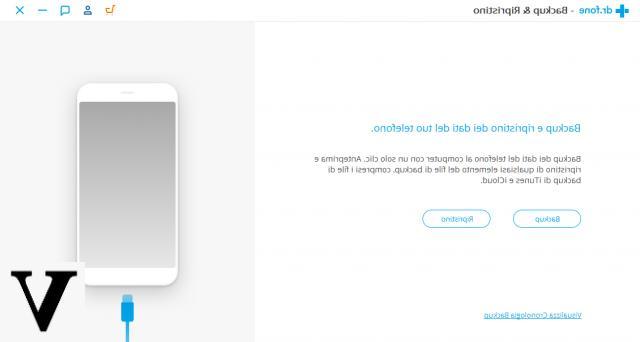 Now click on BACKUP and a new screen will open from which you can decide which data to save on your computer. Click on "Messages" to export the SMS to a backup file on your computer.
When you want to import those same messages, you will have to open dr.fone, access the "Backup and Restore" function again and press the button RESTORATION. A new screen will open (fig. Below) from which you can choose which file to restore the data from and then view its contents.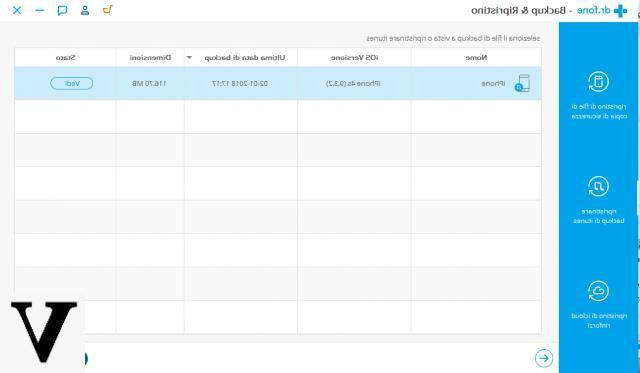 Once all the data in the backup appear, you can select the ones you want to restore (in our case SMS messages) and click on "Restore to Device"To import them directly to the iPhone (it can also be an iPhone other than the one used for backup).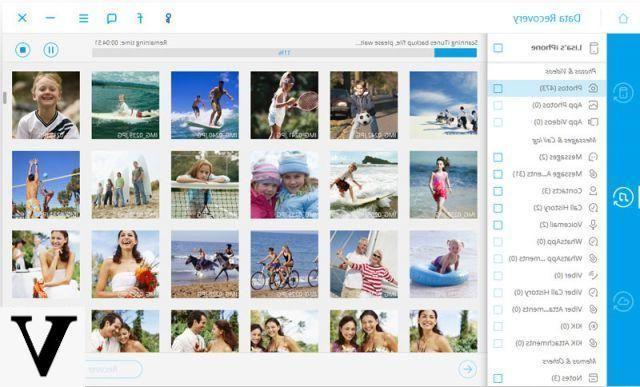 Solution # 2: Extract / Import SMS to iPhone with Mobiletrans
Step 1. Download, install and launch the MobileTrans program
Here is the download link for Mobiletrans (for Windows only)

This is the main window of the program after installation and startup: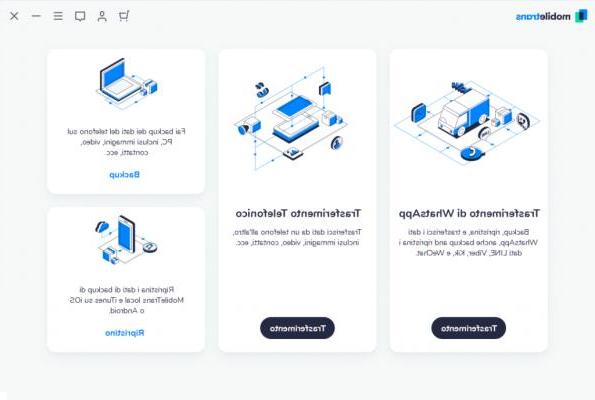 Step 2. Create SMS Backup
Connect the iPhone to your PC via USB cable and click on the mode BACKUP. You will see a window in which you will have to select the data to extract (in our case SMS) and then click on START COPY. At the end of the extrapolation you will see:
Step 3. Import SMS to iPhone
After creating the backup by extracting the SMS to a file on your PC, you can perform the operations you want (eg iOS update, jailbreak, etc ...). To import SMS on iPhone, all you have to do is reopen the program and click on the button RESTORATION in the initial program window.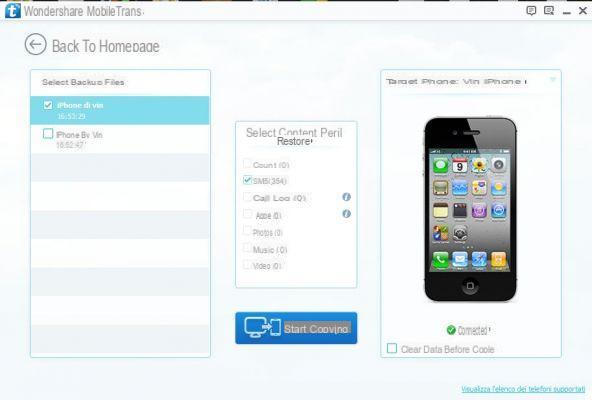 After choosing (from the left of the program interface) the previously saved backup, click on the button at the bottom START COPY and the SMS will be imported back to your iPhone!