Google Photos is an excellent service to be able to archive and store the photos we take every day with our smartphones and tablets. It is also ideal for viewing photos directly online from any device. But there is a problem: there is no "official" guide to quickly and easily download all photos and videos, or multiple photos at once, from Google Photos to your computer (Windows or Mac). It is possible to do this for a single file by selecting it and once opened by clicking on the three dots at the top right and selecting "Download"As shown in the following figure:

But there are alternative solutions for download ALL photos from Google Photos to PC or Mac, and we want to share them in this article. Read on to find out how to save photos on your computer and be able to manage them as you wish, even in OFFLINE mode.
Download All Photos from Google Photos to PC and Mac
METHOD 1: Use of the Google Takeout service
Access the Google Takeout service from the following link: https://takeout.google.com/settings/takeout
If you are not logged in, log in using your Google account data, the same one used for the Google Photos app.
A window will open with all Google services. Among these select only the one related to Google Photos

Then click on "Following"To proceed to the second step in which you will have to select the option"Export an archive"And choose the format (eg .zip) below.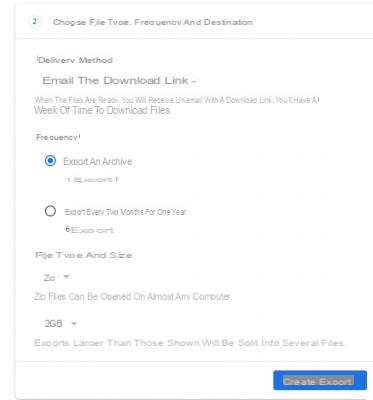 Finally click on Create Export and you can choose to receive a link from which you can download all the photos. The photos will be downloaded to your PC / Mac in a .zip archive.
This is the easiest and fastest way to download all photos from Google Photos to your computer. Once saved on your PC / Mac you can view the photos in full freedom or transfer them to other devices. In this regard, read also how to transfer photos from computer to mobile
METODO 2: Uso dell'app Google Backup and Sync
Here are the detailed steps you need to follow on your computer (Windows or macOS) to download photos from Google Photos. These are the main steps:
Scarica e installa Backup and Sync
Download Photos (and Videos) from Google Drive to your PC with Backup & Sync

Step 1. Access the page https://photos.google.com/apps. From this page click on the "Download" button to download the app Google Backup and Sync, a free tool that will allow us to download photos from Google Photos to our computer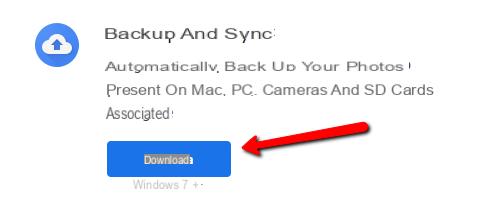 Step 2. Installa Google Backup and Sync
Download Backup and Sync and then double click on the downloaded file (installbackupandsync.exe) to proceed with its installation.

Follow the instructions that will appear until an "Installation complete" message appears:

After installation, if you have a Windows PC, the Backu & Sync icon (cloud with up arrow) will appear at the bottom right of your desktop. Clicking on it will open the window of the program just downloaded. If you have a Mac the icon will be visible in the menu bar at the top of the screen.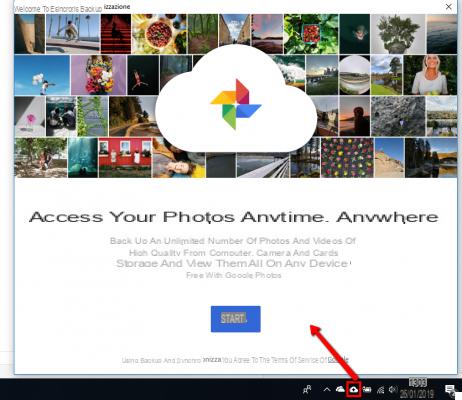 Step 3. Open Backup & Sync and download the photos and videos to Google Drive
Now click with the right mouse button on the icon of Backup and Sync (symbol of the speech bubble) and in the window that opens click on IT BEGINS. At this point you will be asked to enter your Google credentials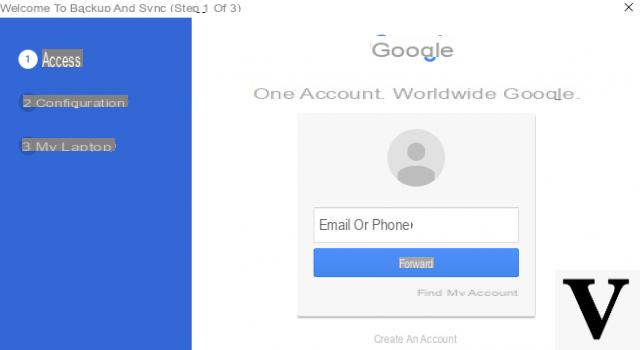 Enter your email and password to log in.
Once entered, select the checkbox "Backup of photos and videos"And click on the bottom right NEXT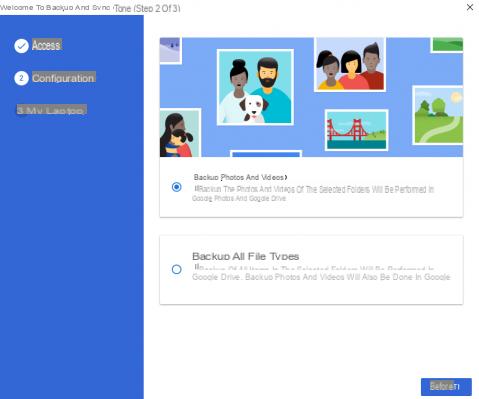 The following window will open in which you will have to select the folder in which you want to save your Google photos. Click the box next to the desired folder to select it.
If you don't see the folder you want to use, click CHOOSE FOLDER to choose one. You can select any folder on your computer.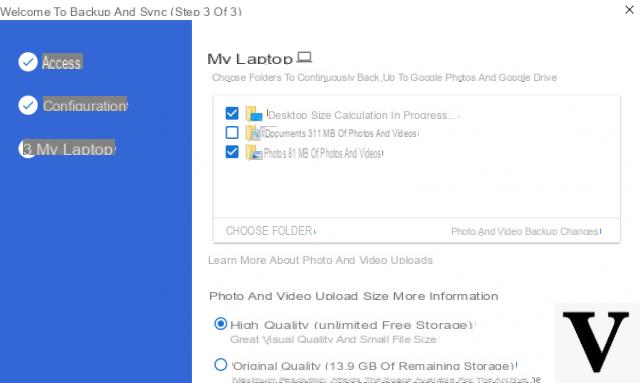 After setting the output folder you can choose between:
High quality to get photos with good quality and small file size. This should work fine for most users, even if you are a professional photographer working with giant RAW files, you will only notice minimal quality degradation. This option also allows you to store unlimited photos and videos without paying for extra storage.
Original quality to get the photos (and videos) with the original resolution and size. This option is ideal for people who need ultra-high resolution photos, but may require extra (paid) space on Google Drive.
Finally click on STARTS to begin the process of backing up all photos and videos from Google Photos. This may take some time, depending on the number of photos and videos you need to download. It's okay to do other things in the meantime, like downloading your photos.

[Optional] Download Photos from Google Drive to your PC / Mac
Click again with the right mouse button on the Backup & Sync icon and once opened access the menu "Pref Renze"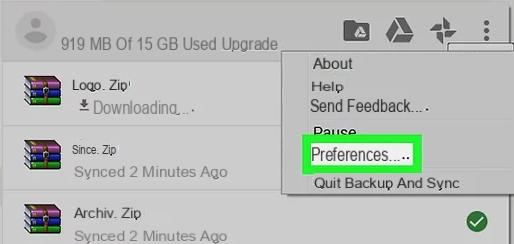 Then left click on Google Drive: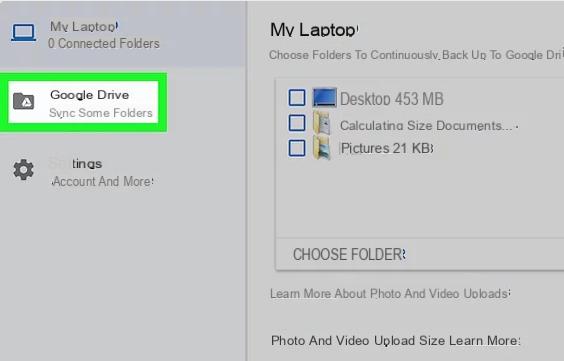 Check the box "Only sync these folders":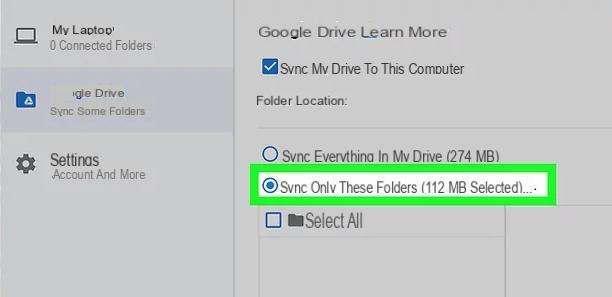 Various folders will appear below. Select the GOOGLE PHOTO folder:

Finally click OK and the program will start downloading all the photos (and videos) to your computer. This may take a long time, especially if you have a lot of large photos and videos (and a not-so-fast internet connection).
When the download is complete, there will be a "Google Drive" folder on your computer. Open that folder and inside you will find all the photos and videos downloaded from Google Photos. Your photos and videos will be in this folder, typically separated into subfolders by date and / or album name.
Mission accomplished! Now you can open and view your photos on your computer with any "photo viewer" program.
The first joke is that it divides the photos by folders ... so I find myself hundreds if not thousands of folders to comb through ...
The second even worse is that the photos are downloaded in .json and HEIC.json format, the same thing goes for the videos that I can't reproduce in any way .. with these I also tried to download them individually but nothing to do ..
advice?
Hello, I would like to know if it is possible to upload videos from pc to Google photos.
thanks to anyone who can answer.
I don't know if you have already solved ...
However, to upload photos and videos from PC to Google photos it is sufficient to open google photos in the browser and then a) drag the photo folders or single photos from the PC to the browser window or 2) in the Google photos window, at the top on the right, there is the "Upload" option that gives you the possibility to select photos or folders from your PC
Hello !! I downloaded and opened the program .. but how can I download photos and videos on Google drive? It immediately sends me to the login screen by entering an e-mail !!
Thank you
Good evening, I am trying to download my photos that I have on Google Photos on the Mac and I have followed the tutorial very strictly. The computer uploaded the 6 images I had in the folder indicated for continuous backup to Google Photos and not vice versa, what did I do wrong? Could you help me? Thank you very much.
hi, does it work with ubuntu too?
I lost two hours but the system doesn't work for me.
I would like you to help me understand WHERE the photos are on the mobile. (samsung A50). I see them all in google photos, but if I remove the internet or wi-fi connection, they do not disappear, I see them on my phone anyway. So they are also in the memory of the mobile. But if I connect the phone to the computer, I can't find them, and yet they are there. Where am I? I would like to find them and do the simple copy paste in the computer. Can you help me understand please? Thanks Gianni S
Try looking in the folder /storage/emulated/0/DCIM/Camera/
Like Emiliano, I too cannot find the option "create a folder of ...."
That option has been removed a few weeks ago. You can skip that step and directly save the photos using Backup & Sync (see step 3 in the guide above)
I can't find the option "Create a Google Photos folder" on DRIVE, why?
Hello.
I did the procedure and back and sync downloaded everything (it tells me it did synchronizzazoone) but then I can't find them anywhere in my mac. Where did they go?
Perfect thanks, with the mobile phone with the guide and the PC on the other I managed… thanks
Even better no '!!!
Download the photos in low resolution !!!
To download them in high definition it is necessary that when you make the backup, select "Original Quality" ... from the screen shown below:

Too bad it is not possible to make a "selective" rescue but only massive: either all or nothing.
This is a well done guide .. precise and detailed. I had almost lost hope of being able to save photos from google photos to my computer.
How to Download ALL Photos (and Videos) from Google Photos to PC and Mac -