To take full advantage of the iPhone, the need may arise to connect iPhone to the TV and then view everything you do directly on the big TV screen. There are essentially three ways to see the iPhone screen on the TV:
a) Project iPhone screen to PC and then connect PC / Mac to TV
b) Directly connect iPhone to TV via USB cable
c) Connect iPhone to TV without cable
In this article we will focus on this second option.
How to Connect iPhone to TV via USB
There are various advantages in the connect iPhone to TV via USB, here are some:
> USB connection ensures speed and stability. The average speed of use of the USB 2.0 port is 12 MB / second. When it comes to traditional parallel ports, the speed is much slower and can cause data loss when connecting to UART (a single USB port can support up to 128 devices)
> The USB ports are self-powered, so users don't have to worry about power loss when connecting the iPhone to a USB port.
> When connecting devices to a USB port, the system automatically installs the driver for the device so that users get the connection easily.
> USB ports are smaller than parallel ports. A single parallel port uses two sets of 25 pins, but the USB port only uses one set of cables. USB ports offer more convenience than the traditional parallel port.
The iPhone is fully compatible with USB ports and therefore you can take advantage of those ports to easily connect the iPhone with the TV. Connect iPhone to TV with USB in addition to being simple, it is also convenient and fast.
Requirements:
1. TV with USB / HDMI port
2. iPhone (any model and version)
Step 1. Get a adattatore USB / HDMI iPhone (here on Amazon there are several) and connect the iPhone to that adapter.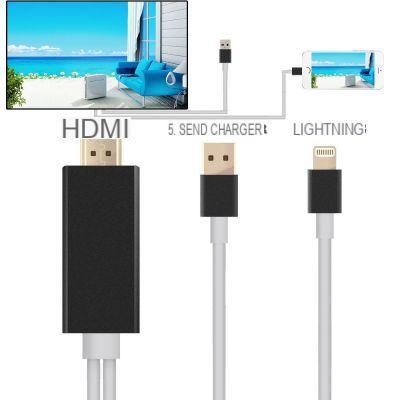 Step 2. Connect the adapter to the TV via HDMI cable.
Step 3. From the TV settings search and select the HDMI port you connected the iPhone to.
Step 4. Unlock the iPhone and make sure it is connected to the TV to start viewing everything on the big TV screen.
Can i see sky go ??
Hi guys, on the other hand I even can't even get into the TV monitor, that is I get to the point where the Smart TV says IPhone Internal Storage with all the icons for photos, videos, downloads and more but I can't go on back, if you know why, I have iPhone 11 pro, Smart Tv Normende Android 5G / h latest model, moreover during the purchase phase the shop owner showed me how to do it without a cable and I just can't and I went back to "Old usb" who knows help me thanks. A good return !!!!!
I connect iPhone 6s to the TV with hdmi cable. I see my mobile phone desktop on Smart TV (e.g. photos) but I don't load movies from either Netflix or Primevideo.
What do I have to do?
Good evening
Using an iphone10 x hdtv cable can i watch downloaded Netflix movies?
thank you so much
Marco
Hi I have iOS 12.43 downloaded last week, 12/12/2019. From this day on, I no longer see anything on the monitor display, like you, but as long as I had version 12.03 everything was fine, I am here today for the first time, I did not know this blog. Have you solved it somehow? I also tried with the Apple box but even that does not read me anything anymore and yet it is not even 4 months old. I was a shopkeeper, he tried one of his screens and it works, I don't understand anything anymore. Yet the shopkeeper does my usual procedures ?!
Even myself problem
reading this post maybe someone solved:
https://community.tim.it/t5/TIMVISION/TIMVISION-vs-aggiornamento-iOS11/td-p/6289
I too same problem with iOS 11; but is it possible that no one has a solution?
Hi I have connected my iPhone 7 to the television with hotspot access and once connected to the TV when you put a video / film and only the audio, the image remains that of the TV setting .. I tried the same television, with the same cable , but with an iPhone 6 s of a friend of mine, and the same steps, and everything is fine on the first try .. the only difference is that with the 6 s select AirPlay is connected to the television, activate the duolication screen ,, with the my 7 once connected to the TV does not give you the opportunity to duplicate the screen .. if someone had an answer I would be grateful that I have been crazy about it for two days
Even my mistake it is impossible to start the fruition if the screen recording function is active.
How do you deactivate?
Hi all same problem with jos 11.0.3
Before the update I could see everything very well now it gives me an error and it is impossible to start the use if the screen recording function is active.
How can this be remedied.?
Thank you
Hello, I also have the same problem as you, you have not solved it X help me to solve it too
Hello good evening, I connected my iPhone with a hdmi adapter to the TV and it read the iPhone well, ten days have passed and this morning it was no longer reading it to me. Could it be the iOS 11 update ??? I have hotspot turned on, hdmi to tv, usb to the power socket and the cable to my iPhone, I can't see any anomalies THANK YOU
I have the same problem as you