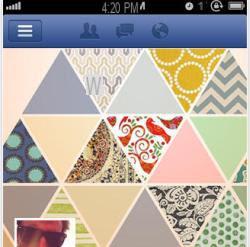 There are those who put the photo of the girl or the boy, there are those who prefer more original, beautiful, personalized images to maximize the appearance of the screen of their mobile phone. IPhone owners can create their own wallpaper using one of these free, easy-to-use, fun and, in many cases, unlimited applications.
To create images to put as wallpaper on the iPhone screen
, using the same iPhone, you can install these
free applications
and similar to each other, but with different options.
1)
Wallpaper Maker
allows you to create backgrounds with drawings, icons, frames and other effects. As a basis you can use an image provided by the application or even a photograph.
2)
Suret Wallpaper
is an app with beautiful and original wallpapers to download every day.
3)
Vellum Wallpapers
allows you to change the background of the iPhone screen with a slightly blurred quality image so as not to disturb the view of the icons.
4)
Everpix Cool Wallpapers HD 4K
is an application that includes several high quality wallpapers, divided into various categories
5)
Wallpaper Maker
is a simple free app for iPhone to create wallpapers with lettering.
6)
Lockscreen +
allows you to resize a photo to perfectly fit the iPhone lock screen and create a matching colored frame.
This iPhone and iPad app is, of course, free
7)
Wallpapers HD for iPhone, iPod and iPad
it is not used to create wallpapers, but to download HD quality images that can be used as wallpapers at different resolutions for iPhone, iPod and iPad screens.
8)
IPad and iPhone decoration
allows you to create colorful abstract designs in seconds, without any difficulty. All you have to do is swipe the screen once or twice and the application will generate very nice and colorful random wallpapers.
9)
Kappboom
includes over 200.000 wallpapers and all iPhone wallpapers are in high definition and you can also create collages between these wallpapers.
10 )
Magic Screen
it has many live wallpapers and is one of the best for making custom wallpapers from scratch.
I remember, in another article, i
sites where you can download free wallpapers for mobile and iPhone
, with no hidden traps.