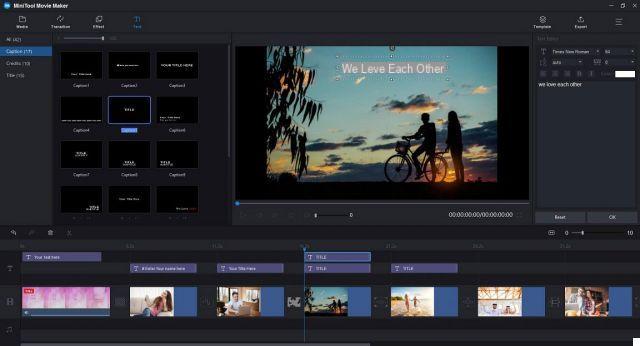 Final Cut Pro is a great advanced video editing software for Mac developed by Apple. However, if you are a Windows user you will not be able to benefit from this software because Final Cut Pro only works on Mac systems. If you are on this page you are most likely looking for a program similar and alternative to FinalCut Pro that works on both Windows and Mac. .
The software in question is Filmora, program very similar to Final Cut Pro and designed for Windows 10/8/7, Vista and XP.
Filmora Video Editor
Filmora Video Editor is a user-friendly program compatible with almost all types of videos, even in HD format. With it, you can easily perform basic video editing tasks like crop, rotate, split or merge video files in seconds. It also provides special effects like PIP, Mosaic and more. At the end of the editing work you can save the video in a specific output format based on the type of device on which it will be played or according to your preferences. Plus you can upload it directly to Facebook or YouTube for instant sharing or even start building your own DVD collection!
Why Filmora Video Editor is the best Final Cut PRO alternative:
1. Wide support of video formats
It supports all SD and HD videos in popular formats, including WMV, AVI, MP4, FLV, MOV, MKV, MTS, etc… Video Editor saves you time and money to edit videos without conversion. You can also capture video directly with a video capture device or add video from camcorders and other external hard drives.
Download the Windows or Mac version of this FinalCut PRO alternative program:
Home screen:
3. Easy to use
Filmora has an intuitive and userfriendly interface. This means that anyone can use this program to delight in creating / customizing movies of all kinds. Compared to other alternatives to Final Cut Pro it is certainly the easiest to use.
Excellent is also the draganddrop function that allows you to import files simply by dragging them into the software, or to insert elements and arrange them on the timeline or add video effects, etc ...
3. Powerful video editing tools
Powerful video editing tools are essential to be able to say that you are in front of a valid alternative to Final Cut Pro. Video Editor allows you to split, join and cut your videos with advanced timeline in a few simple clicks and with very high precision. The quality of your videos will also be under control via editable parameters such as brightness, contrast, saturation and other adjustment tools.
4. Special Video Effects
This "Final Cut Pro for Windows" program offers a wide range of video effects, text templates, transitions, Intro / Credit and PictureinPicture objects to create real masterpieces. You will be able to:
> Add transitions between clips and apply motion effects to photos.
> Drag and drop Intro / Queue Titles to make your video look like a real movie.
> Easily create Pictureinpicture (PIP) personalize the movie with movements, effects and masks.
> Apply special effects like Face Off, Tiltshift and more!
5. Different output options
This Final Cut Pro alternative offers several options for sharing your video creations. In fact, you can:
> Save video to your PC's local hard drive in any video format.
> Get videos optimized for playing on portable devices like iPhone, iPad, PSP, iPod, Wii, Zune, etc.
> Directly upload the video to YouTube and Facebook.
> Burn videos to DVD discs for better retention.
Final Cut PRO alternative for Windows and Mac -