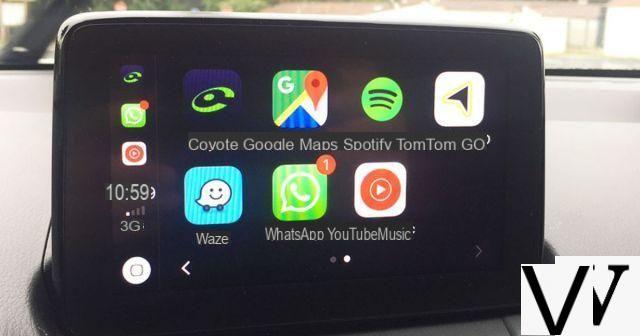 While the Waze community application is the heyday of CarPlay and Android Auto, only Coyote, its main competitor, was missing. It is now done, for a fee.

Coyote appeared on CarPlay this summer. Here the vehicle is a Mazda CX-3.

We were already telling you about it in July 2018, Coyote had just officially integrated the Apple developer program for CarPlay in order to make its mobile application compatible with the interface.
It was almost on the sly that Coyote appeared on CarPlay as well as MirrorLink, just before the summer. But the official announcement was only recently made.
Now, mobile app subscribers have the option of projecting the information appearing on their smartphone screen to the vehicle's central screen - provided it is compatible with CarPlay or MirrorLink.
Question presentation, no major revolutions since the application Coyote version CarPlay takes the design of the original interface while adapting it "for the comfort of the driver", according to Coyote.

© Coyote

Thus, the driver finds information such as the number of scouts around him accompanied by a confidence index, real-time alerts, the speed at which you are driving as well as the speed limit. Based on Here maps, the driver benefits from 3D navigation and real-time traffic, route recalculation and assisted lane change.
Of course, this compatibility has a cost: € 9,99 / month without commitment (Coyote Extend) against € 5,99 / month without commitment for the classic mobile application. Note that Coyote is still not compatible with Android Auto, unlike Waze. Hence the usefulness of going through MirrorLink or AppinCar.

© Coyote[/media[media id="454455" align="center" watermark="no"]© Coyote

It remains to be seen whether current and future subscribers will be ready to pay € 4 more just for a shift to a larger screen knowing that the competitor Waze, available both on CarPlay and on Android Auto, remains free.