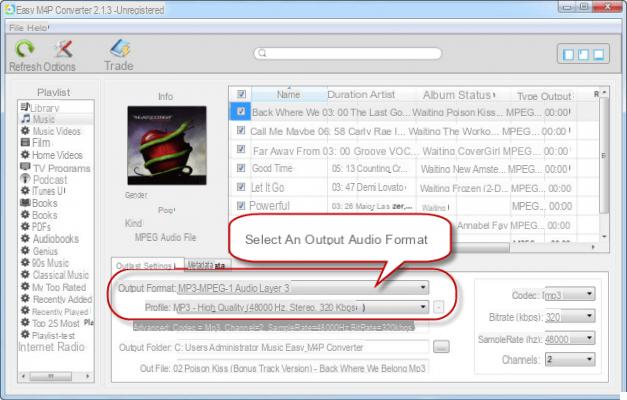 M4P processes is an audio file format used and created specifically for iTunes. If you want to use this type of file outside of iTunes software, it is important to follow the following file management tips and tricks.
To make the M4P file playable on other devices it is essential to convert it to an MP3 file first. The MP3 format is considered to be the "universal" audio format.
M4P files are usually files protected by DRM. If you want to play or transfer this type of file to another software or device, you must first remove the DRM protection. In this article we will see the best programs to do this.
M4P is not recognized by a Windows computer. If you're planning to use it on a Windows PC or other Windows-based mobile device, conversion is a must.
If you don't want to convert the M4P file, but want to make it playable on a Windows PC, you need to install third party software that supports this format.
The M4P audio format can be processed and played by almost all versions of QuickTime Media Player. Mac owners should therefore have no problem playing M4P audio files.
Be careful not to confuse M4P with MP4: M4P is an audio format; instead the MP4 is a video file format. Furthermore, MP4 is a standard format while M4P is regarded as a "special" audio format.
Below we see how to convert M4P to MP3 on both Windows and Mac OS X.
# 1. Convert M4P to MP3 on Windows with DRM Media Converter
To convert M4P to MP3 on Windows (even in the presence of DRM protected M4P files) we recommend using the program DRM Media Converter.
Thanks to its user-friendly interface, you can remove DRM from iTunes files (M4P and M4V format) quickly and easily. It is also possible to convert multimedia files to any video and audio formats (both with and without DRM protection). Supported video / audio formats include MOV, AVI, MKV, FLV, WMV, AVCHD, MP4, OGG, AAC, WMA, FLAC, M4V, M4P, AAC, etc.
You can download the trial version of this program from the following button:
After installed click on FREE TRIAL to proceed with the use of the free demo version
Here is the main screen of the program:
To upload M4P files click on "ADD"Or directly drag the file to the software screen.
Once the files to be converted have been loaded, from the menu at the bottom of the program choose the conversion audio format (in our case MP3). Further down you can also change the destination folder (Output Path) where the files obtained from the conversion will be saved.
When all settings are OK, click on "Home"To start converting M4P to MP3 and remove any DRM protection from them. After conversion click on the button "Find Target"To open the folder containing the" DRMfree "MP3 files. Now you can play them on any portable device such as iPhone, iPad, Samsung, Huawei, PSP, Xbox, etc ...
NB: During the conversion you will see a completely black screen in the preview window… this is normal!
#2. How to Convert M4P to MP3 on Mac with Video Converter
On Mac systems, the program that can help you convert M4P to MP3 is Video Converter for Mac. Actually it is not only a video converter but also a powerful "audio converter" that supports the conversion from M4P to MP3 and also removes any DRM protection.
After installing the program on your Mac, import the M4P files by dragging them to the app screen. You will see a screen like this:
Select Audio from the options at the bottom of the software screen and choose MP3 format as the output format. Finally, click on the Convert button and wait for a message to appear indicating the end of the operation.
Note: Besides MP3 format, you can convert your M4P files to other audio formats as well.
If the DRM protection is not removed, click on the link below to download a DRM Removal plugin:
DRM Removal Plugin for Video Converter Ultimate (Mac)
Install the plugin and then click on the Install button

Now reopen Video Converter Ultimate and try again to convert your M4P files to Mp3.
Hello,
I tried the trial, but it doesn't accept m4p formats downloaded with Apple Music ... I don't know ...
Thank you
it doesn't work for me either, it doesn't accept the m4p file

They probably have DRM protection that doesn't even allow them to be imported into the program.
However M4P files are supported by the program as you can see from the following image:

Thanks for the tip! Great program… .simple and fast !!
Convert M4P to MP3 on Windows and Mac -