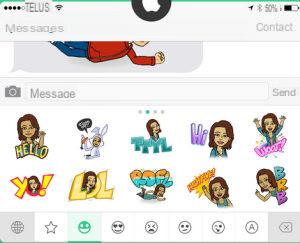 For fans of chat smilies, emoticons or emojis (which are pretty much the same thing), there is an application that allows you to
create customized smilies to be sent as Emoji in the various Messenger, Whatsapp and chat applications on the mobile phone and also on the PC
.
Bitmoji
(from the creators of Bitstrips) is an app to create custom emoji based on an avatar that you can create from scratch or even import from Bitstrips.
First you need to install and open the application (on iPhone or Android)
BitMoji
by creating a new Snapchat account or by using the Snapchat account to log in. You can then immediately create the avatar by choosing to use the Bitstrip style or the Emoji style. Let's choose the Bitmoji style and start choosing all its features: face shape, complexion, eyes, mouth, nose, hair, beard and mustache, glasses, height and clothes. Once finished, the main page is a whole list of different ones
Very funny and original emojis automatically generated on the basis of the created and personalized avatar
. By touching one of the Emoji you can send it to one of the chat apps such as Whatsapp, Facebook, Skype or others.
From 2018 it is also possible to create new emojis
using selfies taken with the camera
, thus making sure that
the avatar created looks like us
.
Your Android
you can use the various Emojis by touching the floating head which works as a shortcut and appears when you open a message and chat app. This floating head can be disabled in the settings.
Your iPhone
instead you can quickly insert emoticons by enabling the Bitmoji keyboard to use the various emoticons, from the menu Settings -> General -> Keyboards.
On PC web chats
like Whatsapp web or even on Facebook posts or any other site where you can publish images, you can install the Bitmoji extension for Chrome. Using the Bitmoji button, when opening a website from a PC with Chrome, you can then press the Bitmoji key to add the emoji created by mobile as images. The extension also brings a button in the Email writing window in Gmail to add your own custom emoji.
If you don't like BitMoji, we found out how in another article
turn photo into Emoji and make your own face like an emoticon
.
In another article it is explained how
insert Emoticons on Whatsapp with Emoji and smilies
and
App to create Avatar images on Android