If you want recover Whatsapp messages on Android you must therefore rely on programs that can access the phone's memory even in the absence of these root permissions. Below we point out the two best programs that can do all this.
Solution 1. UltData Whatsapp Recovery for Android
UltData per Android it is certainly, at the moment, the most powerful program capable of recovering Whatsapp data from any Android device, without the need for Root permissions. This program uses a different technology to access the memory and search for the old Whatsapp conversations you want to recover (with related attachments). Here's how it works and how you can recover your Whatsapp chats from your Samsung, Huawei, Xiaomi, Wiko, HTC, etc ...
Step 1: Download and install the software on your Windows PC in demo version. Here are the download links:

Step 2: After installation you will see the following main interface: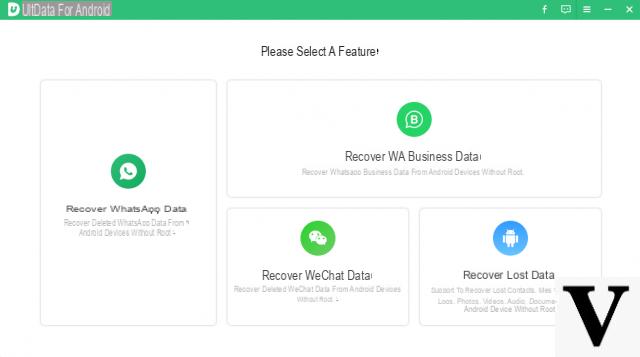 Step 3: Select "Recover Whatsapp Data" to be able to recover Whatsapp data. Unfortunately, this function is only active with the purchase of the program license.
Step 4. Connect your Android mobile to your computer via USB cable. On the mobile you will have to activate the USB DEBUG (from the settings). If you don't know how to do it, follow the graphic instructions that will appear on the program screen.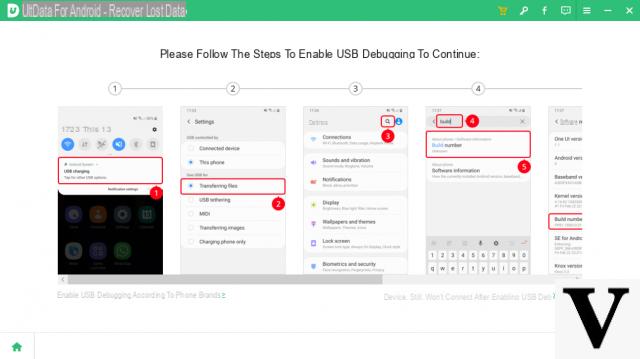 After enabling USB debugging, a notification will appear on the phone screen. Click on "Allow"To initiate communication between the device and the computer.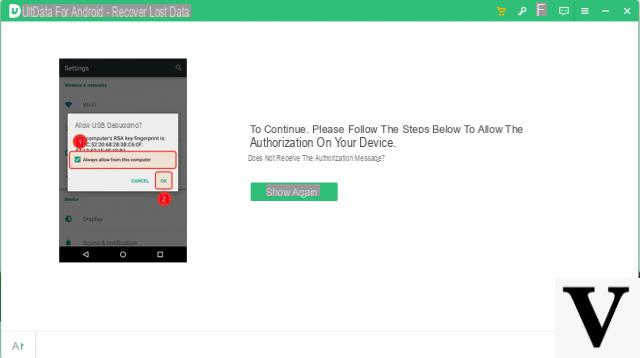 Step 5: Scan your phone memory for deleted but still recoverable Whatsapp data.
Once the program detects your Android device, it will show you the following screen. Click the "
Home
"To start searching for deleted Whatsapp data on your device. Log into your WhatsApp account on your device. If you have already done so, click the "Yes, I want to continue" button to continue.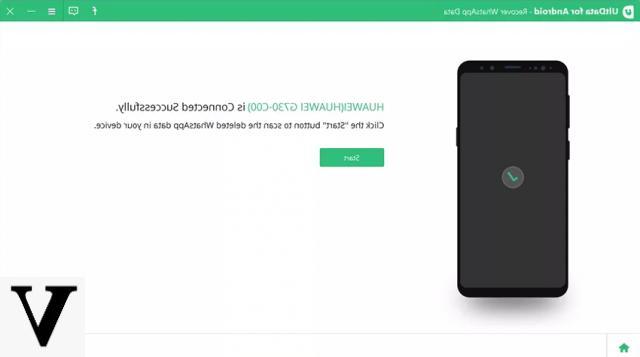 After the scan is complete, all WhatsApp data will be displayed on the screen and split between deleted and existing data.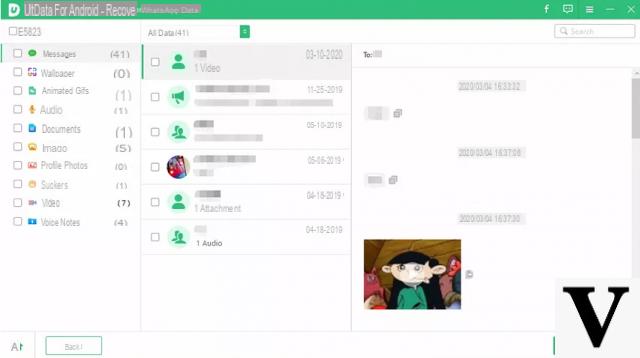 Select the desired files, click the "RECOVER
"Below to save the selected WhatsApp data on your computer.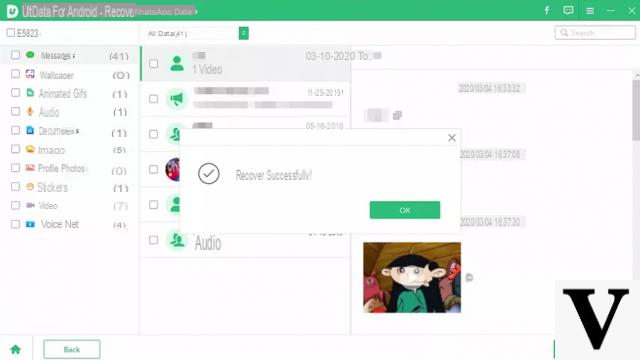 That's it!
Solution 2. Fonelab for Android
Fonelab per Android is one of the most effective "Android Whatsapp Recovery" software for smartphones and tablets with Android operating system that can recover chats and messages deleted by mistake from the Whatsapp application of your mobile phone.
Using this program to recover whatsapp messages is really simple and in this article we will explain in detail the steps to follow. You will be able to recover whatsapp conversations from any Android device: Samsung Galaxy, HTC, Nexus, Motorola, Huawei, LG, Huawei, Xiaomi, Lenovo, Wiko, etc ... Unfortunately it only works with those devices where it is possible to activate ROOT permissions.
Before purchasing, you can download and try the FREE demo version that allows you to preview, after scanning, how many and which Whatsapp messages are recoverable from your Android phone.
Download Buy
Support Windows 10/8/7 / Vista / XP
If you have a Mac OS X, download Fonelab for Android for MAC
If you have an iPhone or iOS device, go to Whatsapp Recovery for iPhone
Guide: How to Recover Deleted Whatsapp Conversations on Android
Step 1. Install Fonelab for Android and connect your mobile to PC
Here is the screenshot of dr.fone for Android after installation and launch: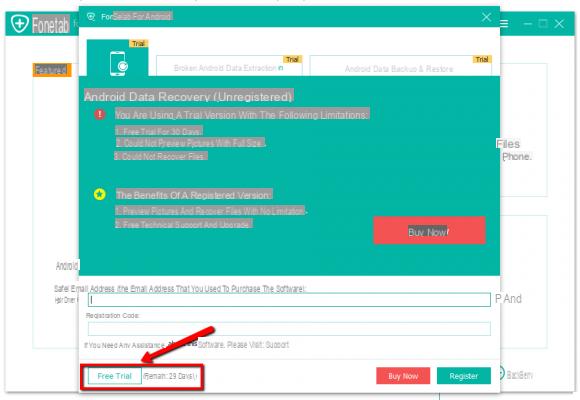 Click on the button below FREE TRIAL to proceed with the use of the demo version. Here is the main interface of the program: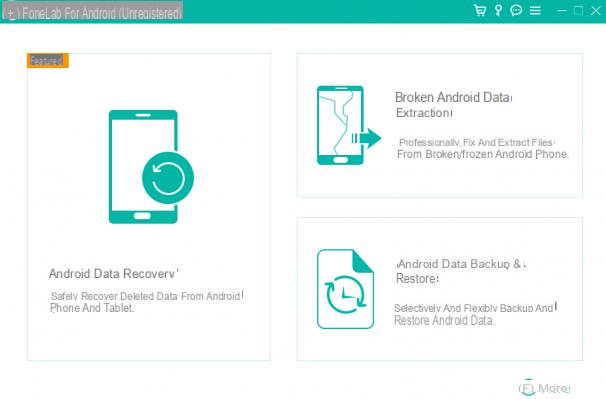 Click on "Android Data Recovery" and this new screen will open: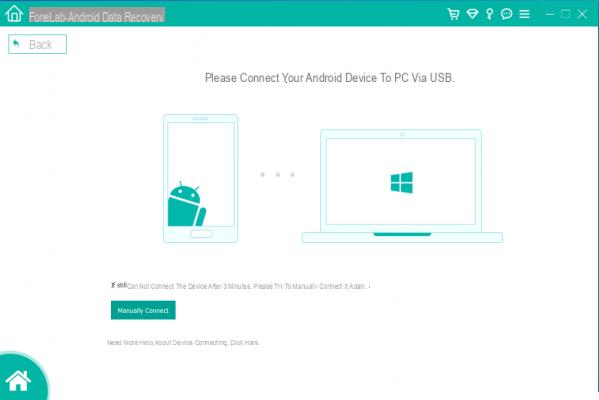 Using a USB cable, connect your Android phone (eg Samsung Galaxy) to the PC and the program will detect it immediately.
Step 2: Enable USB Debugging mode
If the "USB Debugging", The software will show this window: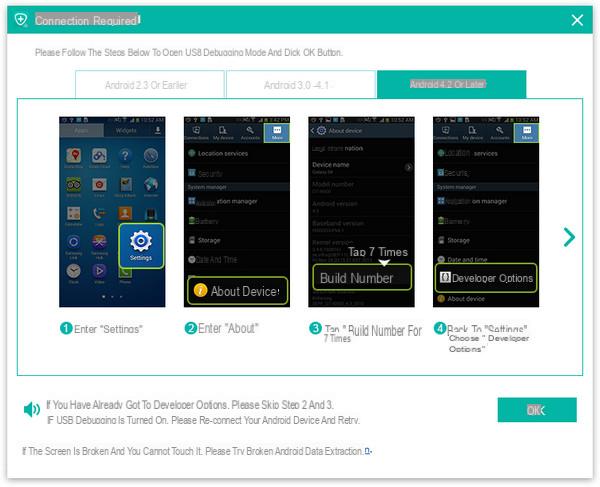 Depending on the Android OS version of your device, you will need to activate USB Debug mode by following some simple steps:
1) For Android 2.3 or earlier: Go to "Settings" <Click "Applications" <Click "Development" <Select "USB debugging"
2) For Android 3.0 up to 4.1: Go to "Settings" <Click "Developer Options" <Select "USB debugging"
3) For Android versions 4.2 or later: Go to "Settings" <Click "Phone Info" <Click "Version Number" repeatedly until "You are in Developer Mode" appears <Return to "Settings" <Click Developer Options "<Select" USB debugging '
Step 3: Memory scan for whatsapp messages
After the mobile phone is put in USB Debugging mode, the program will ask you to select the data to search in the memory. In our case you can only select the box "Whatsapp Messages & Attachments"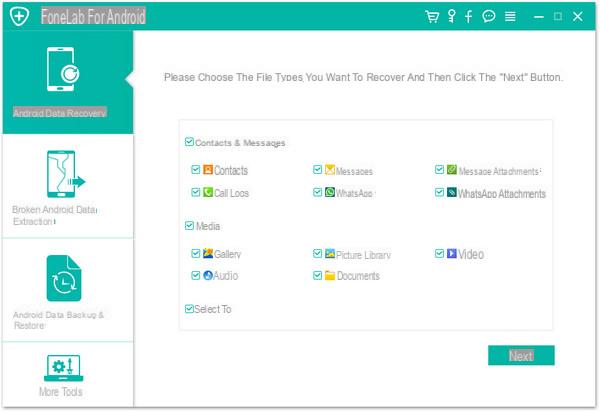 Click on NEXT and the program will check before starting the scan. Also check the screen of your Android device because you may be asked to confirm the connection to the program and the download of some apps necessary to "root" the phone (essential to then proceed with the recovery of Whatsapp data)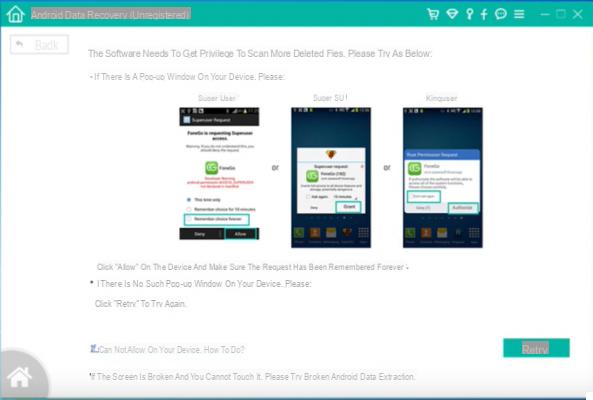 If the program fails to root your device you can still proceed with the scan. However, if this scan does not give the desired results, you will first have to find a way to root your phone. In this regard, read how to root Android.
Cliccnado in the program on "NEXT"You can start the full scan for deleted whatsapp messages (and more!).
At the end you will see a screen like the one shown below. Left click on "Whatsapp"Or"Whatsapp Attachment"To see the whatsapp data found in the phone memory.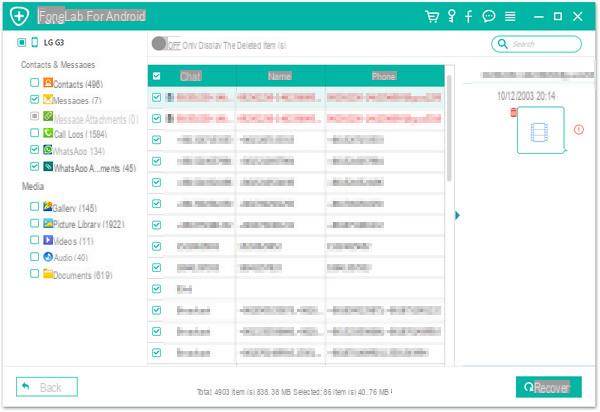 Step 3: Retrieve whatsapp conversations
At the end of the scan you will be able to see all the data found by the program and which is still recoverable. Click on the desired category item (contacts, SMS messages, Whatsapp chat, photo gallery, video, audio, documents) and select the files you want to recover.
For whatsapp messages you can preview which ones are recoverable and you can save them on your PC by clicking on RECOVER. Whatsapp messages and conversations can be saved in a CSV or HTML file.
That's it!
Android Whatsapp Recovery –