After several Developer Preview versions and Beta phases, Android 11 is now available in its stable version. List of news, compatible smartphones ... find everything you need to know about this new version of the mobile system.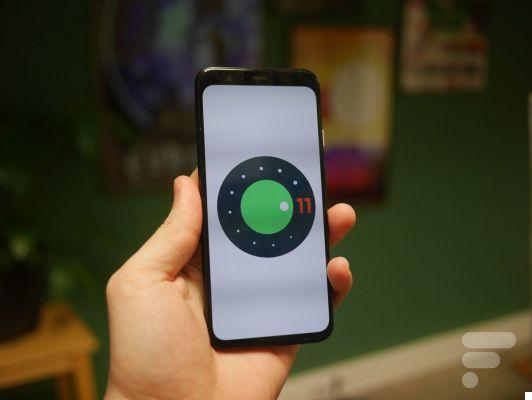 All about Android 11 //
Several months after officially launching the first Developer Preview in February, Google officially launched the stable version of Android 11, the new version of its mobile operating system. Since then, in addition to smartphones that come out natively with this version of the OS, older models have been updated.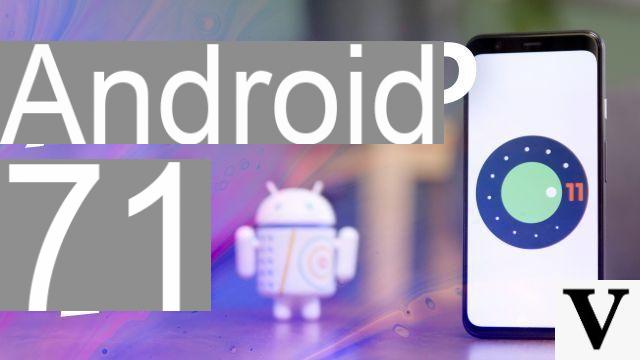 Android 11 is here! Our TOP 6 novelties
Recall that the development of Android 11 was turned upside down first because of the Covid-19 epidemic, then the demonstrations following the death of George Floyd in the United States. However, the arrival of this stable version came more or less on schedule after four Developer Previews and three Beta phases.
Note also that Android 12 has been announced and can be downloaded on some smartphones.
Smartphones compatible with the Android 11 update
Android 11 is rolling out very slowly. As always, the first smartphones to receive this update are the Google Pixels, with the exception of the first generation. Gradually, other brands are also rolling out this update
The following are therefore compatible with the Android 11 update:
Asus
Zenfone 6
Zenfone 7 and 7 Pro
Google
Pixel 2 et Pixel 2 XL
Pixel 3 et Pixel 3 XL
Pixel 3a et Pixel 3a XL
Pixel 4 et Pixel 4 XL
Pixel 4a
Nokia
Nokia 8.3 5G
Nokia 2.2 (Q1 2021)
Nokia 5.3 (Q1 2021)
Nokia 8.1 (Q1 2021)
Nokia 1.3 (Q1 2021)
Nokia 4.2 (Q1 2021)
Nokia 2.4 (Q1 2021)
Nokia 2.3 (Q1 2021)
Nokia 3.4 (Q1 2021)
Nokia 3.2 (Q1-Q2 2021)
Nokia 7.2 (Q1-Q2 2021)
Nokia 6.2 (Q1-Q2 2021)
Nokia 1 Plus (Q2 2021)
Nokia 9 Pureview (Q2 2021)
OnePlus
Generally very quick to update its smartphones, OnePlus has already deployed Android 11 on its smartphones released this year. Bugs have nevertheless pushed back the beta on previous models, delaying the arrival on all other phones of the brand. As a result, the OnePlus 7 range began to taste the beta from the end of January, against the end of December in normal times. For the OnePlus 6, do not wait for the beta before August, and therefore the final version before the end of the year.
OnePlus 8 and OnePlus 8 Pro
OnePlus 7 and OnePlus 7 Pro
OnePlus 7T et OnePlus 7T Pro
OnePlus 6 and OnePlus 6T (current 2021)
OnePlus North (current 2021)
OnePlus Nord N10 5G (current 2021)
OnePlus Nord N100 (current 2021)
Oppo
Oppo Find X2 et Find X2 Pro
Oppo Reno 3 and Reno 3 Pro
Realme
Realme is rolling out Realme UI 2.0 with the Android 11 update, which seems to take the builder a bit of time. Updates are currently very limited.
Realme 6 Pro
Realme 7i
Realme 7 Pro
Realme X50 Pro 5G
Samsung
Samsung has announced that some of its smartphones will benefit from 3 years of updates. A Samsung Members list has also been published in Spain to give us official information on the deployment dates.
Samsung devices updated to Android 11:
Galaxy S20, Galaxy S20 + and Galaxy S20 Ultra (and 5G versions)
Galaxy S20 FE et S20 FE 5G
Galaxy S10, Galaxy S10 + and Galaxy S10 Lite
Galaxy S10e
Galaxy Note 20 and Galaxy Note 20 Ultra
Galaxy Note 10+, Galaxy Note 10
Galaxy Note 10 Lite
Galaxy fold
Galaxy z fold 2
Galaxy Z Flip, Galaxy Z Flip 5G
Galaxy XCover Pro
Galaxy Tab S7
Galaxy Tab S7 +
Galaxy Tab A 10.1 (2019)
Upcoming updates:
Galaxy A10 (September 2021)
Galaxy A12 (July 2021)
Galaxy A20e (July 2021)
Galaxy A21s (May / June 2021)
Galaxy A30 (July 2021) and Galaxy A30s (August 2021)
Galaxy A31 (May / June 2021)
Galaxy A40 (April / May 2021)
Galaxy A41 (June 2021)
Galaxy A42 5G (May 2021)
Galaxy A50 (April / May 2021)
Galaxy A51 and Galaxy A51 5G (March 2021)
Galaxy A70 (May 2021)
Galaxy A71 (avril/mail 2021)
Galaxy A80 (April / May 2021)
Galaxy M31 and Galaxy M31s (March 2021)
Galaxy Tab A (June 2021)
Galaxy Tab Active 3 (June 2021)
Galaxy Tab Active Pro (August 2021)
Galaxy Tab A8 2019 (September 2021)
Galaxy Tab S6 et Tab S6 Lite (mai 2021)
Galaxy Tab S5e (July 2021)
Galaxy XCover 4s (August 2021)
Sony
Sony has updated five of its smartphones:
Xperia 1 II (available from January 2021)
Xperia 5 II (available from January 2021)
Xperia 10 II (available from February 2021)
Xperia 1 (available from January 2021)
Xperia 5 (available from January 2021)
Vivo
Although still very young on the European market, Vivo is keen to stand out by being among the first to offer Android 11 on its smartphones. Here is the list of compatible devices:
Vivo X51 5G (available)
Vivo Y70 (available)
Vivo Y20s (available)
Vivo Y11s (available)
Xiaomi
Xiaomi is active on its side to prepare for the arrival of Android 11 on some of its smartphones. Be careful though: on Xiaomi smartphones, Android 11 comes with MIUI 12, but the presence of MIUI 12 does not guarantee that of Android 11. Here is the list of smartphones that should receive Android 11:
Xiaomi Mi 10 and Mi 10 Pro
Xiaomi Mi Note 10, Mi Note 10 Pro et Mi Note 10 Lite
Xiaomi Mi 9 et Xiaomi Mi 9 Pro 5G
Xiaomi Mi 9 SE
Xiaomi Mi 9 Lite
Xiaomi Mi 9T and Mi 9T Pro
Xiaomi Mi A3
Redmi K30, K30 Pro and K30 5G
Redmi K20 and K20 Pro
Redmi Note 9, Redmi Note 9 Pro et Redmi Note 9 Pro Max
Redmi 10X Pro et Redmi 10X 5G
Redmi 9
Redmi 9C
Redmi 9A
Poco F2 Pro
Little X3 NFC
Little M2 Pro
Android 11: what's new in this update
Android 11 brings its share of changes that Google categorizes into 4 categories, although these are more of a concern for developers at the moment: innovations, privacy and security, updates and compatibility, and finally what you could call the refinement of detail.
Note that these are the first new features announced by Google, but that others have been integrated into the system. We will add them as and when they are discovered.
5G experiences
With the arrival of 5G, Google is preparing for big changes, of course made primarily by application developers. Android 11 therefore integrates new APIs (programming interfaces) allowing developers to estimate more simply and more precisely the bandwidth of the smartphone, and this dynamically. From the DP2, it is also possible to recognize the type of network, and whether it is 5G New Radio or Non-Standalone.
The interest is to improve the responsiveness of applications during streaming, for example, for videos or cloud gaming. The interest does not stop there and can be found in many other applications, in mixed reality for example.
New screen types
After having framed the notches in Android 9.0 Pie, Google is now interested in new screen formats more popular in 2020. The goal is to allow a better integration of the eccentricities of the manufacturers in the ecosystem of applications.
Thus, developers will be able to take more account of the "bubbles" of pierced screens, but also the "waterfall" screens which extend to the sides. This could possibly in the future allow more applications to take advantage of these often dead areas and more disturbing than anything else.
New APIs are also calculating the screen tilt angle for foldable smartphones, in order to create new uses around this promising new format. One can thus imagine applications which would adapt their interface if the screen is half folded for example.
Finally, the applications can themselves manage the refresh rate of the screen as needed. This is a point that should be particularly important for games, in order to opt for better performance, greater fluidity or longer autonomy.
Contacts and conversations
Conversations being a key point on a smartphone, Google wanted to put them back at the heart of Android 11. We therefore find in the notifications panel shortcuts to our current conversations, a messaging system in the form of bubbles, like Facebook Messenger (an element already seen in the beta of Android Q elsewhere). Finally, copy / paste in this notification area allows you to paste images that would have been copied beforehand.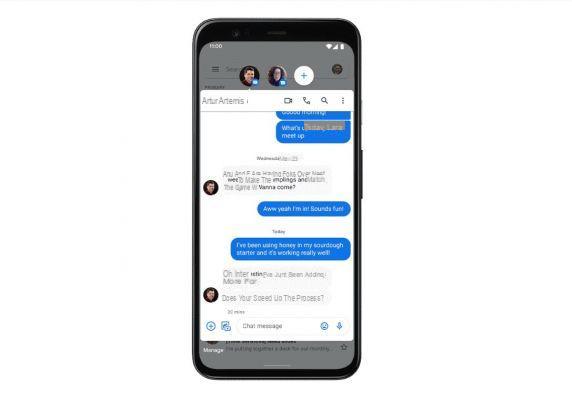 Android 11 conversation bubbles // Source: Google
Machine learning
Android 11 contains new APIs dedicated to machine learning to speed up its execution. Google promises that more is to come and that a close partnership is linked with different manufacturers and frameworks like TensorFlow to improve the integration of neural learning into applications.
Permission unique
As on iOS, Android 11 is equipped with a unique permission system. Instead of accepting or denying a sensitive permission, you will now be able to accept it… only for this time. Permission is then granted, but will have to be requested again when needed.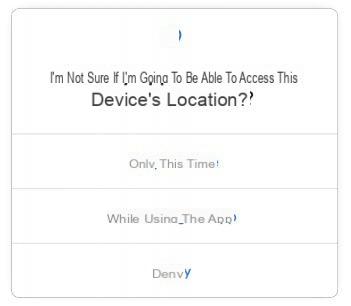 Google has also changed its privacy policy for applications available on the Google Play Store so that they only claim geolocation when it is really necessary.
Much like geotagging, apps that require microphone or camera access will need to request additional permission if they wish to do so in the background. No more unpleasant surprises!
To learn more
Android 11: How Google Improved Privacy… Thanks to Users
In addition, all applications that have not been used for too long (the exact periodicity is not specified by Google) will lose the permissions granted and will have to request them again from the user.
Safer storage
With Android 10, Google changed its management of the smartphone's internal memory with Scoped Storage. This makes it possible to isolate the space made available for each application, with public data and private data, thus improving data security.
On Android 11, this system has been improved, in particular to simplify its use by developers.
Safety
The biometric system has been improved with Android 11 in order to be better integrated by the different applications, with more flexibility for developers. Identification by fingerprint recognition or facial recognition should be facilitated.
Other elements have been improved in order to secure application data and help developers discover certain memory leaks that could lead to poor performance or security holes.
Google Play updates
More and more parts of the system are now being updated by Google Play. Android 11 goes from 10 to 22 modules updated via Google Play system updates. The aim is to simplify the update process for future versions, but also to make the system more secure by locking down sensitive items and allowing them to be updated independently of a full system update.
Application compatibility
Android 11 also gives developers more flexibility in terms of application compatibility with different versions of the system. Google has sought to "minimize behavior changes that can affect apps" to avoid bugs when updating to Android 11. Many other resources have been made available to developers to aid their testing and debugging.
Connectivity
The applications will have more connectivity possibilities, will be able to offer more information for filtering calls, facilitate the management of WiFi connections, receive more information on the quality of the networks, etc.
Image and Camera
A new API allows decoding and creating HEIF animations, saving a lot of space compared to GIFs. Other improvements have also been made to the decoding of JPEG, PNG and WebP formats.
Camera applications will be able to force the vibrator and calls to be silenced, and retrieve sensor metadata for bokeh application if possible, including in video.
Low latency
Video latency and codec handling have been improved to make streaming services like Google Stadia more efficient. Applications can also send a request to activate "low latency" mode on an external monitor.
Interface fluidity
Transitions can now be synchronized with the interface, and more specifically the keyboard and system bars. If this may seem anecdotal as a novelty, the interface is gaining greatly in fluidity since these elements are becoming much more integrated into the heart of applications.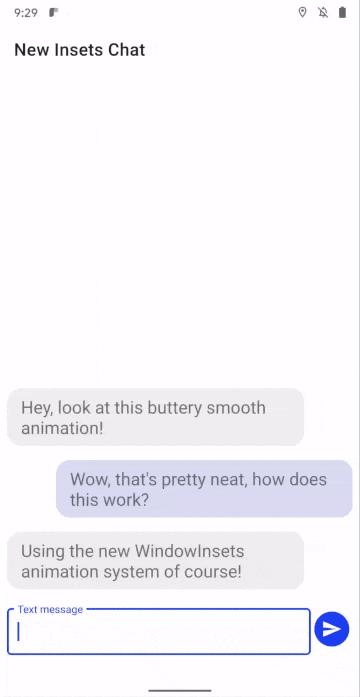 Other small elements have also been integrated over the updates, such as a slight zoom of the wallpaper when opening the notifications panel. Subtle details which will not catch the eye, but which give an impression of better overall cohesion of the system.
Notifications improve
In terms of notifications, the DP2 brought a rather particular interface, with very marked sections with transparent boundaries. It is very particular and it would be surprising in view of the first feedback that Google keeps this idea until the final version of Android 11.
On the other hand, two very good ideas are also in the game: the possibility of assigning an "important" status to a type of notification (for an application and a given contact in particular), as well as a history of the last notifications received. Unfortunately, the latter only appears if you have notifications. Too bad if you deleted everything by mistake ...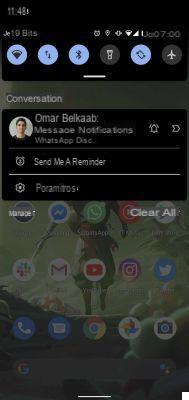 Screen video recording
Already available from many manufacturers or via third-party applications, video screenshot is finally integrated natively on Android 11. To launch it, just click on the corresponding tile in the quick settings panel.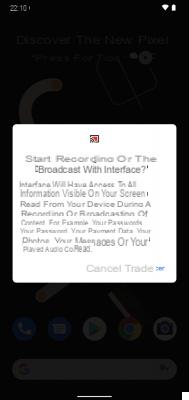 Improved Bluetooth with airplane mode
Android 11's airplane mode no longer turns off Bluetooth. With the generalization of wireless headsets, it has become an important point for those who regularly go on trips. Now, switching to airplane mode while listening to music is completely transparent.
New gesture with Soli on the Pixel 4
The radar detection system of the Google Pixel 4 and 4 XL improves a little with Android 11. A new gesture has appeared in this Developer Preview, in order to allow the playback of a multimedia file to be paused.
To do this, you have to present the palm of your hand in front of the phone, with a back and forth movement, as if you are going to crush something on your screen. However, this method is not yet fully developed and our tests have not been particularly conclusive.
The Pixel 4 also improves with a new option to limit facial recognition so that it only works with open eyes. An aberration that should have been corrected much earlier.
New Power Menu
Certainly one of the biggest changes of Android 11 - which essentially revised some deep mechanisms of the system - the Power Menu that appears when you hold down the power button has been completely redesigned. This gives access to the various payment cards registered in Google Pay, as well as to the various compatible home automation elements linked to your Google Home application.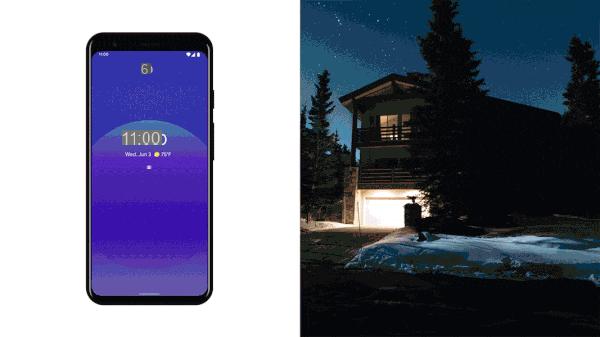 Power Menu d'Android 11 // Source : Google
Suggestions d'applications
Instead of the usual dock of 5 fixed applications at the bottom of the home screen, it is now possible, if desired, to have a selection of suggested applications based on location and time. From our first observations, the suggestions are also rather consistent as long as the phone is not new (without history of use), but those who use a large number of applications may quickly be limited.
Audio output management
The multimedia panel has also been redesigned to make it easier to choose the audio output.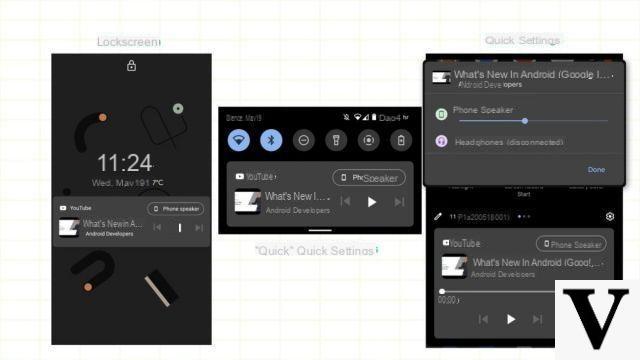 Multimedia control on Android 11
A button on the player allows you to quickly cycle through the available outputs and thus switch from the speakers of the phone to an external device such as a speaker or headphones.