Tired of receiving spam emails on your Android smartphone or tablet? Then this tutorial is for you. Here's how to block unwanted messages.
Also read: Our selection of the best alternatives to Gmail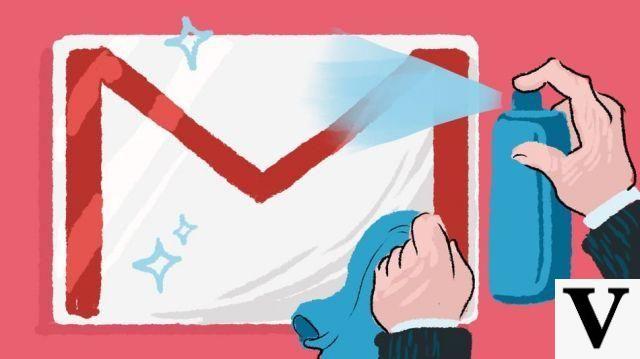 Last July, Google declared that Gmail was able to eliminate 99,9% of spam thanks to a new filter based on artificial intelligence. The fact remains that some spam still passes through the cracks and is added to unwanted messages that are sometimes considered as spam but which are not necessarily spam.
In theory, spam is unsolicited message, which therefore means that a message sent by a website to which you have voluntarily subscribed or to a newsletter to which you have subscribed in the past cannot be considered as spam, the rate of which has also fallen below 50%, even if in the long run, it can sometimes become disturbing. That said, that doesn't mean they should be reported to Google.
Today, we offer you three ways to do this, depending on the nature of the spam message. A tutorial that complements our previous one on voice and SMS spam.
How to block spam
Once an email is truly identified as spam, it is possible to block the sender, while reporting to Google that it is spam so that future messages from the same sender are then redirected to the box intended to receive unwanted emails and that the American giant does what is necessary.
Usually, these are messages sent from a website that you have never subscribed to or a company that you have never authorized to write to you. If this is the case, then you can consider it spam and do the following:
Open the message and click on the "three dots" button at the top right to open the menu
Click on "Report as spam"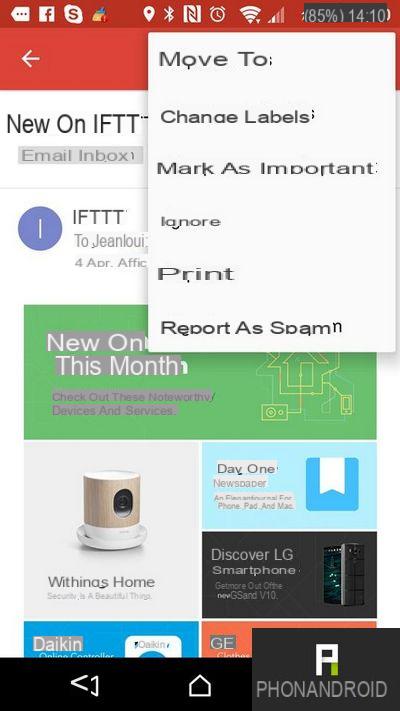 The message in question will then be redirected to a box dedicated to unwanted messages and deleted after 30 days, in addition, you will no longer be bothered by this sender and it will then be up to Google to conduct its investigation.
Attention, the image which appears below is only there for illustration and not with the aim of accusing such or such website of spamming its users.
How to block emails from a specific sender
As you can see above, there is spam and spam, but it is also possible to block a specific sender. In addition, if this option was not previously available on mobile and required the use of the desktop version of Gmail, it is now possible to block a sender via your Android smartphone. Here is how to do it:
Open the email and click on the "three dots" button contained in the message (to the right of the sender's name)
Block the sender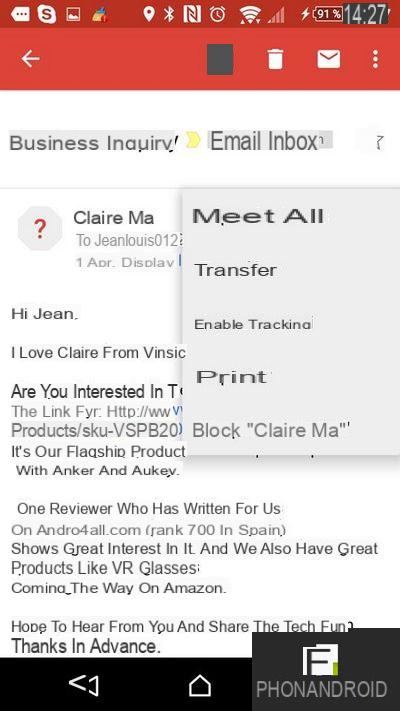 By proceeding in this way, the sender will be blocked, on the other hand, the message will not be flagged as spam to Google.
How to unsubscribe from a website
There may be times when you receive frequent messages from a company or a website, but they are not necessarily spam. A newsletter to which you have subscribed, a company from which you have ordered such and such a product or service. So yes, these emails bother you but it would still be inappropriate to report these messages to Google as if they were spam when it is not.
Especially since unsubscribe of a newsletter or a website, it hardly takes a few seconds. All websites and newsletters offer an unsubscribe link that is theoretically found in every message even if it is, most of the time, well hidden and in small print. Usually, it will be enough to go down to the bottom of the post and have good eyes to find it.
You will then just have to click on the link to land on the web page which will allow you to unsubscribe.