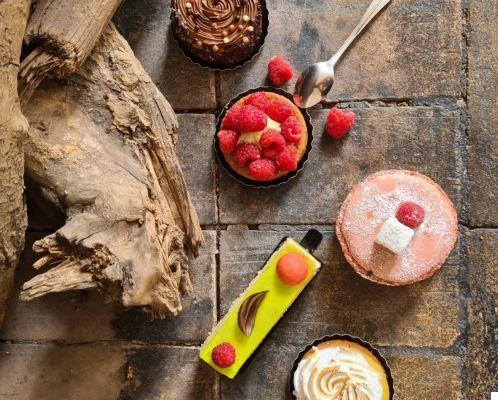 A pastry photo taken on the Galaxy S20 +. A few decorative elements are enough to give a special atmosphere to the photo.
A good composition
Composition is an essential part of any photography, but it becomes all the more important when it comes to photographing dishes.
Food shoots often require a bit of styling and accessorization. However, when you start, you don't necessarily have the desire or the means to invest in a lot of equipment. Having few sets is actually a great thing when you are just starting out: it allows you to focus your attention on the technique and composition of the image.
1- Purify
Subtle, uncluttered photographs are very fashionable, and will be a great place to start.
Do not hesitate to give your product a central place. Thus, attention will be focused only on the subject. This type of composition makes it possible to obtain strong images: the vacuum allowing the product to breathe, it highlights it and draws the eye only to it.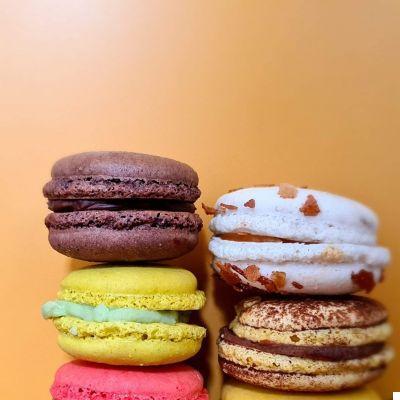 Photo taken with a Samsung Galaxy S20 +.
2- Approach
Get close to your subject and zoom in (slightly!) On details, textures and colors. You won't need to bother creating a scene with props you don't own, and getting up close will bring gluttony to your subject.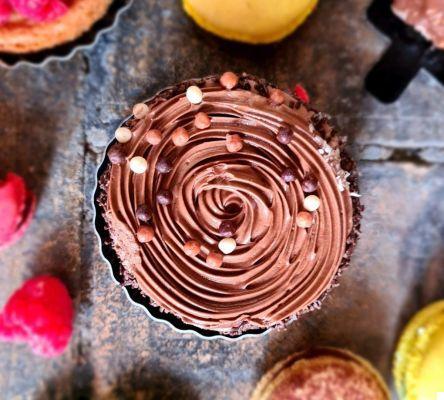 Photo taken with a Samsung Galaxy S20 +. The focus is in the center, allowing the subject to be isolated.
3- use humans
An accessory that you will always have at your disposal and which will cost you nothing, is yourself! Do not hesitate to make your hands appear in your composition. Not only will this bring life to your shots, but it is also a very practical staging support. Your body will also serve you to fill a scenography which could appear a little "empty" to you. This will reassure you at your beginnings, you will find that it is not necessary to own a lot of decorative accessories to obtain beautiful gourmet shots!
Photo styling and storytelling
A very important aspect in food photography is what is called "storytelling". Your photos must tell a story, convey an atmosphere, and arouse gluttony. Closely related to finding your style is the search for ambiance and history. It is your experience, your feelings that you want to convey through your pictures.
Here are some tipss. You can ask yourself some basic questions to guide you:
What memory (s) does this pastry evoke to you? A picnic, a birthday, a trip?
What time of year is it? (we don't tell the same story when we photograph a summer fruit pie or Christmas shortbread cookies)
Find out what its main characteristic is, or at least the one you want to highlight (its color, texture, shape, etc.). A chocolate mousse and a raspberry coulis do not enhance themselves in the same way.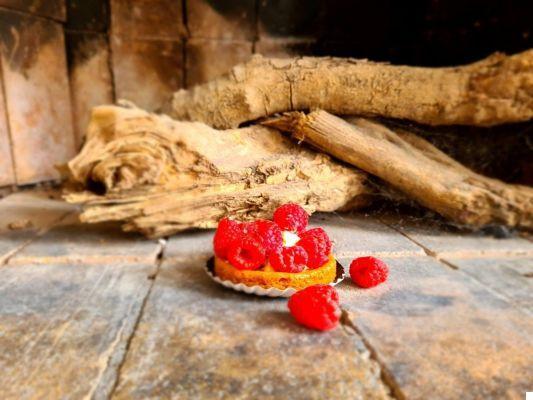 Photo taken with the Samsung Galaxy S20 +, with the "food photography" function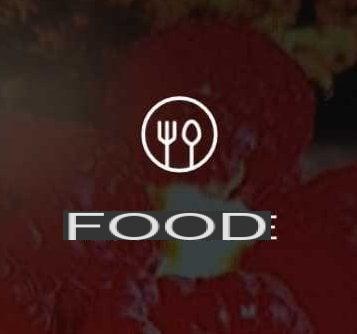 The "Food" mode
The "Food" mode
The Samsung Galaxy S20 has a "Food" mode (in the More tab of the photo app) which, using AI, enhances the colors and details of food photos. This function is very flattering, sometimes a little "too much". The color saturation and the contrasts are sometimes too high, and there is a loss of detail in the highlights. It should be used with moderation !.
1- The importance of framing and light
Light is a very important concept in any type of photography. In food photography, flash is prohibited! Nothing better than a natural light source. Of course, while natural light is best for this type of photography, don't hesitate to use whatever you have on hand when the weather isn't helping. When you take photos of pastries around Christmas time, you won't get the soft glow of a summer sun. Never mind ! A well-placed desk lamp, or a pretty garland of lights placed in bokeh (reminder: bokeh is simply an artistic blur of the background) will bring a cozy, cozy and gourmet side.
Finally, before starting to take your photo, you must remember to properly adjust your white balance. As a reminder, the white balance is the adjustment of the dominant temperature of the image, between cold (predominantly blue) and warm (predominantly yellow). It all depends on the atmosphere you want to give to your composition.
2- Choose the right angle, and the right time
Food is a special product because it changes its appearance over time: ice cream or chocolate can melt, fruit colors can change in light and under certain temperatures. Baking photography takes a bit of preparation, so you need to be particularly careful with the focus and be ready to shoot.
Different shooting angles are possible:
Angle of 30 or 45 degrees: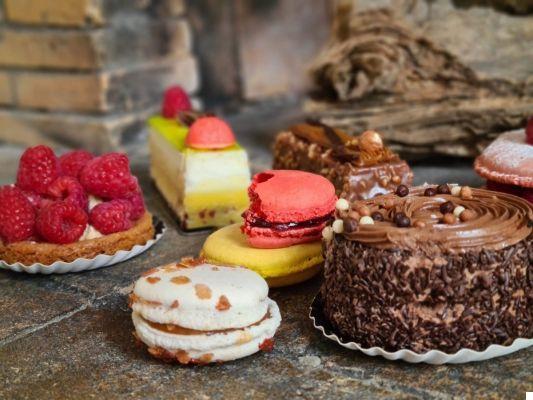 Photo taken with the Galaxy S20 +.
Shoot from above for "round" dishes (pies for example):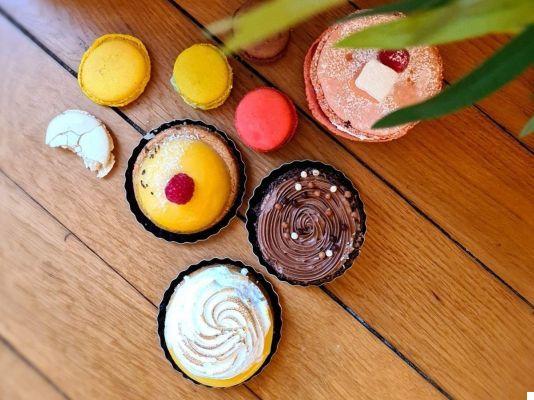 Create a background bokeh to highlight the product. The bokeh allows you to add a mysterious, poetic and airy side to your composition, in short, to make you dream!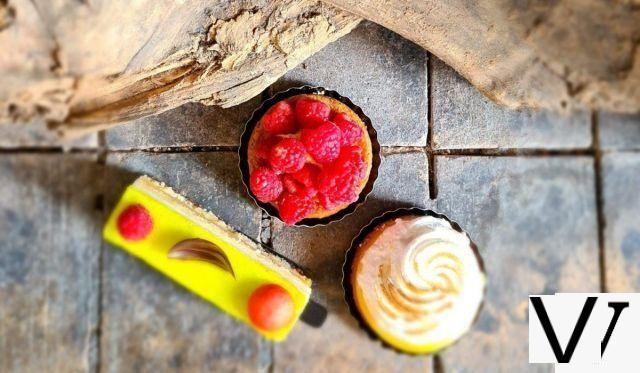 In this shot, the phone's "food photography" function was used. It naturally creates bokeh and color saturation, both very successful here.
small tip : Do not hesitate to divert the "Portrait" function of your smartphone: it is perfect for food photography, allowing you to naturally create a beautiful background bokeh.
3- The creation of the decor
Creating a beautiful decor that makes you dream around the pastry is particularly important. In order to tell a particular story, focus and emphasize the colors and textures you want to showcase. For example, you can emphasize the beauty of a fruit by adding a few next to a slice of cake.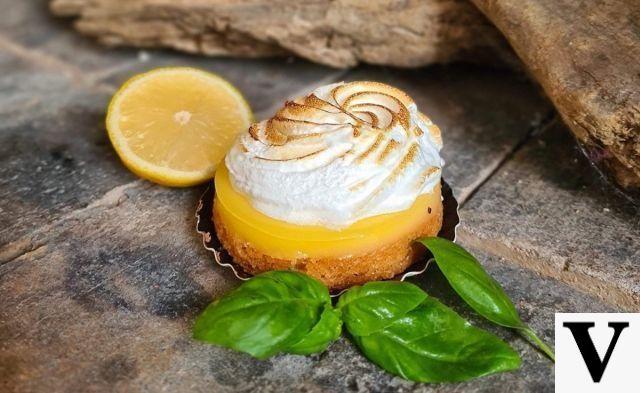 Next to this lemon tart, two decorative elements have been added: the lemon slice and the basil, in order to enhance the cake without weighing down the image.
Remember to clear the field in order to attract the eye to the product, which will make it particularly glamorous and appetizing. These concepts are considerably important in pastry photography: you have to create a universe that makes you dream and make your photo greedy.
Our advice : Do not hesitate to taste what you shoot: an image of crunchy pastry from which a fruity or chocolatey heart escapes will be very appetizing!
Retouching and post-production
1- Instagram is your friend!
In addition to being a gold mine of inspiration, Instagram will help you polish your images to obtain particularly greedy shots.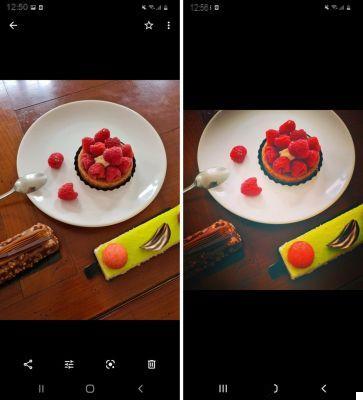 On the left the photo before retouching, on the right the photo after retouching on Instagram.
With the help of a few adjustments, such as saturation, stronger contrasts or the addition of vignetting, the photo becomes more intense.
2- Retouch to gain greediness
During your retouching step, and particularly in pastry photography, we advise you to insist on colorimetry.
The creation of an explosion of colors will give a particularly lively, punchy and gourmet side to your shots. Have fun spotting the dominant colors, and do not hesitate to underline one or two, for example with a nice dish or a beautiful plate whose tones go well with your composition.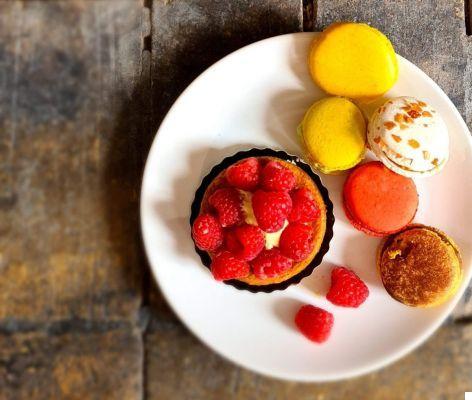 The contrasts and the saturation were pushed later, in order to exaggerate the punchy and colorful side of the whole.
Conclusion
As you will have understood, details are particularly important for your food photographs. The light, the framing and the story you want to tell will really make a difference. Your smartphone, this small, light, powerful and responsive object that you carry everywhere will be particularly precious to you for taking this type of shot. As soon as you have chosen your own settings and know your favorite angles of view, you will very quickly become an outstanding culinary instagrammer! Don't be discouraged and remember that food photography takes a bit of practice before it is well mastered.
Do not hesitate to go for inspiration on blogs or social networks in order to capture the trends, you will quickly find your shooting reflexes. Finally, seek and find your own universe, and tell your story. Wanting to communicate your love of pastry through an image remains a very good way to get beautiful photos!
About the Author: This article was written by professional photographer Claire Teplitxky. You can find all of his photographic work on his website.