Ergonomics, functionality, comfort ... having a good computer keyboard for working is important. Here is our comparison dedicated to office automation.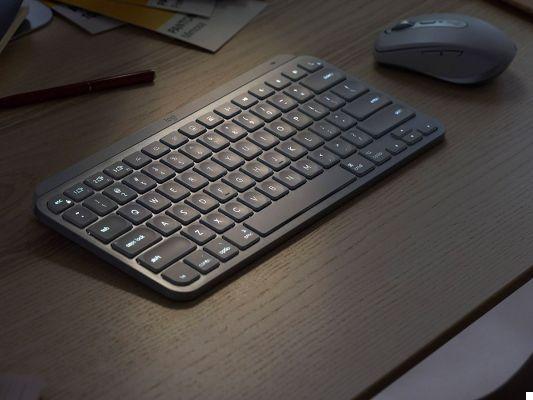 Indispensable peripheral, the keyboard is not only an alignment of keys. There are technologies, ergonomic choices and designs behind that really make a difference in the long run.
Whether it is to vent on Twitter, type in code, write a love letter or a complaint, the keyboard is the obligatory gateway to written communication. It takes up space on your desk and its quality will influence your efficiency as much as your comfort. Follow our guide to make sure you choose the keyboard that's right for you.
If you are looking for a keyboard for gaming
Which mechanical gaming keyboard to choose? The 8 best mechanical keyboards
If you are looking for a mouse, it's here and for a more complete guide on the best accessories for telecommuting it's here!
Logitech MX Keys: the best office keyboard
The Logitech MX Keys is the new high-end keyboard from the Swiss manufacturer, the Logitech Craft being at the end of its life. It is designed to accompany the best office mouse that is the MX Master 3 from the same manufacturer. The MX Keys is a very elegant keyboard, with a clean design, associated with some very attractive metal keys. Of an average size (43,2 x 13,2 cm), it is above all very thin with 0,7 cm of thickness, which rises to 2,1 cm towards the upper part, thus offering a slight inclination.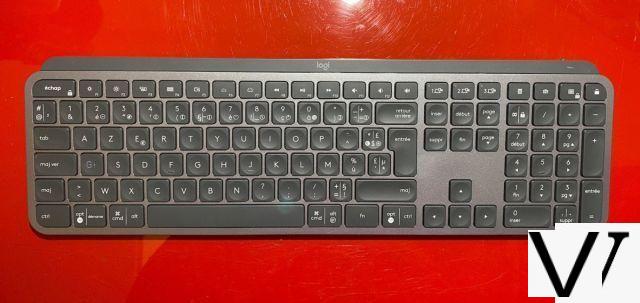 The keys are perfectly aligned, with a comfortable space between them. This chiclet-style keyboard offers a short typing stroke and each key has a slight concave recess for safer and more efficient typing, even at high speeds. Each of the "F" keys has a dual use, to activate the volume management, the brightness of the computer or the intensity of the backlighting of the keyboard. The following three numbered keys are used to switch from one device to another, the MX Keys being able to connect to three different products (computer, tablet, smartphone). The stroke is short, assured and the noise pollution really minimal.
Thanks to its finesse, it avoids significant twists at the wrists. The keyboard is wireless, it uses either Bluetooth technology or 2,4 GHz wireless with the Unify USB module from Logitech. Finally, if the keys are backlit, we do not understand the absence of an LED to indicate when the numeric keypad is activated, a little annoying in use. Count a little over 100 euros.
The Logitech MX Keys and brief
Design and finesse
Typing quality
Multiconnexion
The Logitech Mx Keys is available at 109 euros
Logitech MX Keys Mini: the same but more compact
If the classic MX Keys is a bit big for you, its Mini version might interest you. It is indeed a TKL version 60% more compact than its big brother. A result achieved by getting rid of the numeric keypad and part of the function keys.
The touch is still as pleasant and the backlighting is effective. We are however surprised by the decision to make this Bluetooth keyboard only, it is generally not a problem, but the Unifying dongles are more reliable and practical. However, the keyboard can be connected to three different devices. We end this overview with the autonomy of ten days which can reach several months without the backlight.
This MX Keys Mini is available for 110 € in several colors and a Mac version is even in the game.
The Logitech Mx Keys Mini is available at 109 euros at Amazon
Microsoft Ergonomic Keyboard: the most ergonomic
While the majority of keyboard manufacturers have abandoned the "ergonomic" format, Microsoft continues to promote this type of product. Generally expensive, the American here offers one for less than 70 euros. It displays flowing lines, benefits from excellent build quality and exudes elegance. On the other hand, this is paid for by a certain size: 48,77 x 26,24 x 6 cm which makes it hardly compatible with a small office. The keys are grouped together in two very distinct areas, only the space bar is common. The spacing of the keys is in the average like their size, except the key "Enter" which destabilizes us. It is very small and it is not uncommon to be mistaken in use.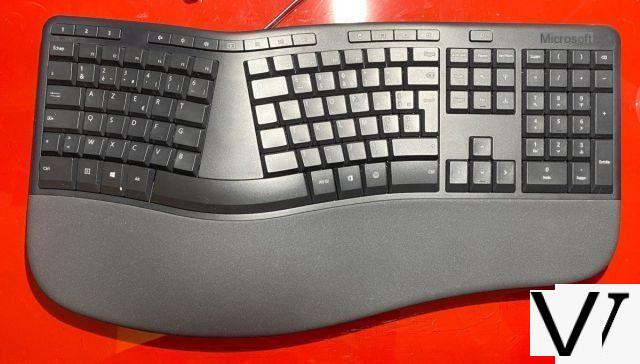 Just above the F function keys, Microsoft offers a series of preprogrammed keys. We have the classics dedicated to volume management or music control ... but who says Microsoft, says productivity. We therefore have buttons that are used to launch the calculator, a screenshot, a search or the display of current tasks. As a bonus, you have three numbered buttons available to create your own shortcuts.
The keys are operated with a scissor mechanism, which offers silent and rapid typing. It is a bit soft which may frustrate fans of dry and clear typing. The positioning of the keys requires a fairly long adaptation time. But once the good habits are taken, we can only note the comfort of use of the beast. Over time, the wrists and forearms are perfectly aligned, which limits feelings of fatigue. Note that the wrist rest is very comfortable, but the keyboard does not tilt. The 1,5 meter USB cable is just enough. If you like this product, Microsoft has another more premium Alcantara coated product, the Microsoft Surface Keyboard. The same qualities, for a few euros more. On the other hand, it gets dirty very very quickly.
Le Microsoft Ergonomic Keyboard en bref
Ergonomic design
Price
Typing quality
The Microsoft ergonomic keyboard is available at 73 euros The Alcantara version is available at 75 euros
Logitech Illuminated Keyboard K740: and there was light
If this K740 means something to you, that's okay. It has indeed been in the Logitech catalog since 2008 and still stands out as one of the best keyboards available today. That said, he is slowly starting to show his age on certain points. The design in particular is starting to look a bit dated, although we appreciate its finesse.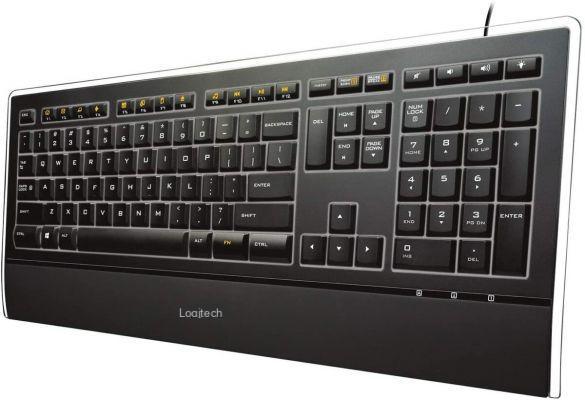 Once you start typing, you can only appreciate the excellent feel of the scissor switches used here. They are soft, responsive and above all extremely quiet; a point that will delight your colleagues in the open space. Only the space key sometimes lets out a little spring noise. As the name suggests, the keyboard is backlit, unlike most recent keyboards. The lighting, on the other hand, is only adjustable in intensity. No RGB on the menu.
On the connectivity side, we are here in the presence of a wired model. A wireless version exists, but for a similar price we prefer to choose the MX Keys.
Le Logitech Illuminated Keyboard K740 en bref
Le silence
The very good typing quality
Very reliable
Find the Logitech Illuminated Keyboard for € 80 at Amazon
Logitech MK470: the least expensive alternative
We are here facing a light version of the MX Keys. The Logitech MK470 takes the design of its predecessor, very similar dimensions (37,35 x 14,39 x 2,3 cm), except on the thickness. We find many other qualities such as its solidity - obtained thanks to the metal plate which serves as a base for the keyboard - and its stability on all surfaces. Certainly, the plastic is much more present, but the manufacturing quality does not suffer and the assembly is of a very good level.

The key spacing is well balanced, but the keys are flat, without the concave aspect of those of the MX Keys. We lose a little security in typing, but we stay well above the average keyboard. The typing stroke is a bit too short for our liking, which can get a bit awkward when you're typing text really fast.
It is quite thick and does not have a wrist rest, even as an option. This can be awkward if you have very small hands, so your wrist has to flex quite a bit. It is not a keyboard designed for writing a novel. Wireless, it connects to your computer via a USB receiver. Bluetooth is totally absent. Note that this keyboard is not sold on its own, but as a bundle with a mouse. For the sum of 39,99 euros, we have a good keyboard and a Logitech Pebble m350 mouse (sold alone at 24,99 euros).
The Logitech MK470 at a glance
Build quality
Quality / price ratio
Pack with mouse
The Logitech MK470 at 39 euros
Corsair K68: gamer, but not only
You might be wondering what a "gamer" keyboard does in this selection? But in practice the distinction is more aesthetic than anything else and some models shine through their versatility. This is the case with this Corsair K68 that yours truly has been using for about ten years now to write his articles.
Relatively sober and incredibly strong with its aluminum construction, this model is spacious. It is splash-proof by the way. We also appreciate the large multimedia keys that are always practical.

The keys themselves are built around Cherry's MX Red switches. In practice, this results in a linear typing (no "click") comfortable and relatively silent (for a mechanical keyboard). As a bonus, we have a fixed backlight (in red), but the intensity of which can be adjusted, or completely cut off if you are allergic to this kind of thing. A removable wrist rest completes the picture.
If it is not the most original on the market, the Corsair K68 is a good entry into the world of mechanical keyboards thanks to its excellent user comfort and its almost indestructible design.
The Corsair K68 at a glance
Comfortable mechanical switches
Backlit
Indestructible
Find the Corsair K68 for 90 € at Amazon
Razer Blackwidow Lite : le plus compact
Razer is primarily known for its gaming peripherals. Here he highlights his "Orange" mechanical switches supposed to be the quietest in his catalog. The keyboard displays a gamer design, but without excess. It's offered in black, white, and there's even a Star Wars Stormtrooppers version.
The build quality is excellent, the combination of metal and plastic provides aesthetics and above all solidity. Its limited size (13,3 x 36,1 x 3,6 cm) is explained by its TKL format and therefore the absence of a numeric keypad. This may destabilize those who make regular use of it, but makes it ideal for small workspaces.
Note a customizable backlighting through its setting software. The mechanical keys are comfortable, with a dry and assured typing. Which will suit those who have a sustained writing pace. No specific shortcut keys, but the ability to create your own and assign them to the keys of your choice.
If the keyboard is rather thick, its palm rest prevents your joints from being too strained for comfortable use over time. The cable length is 1,6m, sufficient for the majority of users.
Le Razer Blackwidow Lite en bref
Compact design
For the big hitters
Strength and durability
The BlackWidow Lite is available at 99 euros
Cherry KC6000 SLIM: scissor keys
The CherryBoard KC6000 is signed by the leading switch supplier for manufacturers of gaming keyboards. He brings his expertise to a keyboard this time using a scissor mechanism. Aesthetically, we have a very clean, almost basic product. It exists in black version and especially in silver to seduce Mac owners.
Be careful, despite appearances, the brushed metal effect is only an effect, not an ounce of noble material dresses it. Its dimensions are quite generous (45,3 x 12 cm) and it displays a certain finesse with 1,5 cm.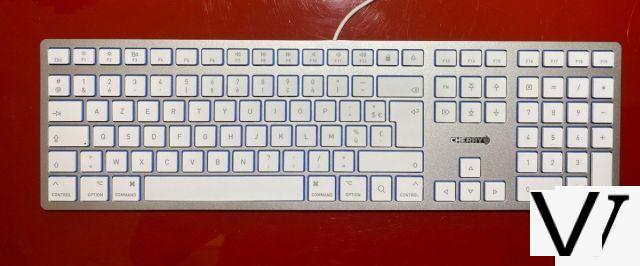 The scissor mechanism is very efficient, while being comfortable with a short and above all clear striking stroke. Noise pollution is very controlled, unless you are used to typing forcefully on your keyboard. The more brutal should appreciate its metal structure as strong as it is stable. It offers 6 quick access keys distributed over the entire keyboard, to launch the internet browser for example. We have the possibility to create our own keyboard shortcuts.
Its thickness remains reasonable, therefore offering appreciable comfort if it remains flat. If you decide to recline it, as we do you will regret the lack of a wrist rest. The USB cable measures 1,8 m, a little more than the average, it is always appreciable. Count a little less than 50 euros to put your fingers on it.
The Cherry KC6000 SLIM at a glance
Design « Apple compatible »
Build quality
Quality / price ratio
Find the Cherry KC6000 Slim at 49 euros
Logitech Keyboard K120: the union minimum
Your budget is limited or you are just looking for a spare keyboard. Look no further than the Logitech K120. So of course, for the price we are entitled to the minimum union: a membrane mechanism and a standard layout, but the whole is reliable and comfortable for occasional use.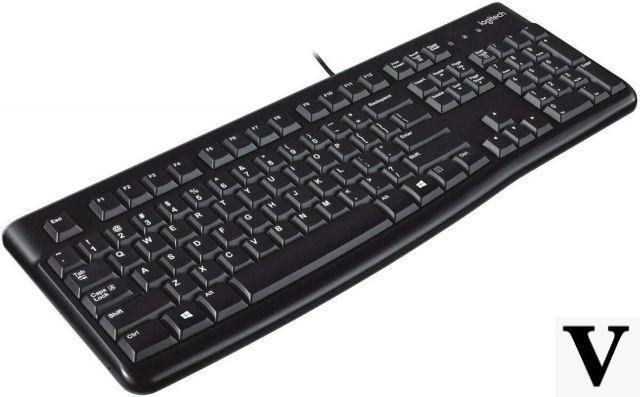 You won't be writing a novel with it, but if you telecommute occasionally it's a good way to improve your comfort at a low cost.
The Logitech Keyboard K120 and brief
The price
Solid
Did we tell you about the price?
Find the Logitech K120 for 14 € at LDLC
To help you choose the best office keyboard
What Makes a Keyboard Comfortable?
When you use a keyboard, it is not only your fingers that are used, but all the muscles and joints in the upper body. A keyboard must therefore be wide enough so that the forearms are perpendicular to your bust and thus limit unnecessary movements. It should be as flat as possible in order to spare the wrist joints. However, depending on the height of your desk, your seat, a keyboard with an adjustable tilt system is recommended. In this case, a wrist rest is a real plus to ensure proper alignment of the hands and forearms.
On the keys themselves, avoid keyboards where they are too tight, this increases the risk of typos. Some manufacturers also offer slightly concave keys to provide better finger grip and more confident typing. Finally, quick access buttons are very often present, as well to manage the sound volume as the reading of a playlist or the brightness of the screen. Finally, a backlit keyboard is a little extra after dark.
What is an ergonomic keyboard?
So-called ergonomic keyboards have a very different key position from conventional keyboards. If they are still arranged in AZERTY, they are separated into two distinct groups, one for each hand. If they have proven themselves, they are not very successful, because they require a long phase of adaptation. You also take reflexes that you will have to give up as soon as you return to a classic keyboard.
Which design and which format to choose for your keyboard?
Using a beautiful keyboard is always a pleasure. However, the more its aesthetic is neat, the more its price will be increased. It is above all a question of taste and budget. Keyboards have relatively similar dimensions. If your workspace is small, it may be interesting to switch to a TKL (Tenkeyless) format keyboard, which does not have a numeric keypad. Remember that on your desk, you will need to have room for your mouse, your coffee cup or your speakers or printer.
What are the advantages of a wireless keyboard?
Getting rid of threads always brings more comfort and allows you to adapt to your uses and your workspace. In addition, many models offer multiconnection. Thus, the same keyboard can switch from one PC to another, or a Mac or even a tablet by pressing a single key. Some keyboards work with batteries and others are recharged via USB. If you work on sensitive data or are just paranoid, go for a wireless model with AES encryption. Thus, each keystroke is encrypted between the keyboard and the computer in order to avoid any data interception.
What are the different key technologies?
When you press a key on a keyboard, behind you can hide three different technologies.
Membrane keys : here a flexible rubber coating is placed under the keys. It ensures that the pressed key returns to its original position and to be taken into account, the strike must be complete. They are the quietest, but not the most efficient for those who type a lot of text and have a shorter lifespan.
Scissor or chiclet keys : we find the rubber coating at the end of the stroke and under each key is a scissor mechanism. As a result, we have a drier and faster typing than for a membrane keyboard, while being less precise and fast than a mechanical keyboard. Chiclet keyboards also have a much shorter stroke. This is what they are used for on laptops.
Mechanical keys : each key is accompanied by a complete mechanism that is more precise and faster than a membrane keyboard. No need to fully press the key to validate your typing, a light pressure is enough for the character to appear on the screen. These are the keyboards best suited to rapid typing, which offer the best lifespan, but this comes at the cost of much more noise pollution than that of a membrane keyboard.